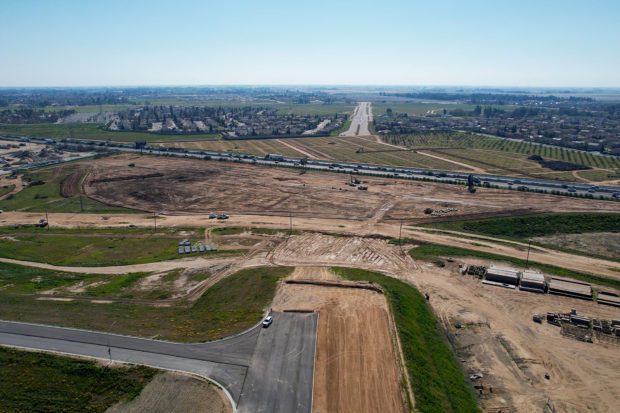 The residents of rural Fresno County living outside its 15 cities, including thousands in more than 30 disadvantaged unincorporated communities, were placed on the political chopping block last month.
In a last-minute proposal on how to split the Measure C $6.8 billion transportation sales tax pie for the years 2027 to 2057, Fresno Mayor Jerry Dyer and Fresno County Supervisor Sal Quintero enticed eight rural mayors and Clovis's Jose Flores to join them in an 11-4 vote at the Fresno Council of Governments (COG); together, they propose to take $185 million away from the county's most impoverished areas and keep it for their cities.
Despite the vote's overwhelming support, such a split is unprecedented in Measure C history. In the 2002 and 2006 Measure C renewal efforts—the first failed in the face of community opposition led by the League of Women Voters of Fresno—no elected official broke ranks from either party. All were in support every step of the way. With two-thirds voter approval required, such unanimity among elected officials and advocates alike is required to ensure success at the polls.
Although the tax won't expire until 2027, officials want to begin borrowing now against future revenue to continue their massive road-building projects for leapfrog developments west of Highway 99; north up Highway 41, Friant Road and Highway 168 with new freeway interchanges for Clovis; and east along Highway 180 into the foothills and wildfire zones as 168 has already done.
Planned "communities" for white-collar flight are going in along the length of the Fresno and Madera county foothills, and the developers want bigger roads and bridges in every direction. The Measure C expenditure plan calls these expansions "road repair."
Absorption of the 119-acre unincorporated section of Calwa by the City of Fresno emerged from behind closed door negotiations as the surprise compromise between city and county officials in the push to place Measure C renewal on the ballot this November. It includes portions of Church and Jensen avenues that have industrial uses immediately adjacent to residential neighborhoods suffering from increasing diesel truck traffic and crumbling roads.
Gregory Weaver and Danielle Bergstrom reported in the Fresno Bee on July 8 that "the county would get $185 million less [in Measure C funds] in the city's plan, but Dyer said that annexing the largely residential sections of Calwa into the city of Fresno would help soften this deficit for the county."
When the Fresno mayor dropped the new plan just an hour before the Fresno COG's big vote on July 7, another surprise emerged: four rural mayors in the role of advocates for a better public process. Rolando Castro of Mendota, Julia Hernandez of San Joaquin, Mary Fast of Reedley and Scott Robertson of Selma all voted against moving the plan forward to voters.
The proposal next moved to the Fresno County Board of Supervisors for the first of two votes by that body; their final vote to place Measure C on the ballot is slated for Aug. 8. The supervisors split their July 12 vote 4-1, with Supervisor Steve Brandau dissenting, presumably because his political patrons at Granville Homes are negotiating behind the scenes for more road subsidies. His full support is anticipated by August.
At press time, votes were upcoming at the Fresno County Transportation Authority and the Fresno City Council. Both bodies are anticipated to announce their satisfaction with the backroom deals, secret negotiations and the Measure C renewal committee's failure to define equity in transportation spending or to receive a single presentation on climate change in 18 months of meetings.
Advocates from the Transportation4All.org coalition, which submitted a letter signed by 36 entities from across the civic spectrum including unions, faith leaders, businesses and community-based organizations, continue to call on elected leaders to do better.
As Veronica Garibay, co-director of Leadership Counsel for Justice and Accountability, told the Fresno Bee after the mayors' vote, "Tonight demonstrates that decision-makers today have no respect for community engagement and community voices…I don't think that the public forgets easily."