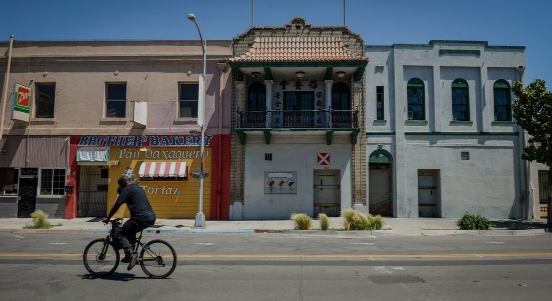 Fresno's Chinatown is unique among similar historical sites in the state. In the 20th century, it developed as a center of community life, integration and economic development for the state's central region.
During the early 1960s, Fresno was named the most "ethnically diverse" small city in the nation, attracting persons from 11 different cultural backgrounds. They came by the thousands, settling in communities in and around Chinatown. It served as a center for vital services, social and cultural activity, regional and national and international events, and for economic growth and employment.
Chinatown was truly the "Brooklyn" of the West Coast, a recognition that few other sites in the state could claim.
As Chinatown developed and grew, it supported the Central Business District (CBS), especially during downturns in the economy. Although the City has made continual commitments to the CBS, it has downplayed Chinatown's unique history, ignored its innate value to the region and has continually failed to commit to a cohesive and visionary plan for its development.
The current plan to construct further housing in Chinatown is both shortsighted and inconsistent with the true needs of the area and, ultimately, of the entire community. Although there is a dire need for additional low-cost housing, it would be more efficiently located in other areas in the central district.
The current laws governing housing give both government and developers significant flexibility to construct housing in almost any location they desire. In addition, other areas potentially offer better schools and access to many more vital services. That would contribute to greater equity in Fresno's housing resources.
In a 2019 Fresno Bee article, the author proposed that Chinatown be designated a historical district and as a state park. This is consistent with what has been done in other places in the state, for example, Old Sacramento and Old Town San Diego.
These areas were designated as having major historical value and worthy of such recognition. Both eventually contributed significantly to the development of the cities they supported, triggering major economic growth and becoming among the state's most attractive tourist sites. Chinatown is potentially no different.
Also in 2019, Gov. Gavin Newsom earmarked $15 million in the budget for a state park, preferably in central California. This was in response to the overconcentration of state parks in northern and southern California. Despite these efforts, Fresno and other communities in central California failed to avail themselves of this opportunity. The following year, all but $1 million was left in the budget, which was eventually given to Stanislaus County for a new state park in its east county.
The designation of Chinatown as a historic district and eventually as a state park would potentially trigger a new state center of entertainment, recreation, and cultural and educational activity, truly reflective of its unique contributions to California. Such a plan is visionary and no less than what the residents of Fresno expect from elected officials. Obviously, there is much support for such a proposal.
The proposal is consistent with the City's commitment to high-speed rail (HSR), which will include a major regional train station at H Street between H and G streets, and Fresno and Tulare streets. Construction has already affected Chinatown, greatly curtailing its traffic flow.
However, for the HSR plan to be successful, it will require a large volume of foot traffic. The current plans would merely increase the number of residents in the adjacent areas and encourage only limited use of the HSR.
The development of Chinatown as a historical district and a state park would significantly heighten its potential value to Fresno, bringing thousands of people to the city, and eventually stimulating major economic growth in the region.