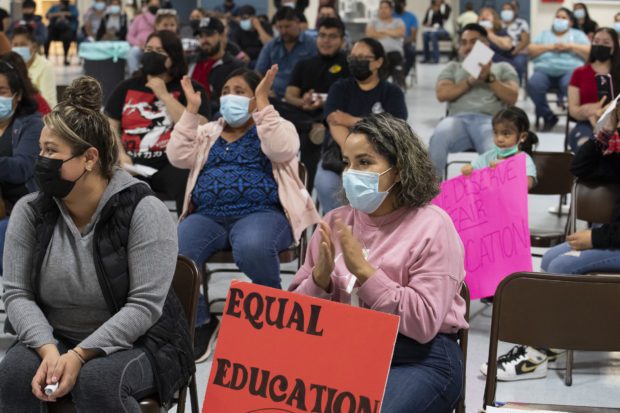 In the small west Fresno County city of Huron, there is an active battle for education that is gaining momentum.
Dozens of concerned Huron parents filled the local John Palacios Community Center in mid-March to rally for a better education for their children.
"It's time that Huron has its own high school," said Nancy Ramirez as she passionately addressed the attentive Spanish-speaking crowd in her native tongue. "And I know that together, united, we can succeed in getting a high school here in Huron."
Maria Cabrera, a parent, echoed the same resolve, "It's time that we raise our voice because we are tired of all of the injustice that is happening in Coalinga."
Established as an important water stop for the Southern Pacific Railroad in the late 19th century, Huron is about 25 miles northeast of its bigger sister city, Coalinga, named for being the railroad's coaling refueling station in the area at the time. Both cities have an intertwined history, and both are relatively small.
Today, Huron has about 7,000 residents and Coalinga is more than twice as big, with a population of about 17,000. Huron consists mainly of migrant farmworkers of Latino descent, whereas Coalinga boasts booming industries that include not only agriculture and oil but also a state prison and mental health hospital, among other growing industries.
Both cities share a joint unified school district for their K-12 public education, the Coalinga-Huron Unified School District (CHUSD).
"There is no trust between the communities," said Ben Silva, a longtime Huron resident and community organizer.
He, like many others in Huron, feels disenfranchised in their public education relationship with Coalinga. Many feel that Coalinga gets all the resources while Huron suffers.
The heart of the matter is a high school in Huron. There isn't one.
Hundreds of Huron's high school age students are bused to Coalinga High School, the only high school in the district—a six-hour walk—each day just to get to school. Of course, the kids aren't walking (they'd never make it); instead, they rely on CHUSD busing for their government-guaranteed education—a grueling commute longer than an hour each way.
"If you're lucky, the bus ride is an hour," continued Silva. "There are some routes that are an hour and a half…they have to stop and pick the kids up at the farms—there's no choice. And those kids deserve an education—they have to be picked up. These kids are suffering big time.
"Think about it this way: it's a marathon. You run a marathon, and then you get to school and they want you to sprint. How are you gonna do it? You're not gonna compete with the other kids. You're already tired. Just the trip over there you're tired already, not to mention the trip back.
"When I was in school [at Coalinga High], I used to come in really late, like 10 or 11 p.m. It's true, I didn't study or anything when I got home—I just took a shower and went to bed. I used to wake up at 4 a.m. in the morning just to do my homework, you know. Things have to change."
Another parent echoed a similar story: "I have a daughter in high school, and every single day she has to wake up very early before dawn to go to school. Our kids lose a lot of sleep time."
This concerned mother also brought up another important underlying issue, "Our kids feel a lot of discrimination because they are Latino and children of immigrants. Our children suffer from a lot of bullies…The next generation of Huron kids will continue to suffer if we don't support a high school here in Huron."
Huron grandmother Maria Mejia had a heartfelt message for the younger generation present: "I am here to represent the community of Huron to ask for a high school in Huron because I remember my children going through an incredibly difficult time when they went to high school in Coalinga, and I am afraid that our youth attending high school in Coalinga now are still experiencing the same kinds of things, and I don't wish that on any Huron child."
The CHUSD's website states that it "is committed to advancing the District's mission to provide the best education and career opportunities to all students…We invest in our children by investing in the people, programs and facilities of our great district." Yet, according to the parents in Huron, their students aren't even getting the bare minimum.
"These are the people that are suffering," lamented Silva. "These parents are making their sacrifice out there in the fields because of the future of their kids.
"And what future is there if they don't even have a high school? We're not asking about a college. We're talking about a high school. It's just a basic necessity. And that's what the state says, we're supposed to have a free and appropriate education—what we are being denied."
"Under the Equal Protection Clause of the 14th Amendment," Silva elaborated, "CHUSD is violating our civil rights for education. Plain and simple. We know it's a violation on both the federal and state levels."
Proud Huron parent Maricela Gregorio made it clear why Huron families packed the community center on a busy Friday night: "We are here to fight for a high school for our children, for a better future."
Also at the rally were some Fresnans who took the hour-long trek to support Huron residents. "I am from Fresno," noted one Fresnan, "and we are here to support all of you parents in Huron. We don't have to live here to support you. We support education…because education is important to all of us.
"We want our children to have a better life. We are only fighting for our children to have an education. I don't understand why this is something bad.
"All of you parents present here should be very proud—proud that you are standing up for your children, doing everything you can as parents, and fighting for your children so that they can have a better education." The crowd erupted in applause.
"We need to stay focused on Huron High School," Silva emphasized. He understands that his hometown has a lot of other pressing needs, for example, more elementary schools, but he also knows that these needs could distract from the primary objective of getting a high school built in Huron as soon as possible.
Silva's mother, Dolores Lopez Silva, a retired Huron teacher turned CHUSD board member back in 2004, was the first to ask and push for a high school for her community during her four-year term, but she was always told that there just wasn't enough money for one.
Now, with tens of millions of dollars in Covid relief funds given to CHUSD and readily available for use, her son Ben is carrying the torch and following in her footsteps to keep CHUSD accountable and fight for a fair and equal education for their hometown students—fighting for a high school—in Huron.
"Once Huron High is built and completed, then we can work on getting another elementary school," Silva reassured. "But building another elementary school without a high school will keep the community locked into the same situation for another 20 years of riding the bus."
The situation is serious. Imagine students who simply want to participate in sports, music or other normal high school extracurricular activities. Sometimes they don't get back home until after 11 p.m. And when there is no bus available, Huron parents have no choice but to drive all the way to Coalinga to pick up their kids.
Going to high school while living in Huron is like working two jobs—it's incredibly exhausting. All of this leads to more dropouts and low community graduation rates. This, in turn, leads to less economic opportunity in the community, which, of course, is a recipe for perpetual poverty and social disenfranchisement. Something must be done soon, and now is the time.
At the gathering, Fresno Democrat Phil Arballo, a candidate for California's 13th Congressional District, briefly addressed the crowd in English (with a Spanish translator) to tell them how he would support Huron's cause if elected. It was his first time in Huron, and he was able to see firsthand the passion of these farmworker parents for a better education for their children—something they know and are convinced a local high school would bring.
But Silva is ftired of empty promises. He commented privately: "That's why we tell all these guys, 'hey, where's your will?' Being elected isn't enough, where's your will? I mean, is this America?
"These government officials want these people to go fight in the military—we're veterans here—and yet, we're coming back home to this crap? We're just asking for the basics."
Also present at the rally was Firebaugh-Las Deltas Unified School District Trustee Eliseo Gamino. Gamino, who is also running for Fresno County Superintendent of Schools this year, is president of the Central Valley Leadership Roundtable and when he was alerted to the community struggle in Huron he didn't hesitate to help. He's been advocating for Huron anywhere he can—from packing recent board meetings in Coalinga to filling community centers in Huron. He says that his role is to "support the parents—to support a just cause."
A long overdue high school would radically change Huron for the better. Gamino wants elected officials to do everything they can to help. He commends State Senator Anna Caballero (D–Merced) for committing to help the families and community of Huron.
"As Fresno superintendent, I would take Huron's case directly to the state in my elected capacity…I'm committed and I'm a man of my word. I can't make any promises that I can't keep, but one thing I can do is be here fighting alongside the parents. This is a social movement—this is my heart."
In this critical struggle for limited public education resources between the old coaling town and the old watering town in Fresno County, we must continue to remind all decision-makers and stakeholders how important a high school is to a student and how vital it is to a community.