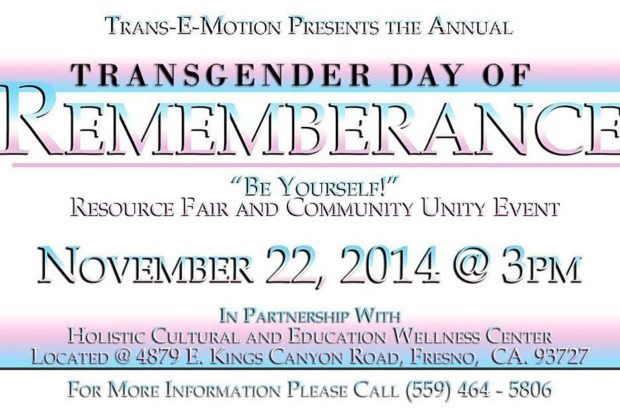 By Kaylia Metcalfe
This month marks the 17th year where groups from all over the world will gather together on Nov. 20 and participate in Transgender Day of Remembrance (TDoR) events.
TDoR is a day set aside to memorialize those in the transgender community who have lost their lives, either as a result of transphobic-inspired violence or suicide. Since its inception in 1998, TDoR events have taken place in more than 20 countries and are regularly celebrated in close to 200 U.S. cities.
Here in Fresno, the local grassroots organization Trans-E-Motion will be hosting an event as it has done for the past 13 years. Again this year, the free event will be a mix of celebration and solemn bereavement. New this year are a few other related events.
This year, we have a lot to celebrate. Even though the pain and sadness caused by the untimely and tragic deaths our community has faced have been shocking and too often close to home, the issues of transgendered people are having an unprecedented moment in the social limelight. More celebrities and politicians are coming out as trans or trans friendly, more diverse and well-rounded trans characters are being written and portrayed in groundbreaking ways, and with several high-profile transitions being in the public eye, the stage is set as never before for trans issues to move to the forefront of the fight for equality.
Of course, there is still far to go for the transgender community. Equality is an uphill battle, and it is essential that even as we celebrate the impending tipping point in terms of marriage rights we don't forget that a large part of our community still lives in fear and with issues hard to even comprehend on the cis side of the spectrum.
That is why events like TDoR are so important, not just for the transgender people, but for those of us who stand by their side under the rainbow flag. It is our job to help create safe spaces for education, reflection and celebration. The trans struggle might be hard to understand to the cis community, but here in Fresno, we are lucky enough to have a community who, though outside of the transgender experience, is still willing to honor those who have died and celebrate the lives of those still with us.
This year's TDoR promises to carry on the tradition of reflection and hope. Again this year, people from all walks of life will share food and fellowship. Again this year, we will draw close together days before Thanksgiving and take stock in who and what we are as a community.
For many, being transgender is to be always reflective of the line between the past and the future, the inner and the outer, the private and the public. As TDor events all over the world find a balance between sadness and joy, they draw on the duality of introspection (awareness of inequality and loss) with the thrill of metamorphosis (becoming who you are destined to be). Really, there is no better tribute.
Schedule of events:
Nov. 20, 6 p.m.: Rally and vigil followed by a sidewalk march for transgender rights and awareness in the Tower District.
Nov. 21, 5 p.m. An event in Porterville in partnership with Gay Porterville.
Nov. 22, 3 p.m.–8 p.m.: The main TDoR gathering at the Holistic Cultural and Education Wellness Center. Tabling by local organizations and a program highlighting the lives of trans people will be held.
More details on these events will be announced on the Trans-E-Motion Facebook page.
*****
Kaylia Metcalfe is a writer, blogger and activist in Fresno. She is a co-founder of Skeptics Without a Cause and serves on the Gay Central Valley Board of Directors, is a co-founder of the Collective of Artistic Women (CAW) and a general blogger. Her short story collection "Links" is available at www.amazon.com. Contact her at kayliametcalfe@gmail.com.