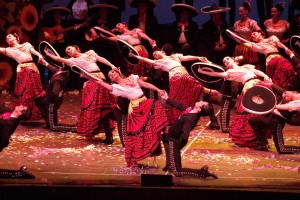 2010 is definitely the year to celebrate Mexico. Honoring both the centennial of the Mexican Revolution and the bicentennial of Mexico's independence, the country's commemorative activities extend throughout the globe. With two national milestones coming together in one anniversary year, Mexico is going all out to memorialize this cultural eclipse with a smorgasbord of artistic festivities.
One of the first major events in the celebration lineup in Fresno will be a gala performance of the Ballet Folklorico de Mexico de Amalia Hernandez, the most prestigious Ballet Folklorico troupe in the world and definitely one of Mexico's most coveted cultural exports. Sponsored by Dance for Power, a Stockton-based organization specializing in the presentation of world arts events, this performance will take place on Thursday, March 25, at 7 p.m. at the Roosevelt High School Arts Auditorium 4250 E. Tulare Ave.
Hailing from the Palace of Fine Arts in Mexico City, the Ballet Folklorico de Mexico is unparalleled for its stunning collage of whirling skirts and incredible foot-stomping. The 60 spectacular dancers who appear in dazzling costumes against picturesque backdrops will be accompanied by 15 virtuoso musicians whose mariachi and other popular rhythms regularly delight audiences of all ages and ethnicities. An attraction that rivals the best Broadway production, in 2010 the company is pulling out all its artistic stops to make the program an incomparable experience with eye-catching choreography.
Tickets to this once-in-a-lifetime anniversary performance are available at all Ticketmaster outlets or online at www.ticketmaster.com. Seat purchases by cash, check or credit card can also be made by phone or in person through Arte Americas (559-266-2633), located at 1630 Van Ness Ave. in downtown Fresno. Hours of operation are Tuesday through Saturday from 11 a.m. to 5 p.m.
To learn more about the Ballet Folklorico de Mexico de malia Hernÿndez, visit www.danceforpower.org or www.balletamalia.com.