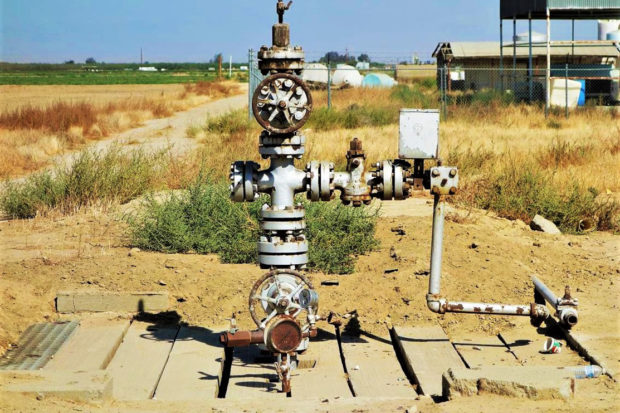 By Tom Frantz

For several years, environmental justice advocates in California have lobbied the legislature for a buffer zone between oil production activity and schools, hospitals and residents. Every study shows the negative health effects from living too close to these polluting operations.
AB 345, requiring a 2,500-foot buffer zone, was sailing through the California state legislature this year. A large statewide coalition was behind it. The second week of August the bill faced its last major hurdle in the Senate Natural Resources Committee.
At the last-minute Democratic Senators Bob Hertzberg of San Fernando and Ben Hueso of San Diego shot it down. They claimed the law was unnecessary because Governor Gavin Newsom had already ordered the California Natural Resources Department to consider buffer zones when new permits are issued.
It was obvious these politicians were bowing to the demands of oil industry lobbyists and labor unions that continually cry "loss of jobs" against any new regulations and spend enough money to get their way.
Adding insult to injury, Hertzberg, known for his inappropriate touching during his many years lollygagging around the State Capitol, inappropriately attacked the key person giving support testimony for the bill implying she was either ignorant or a liar.
Even if the bill had passed, would it have been enforced? The California Geologic Energy Management Division (CalGEM) has more than 750 regulations regarding oil and gas production in California. It does a poor job enforcing these in several obvious areas, which means they probably do a poor job overall.
Take steam injection caused oil leaks or "surface expressions," for example. These were made illegal in April 2019 by Rule 1724.11. A streambed in Kern County filled with leaking oil in May 2019 shortly after the law went into effect.
Governor Newsom visited the site, where more than 1.3 million gallons of toxic fluid had destroyed natural habitat for endangered species and killed wildlife. He ordered Chevron to do everything necessary to immediately stop the leak. It was stopped, and Chevron was given a $2.7 million fine, which it quickly appealed and has not been paid.
Meanwhile, the publicity died down but another leak 600 feet downstream, which had actually started in 2003, continues to this day. A third leak just up the hill began last November and continues. It is estimated that these two ongoing leaks have emitted more than 25 million gallons of toxic water and crude oil since Chevron was given Notices of Violation for them in 2019.
In July of this year, CalGEM was asked by interested parties for the exact quantities leaked and it said there would be a response in October. It is pretty obvious the law about surface expressions is not being enforced!
There is a sump rule that is also not enforced. Rule 1770 says evaporation sumps cannot be in natural drainage channels or in communication with freshwater-bearing aquifers. Environmental groups have been involved in recent complaints and/or lawsuits regarding both these situations and little has been done.
CalGEM has the rule in its book but defers to the Regional Water Board to enforce its own related rules. Water board staff issued orders to comply in one case, but the board members met with the industry in secret and overrode those orders.
Rule 1776 refers to restoration of a well site after the oil company is done using it. Often, the oil company does not own the land on which it drills, just the mineral rights.
In Shafter, the local oil company has given unneeded land back to farmers after drilling and fracking but left the drilling sumps filled with waste and permanently buried on the site. The farmers subsequently plant trees above these sites, and the plants promptly die.
Complaints have been made, but after months a promised investigation has never been completed. The investigation is likely nonexistent, and only a lawsuit will get any action. This illegal activity should never have happened in the first place.
Rule 1772 refers to idle wells. They must be properly abandoned or at least tested regularly for their integrity to ensure they aren't leaking methane into the atmosphere and toxic fluids or gases into groundwater.
The problem arises most often when a new oil company takes over an old oil field but does not take responsibility for the existing idle wells. They will rehabilitate an old well that can still produce and pretend they don't know there is another one that needs abandoning a few hundred feet away.
Rule 3300 says there should be no unreasonable wasting of natural gas. This makes sense because it is a limited resource used for our voracious energy needs. But CalGEM does not enforce this rule either. There are methane leaks everywhere in the oil fields.
Worse yet, huge flares burn off gas every day simply because it is uneconomical to capture and clean the gas for sale. Our air district is complicit because it permits these flares and defines, independently of CalGEM, how and when flaring can occur.
So why are these and many other regulations not adequately enforced by CalGEM or other agencies? Basically, CalGEM answers to politicians such as the Governor and the state legislature. For the same reason that AB 345 did not pass and the Governor keeps permitting new fracking, these regulations do not get enforced.
The oil and gas lobby cries about "loss of jobs" every time a new regulation is proposed or they can't easily get a permit. This industry also lines the pockets of state politicians every time there is any sign of stepped up enforcement. The courts might be our only recourse, but money to bring these cases is hard to come by and it takes forever.
The best advice is to purchase an electric car and electrify your home as soon as you can. The oil industry has total control of our state government and will only go away when we stop using its product.
*****
Longtime clean air advocate Tom Frantz is a retired math teacher and Kern County almond farmer. A founding member of the Central Valley Air Quality Coalition (CVAQ), he serves on its steering committee and as president of the Association of Irritated Residents. The CVAQ is a partnership of more than 70 community, medical, public health and environmental justice organizations representing thousands of residents in the San Joaquin Valley unified in their commitment to improving the health of Californians. For more information, visit www.calcleanair.org.