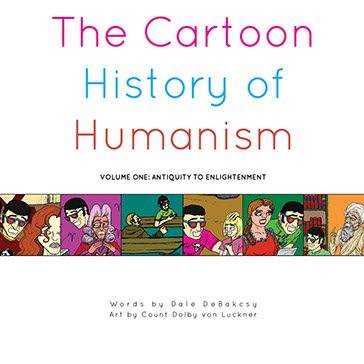 By George B. Kauffman
The Cartoon History of Humanism: Volume One: Antiquity to Enlightenment; words by Dale DeBakcsy, art by Count Dolby von Luckner; Humanist Press, 1777 T St., Washington, DC. 2016. $24.99. ISBN 978-0-931779-70-1.
Based on TheHumanist.com's popular comic series but now in book form, this book follows the adventures of Dave, who carelessly made fun of a logical positivist when he was a child. As a punishment, Dave was cursed by the logical positivist to wander time and space to converse with humanist philosophers until he had learned his lesson.
During his journey, Dave meets numerous atheists, skeptics, writers and thinkers who have influenced humanist philosophy, including David Hume, Baruch Spinoza, John Stuart Mill and Leonardo da Vinci. However, in addition to these familiar figures he meets Mark Twain, Karl Marx, Mary Ann Evans (the actual name of George Eliot) and Indian King Ashoka and humanist thinkers such as Arabic philosopher Ibn Rushd, Italian Renaissance leader Isabella d'Esta, 19th century novelist Fanny Lewald and many others.
Through Dave's time-traveling adventures, DeBakcsy presents the history of humanist ethics and the individuals who have defied the religious authorities of their times to advance rationality and free thought. The Cartoon History of Humanism is an accessible and humorous introduction to the topic as well as giving a fresh and engaging perspective to familiar philosophical views.
There is no person improbably named Count Dolby von Luckner. There is only polymathic Dale DeBakcsy, familiar to readers of Free Inquiry for his contribution to its "Great Minds" column and a frequent contributor to Philosophy Now, Skeptical Inquirer and American Atheist.
Anyone interested in where our rationalist seeds were sown and how they bloomed, were crushed and bloomed again should read The Cartoon History of Humanism. It is an educational and fulfilling read that not only appeals to those in search of easy-to-grasp historical knowledge but also to those in search of art and humor. DeBakcsy has produced a delightful textbook case in creativity, containing superior research expressed in a concentrated engaging style with cute cartoons.
DeBakcsy is the author and illustrator of the biweekly column "Women in Science" at MadArtLab.com, the first two years of which have been collected in book form as The Illustrated Women in Science. He is also creator of The Cartoon History of Humanism series at TheHumanist.com and is the writer of the "Great Lives" series for Free Inquiry magazine. Since 2007, he and Geoffrey Schaeffer have co-written the historical Web-comic "Frederick the Great: A Most Lamentable Comedy Breaching Time and Space." His first collection of essays, Godless Nerdistry, is available on Amazon.
*****
George B. Kauffman, Ph.D., chemistry professor emeritus at Fresno State and a Guggenheim Fellow, is a recipient of the American Chemical Society's George C. Pimentel Award in Chemical Education, the Helen M. Free Award for Public Outreach and the Award for Research at an Undergraduate Institution, and numerous domestic and international honors. In 2002 and 2011, he was appointed a Fellow of the American Association for the Advancement of Science and the American Chemical Society, respectively.