By Mike Rhodes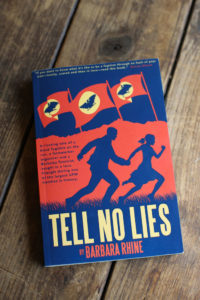 The early 1970s were an amazing time to be young and alive in the Central Valley. There was a sense of excitement, hope and a belief that we were about to change the world. It is in that context that we encounter Carolyn and James who are from the Bay Area; they are on the run, fugitives from injustice, and heading to Fresno. Barbara Rhine's exciting new book about the United Farm Workers Union (UFW), radical politics and what life was like for those of us lucky enough to grow up in the Central Valley had me hooked before I finished the first chapter.
James Sweet is the target of a massive law enforcement manhunt and his friend Carolyn seems to be his only hope for survival. They end up in a small town north of Fresno, which is identified as being on Highway 99 and "the first stoplight north of the Mexico border." They arrive in a rather desperate state of mind at Mary Louise's house.
As the lead organizer at the UFW office, Mary Louise is appropriately concerned about the danger her friend Carolyn has brought into her life and how it will affect the union. Having a high-profile African-American fugitive in this small farmworker community seems likely to draw some unwanted attention.
Life, living and politics get complicated as each person explores questions about who they are, how they arrived in this place and where they go from here. I have to say that the story really hits home for me, because Pam Whalen (my wife) and her good friend both worked for the UFW in that little town that used to have an unusual stoplight on Highway 99. Pam was an organizer and her friend ran the union office. Although this book is fiction, it gives a realistic view of what life was like for UFW organizers in the Central Valley at that time.
How do organizers, or anyone committed to social and economic justice, balance the demands of the work and their personal lives? What accounts for such dedication and selflessness even amid chaos, crises and life's inevitable curveballs? The subtle dynamics that motivate people to give their all to build a movement for social change is told with skill and rare talent.
But, don't think that it is all work and no play for Carolyn, James and Mary Louise. They enjoy life, have fun and experience what is possibly the best times of their lives. The backdrop is a huge march against the biggest winemaker in the region and we go with UFW organizers into the homes of farmworkers who are overcoming their fear of the bosses, learning about the power of solidarity and the importance of the union. Tell No Lies is unambiguous in its class analysis and which side of the barricade they are on.
The political landscape is complicated by James being a high-profile political refugee from the Bay Area. What if he is found with UFW organizers? Would that discredit or even destroy the union and everything they are trying to build? Should they force James out before he is discovered as momentum builds for the big march? How high of a price are people willing to pay to stand by their friends and uphold political convictions?
The joy of organizing the biggest march the valley has ever seen, the emotional highs and lows in their personal lives, and the excitement of being in times when history was being made is why you will love this book. Tell No Lies gives an accurate account of what it was like to work for the UFW, mixes in the radical politics of the early 1970s and is written by someone who was there.
Rhine worked for the UFW in the early 1970s and was in the Central Valley long enough to know that you don't need a weatherman to know which way the wind blows. She is still in contact with many of the activists who are mentioned in the book. Dolores Huerta, UFW co-founder, says "Tell No Lies is a vivid account of the 1970s United Farmworkers Union. Read this novel to understand the dangers faced by organizers and all who worked with them."
The actor Danny Glover said, "If you want to know what it's like to be a fugitive through no fault of your own—lonely, scared and then in love—read this book."
I agree with Huerta and Glover that this is a book worth reading. It is exciting to have a book that reflects and validates the work of people, right here in the Fresno area, who were working for social and economic justice in the early 1970s.
Although this is not a biography or a historical document about what happened, it does help the reader to understand what it was like to live in times when history was being made. You will feel the hope and confidence that these young activists had, who knew that victory was within their reach. I thank Barbara Rhine for telling that story.
*****
Mike Rhodes is a frequent contributor to the Community Alliance newspaper. Contact him at mikerhodes@comcast.net.