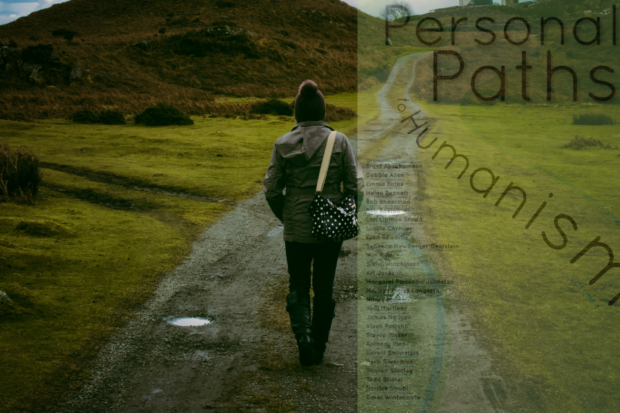 By George B. Kauffman
Personal Paths to Humanism, edited by Bob Bhaerman and Fred Edwards, Humanist Press, 1777 T St. NW, Washington, DC 20009, 2016, Paperback, $12.99. ISBN 978-0-931779-71-8.

Persons religiously opposed to humanism often think and say on the Internet that people become humanists out of pride, narcissism and a desire to pursue a depraved life. This book, which is a truly inspirational reading experience, soundly refutes this claim and explains why people become humanists.
To create this book, the editors asked a cross-section of American Humanist Association leaders and supporters to tell their stories. From what they shared, a great variety of replies and similarities emerged. Many of the book's 27 authors came to humanism from traditional religions: some mild, some strict. Others came from secular backgrounds. Some came to humanism at an early age, others later in life. A few experienced rapid change, but most came to it gradually.
The editors discovered that when people shared their life journeys, a bond occurred. They not only learned but they also identified, showing that humanist ideas are not only a set of philosophical abstractions but also are living things arrived at by processes of change that we can recognize and feel.
As the Humanist Press released this volume in 2016 in commemoration of the 75th anniversary of the American Humanist Association, the nature of the book's stories make it clear that the editors need to get ready to receive more stories for a second volume. The editors hope to build a perpetual archive of life experiences to inspire future generations of humanists.

*****
George B. Kauffman, Ph.D., chemistry professor emeritus at Fresno State and Guggenheim Fellow, is a recipient of the American Chemical Society's George C. Pimentel Award in Chemical Education, the Helen M. Free Award for Public Outreach and the Award for Research at an Undergraduate Institution, and numerous domestic and international honors. In 2002 and 2011, he was appointed a Fellow of the American Association for the Advancement of Science and the American Chemical Society, respectively.