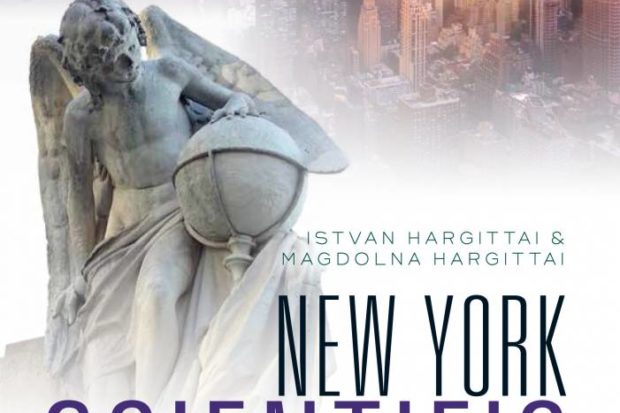 By George B. Kauffman
New York Scientific: A Culture of Inquiry, Knowledge and Learning. Oxford University Press, Oxford, UK, 2017, Hardcover, $44.95, ISBN 9780198769873
New York Scientific, by Istvan Hargittai, professor emeritus of the Budapest University of Technology and Economics, and Magdolna Hargittai, a research professor at the Budapest University of Technology and Economics, introduces the reader to the visible memorabilia of sciences and scientists in the five boroughs of New York City, including statues, busts, plaques, buildings and other artifacts. Furthermore, it extends to some scientists and institutions currently operating in the city.
New York has been known as a world center of commerce, finance, communications, transportation and culture, but it is also a world center in science. It is a home to renowned universities and research laboratories, a museum of natural history and other museums related to science, a science academy, historical societies, botanical gardens and zoos, libraries and a Hall of Science, as well as a large number of world-renowned scientists.
The book also deals with the city's role in welcoming persecuted scientists and helping African-American and women scientists thrive. Presented in an informative and entertaining manner, with scientific gossip and anecdotes, this book can be enjoyed without the reader's actual presence in the city. The book's more than 800 photographs might induce readers to make their own discoveries in New York.
The book's eight chapters are "Explorers and Naturalists," "Scientists and Innovators," "Learning," "Aiming Higher in Education," "City of Medicine," "Rockefeller University," "Columbia University" and "Roaming the Streets."
*****
George B. Kauffman, Ph.D., chemistry professor emeritus at Fresno State and a Guggenheim Fellow, is a recipient of the American Chemical Society's George C. Pimentel Award in Chemical Education, the Helen M. Free Award for Public Outreach and the Award for Research at an Undergraduate Institution, and numerous domestic and international honors. In 2002 and 2011, he was appointed a Fellow of the American Association for the Advancement of Science and the American Chemical Society, respectively.