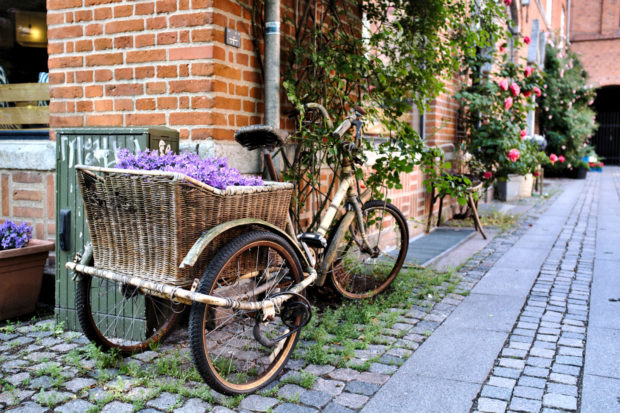 I grew up a big fan of science fiction movies. One of my all-time favorites is a classic from 1951, The Day the Earth Stood Still. If you've seen the movie, then you probably remember one of the more memorable scenes from the film when the character Helen Benson (Patricia Neal) must say the phrase "Klaatu barada nikto" to stop the powerful giant robot Gort. During that scene, and throughout most of the film, Bernard Herrmann, who composed and arranged the score, used an unusual musical instrument, the theremin, to add an eerily subtle other-worldly sound to help create a moody undertone to the suspense.
Which brings us to Blake Jones. Not that Blake is eerily other worldly, but he does play the theremin. I caught up with Blake just prior to his embarking on a big tour of England with the Trike Shop. I asked him about the band, his music, the trip and, of course, the theremin.
"The theremin is the great-grandfather of the modern synthesizer," Blake went on. "It's a simple box with two antennae; one controls volume, one controls pitch—that's all you get. It's played by waving your hands in front of these two antennae; you don't actually touch it. It's quite dramatic and a lot of fun. Most people have heard it in old sci-fi films or maybe in the Beach Boys' big hit 'Good Vibrations.'"
The theremin, however, is not the only musical instrument Blake can play. In fact, Blake studied music education and makes his living as a music teacher in a public school, Kings River Elementary. These days, he adds, advocating for music in schools is a huge challenge. "I play a number of instruments but at a fairly rudimentary level," he says. "Guitar has always been my main instrument, though I can fake my way pretty well on various related instruments. I also play songwriter's piano."
While teaching music in a public school might be Blake's regular gig, performing with his band, the Trike Shop, is a hobby providing his creative heart's desire. "Our music (Trike Shop) is not genre music; we're not a ska band, a blues band or a polka band, etc., so it's tricky to market," he explained. "I'd say we're a song-oriented band with an emphasis on arrangement and harmonies. We have roots in '60s pop and pull from every type of music under the sun. When in a pinch, I usually say something like artsy pop band."
Along with Blake, the Trike Shop consists of Leland Vander Poel on keyboards, Martin Hansen on bass and John Shafer on drums. Blake describes the group as having "come together like pieces fitting into a puzzle." He goes on to say that adding Shafer on drums was the key moment for "locking us in."
The group, at this writing, is preparing for its second trip to England. Blake talked about the first time the group went to England. "The first was a shorter trip—two gigs in Liverpool and one in a town called Bradford. This included a gig in the world-famous Cavern Club where the Beatles got their start. I call it the Beatles' Tokyo Gardens," he kidded. "We had an extremely terrific time. We had a bit of that 'grass is greener' appeal: 'Oh, they're from California,' and we received a very enthusiastic response."
"So we decided to do it again but to make it a more extensive tour," he said. "This will be a trip of 10 days involving gigs in Liverpool (the Cavern and a neighboring club), Manchester and London. Of course, we'll be taking advantage of our off time to do some of the typical tourist things—walking across the famous Abbey Road crosswalk, exploring some of the old venues that the Beatles played back in the day."
And the Beatles are, after all, something Blake should know about, as he is a member of a local Beatles tribute band that calls itself the Beetles. "Notice the oh-so-clever spelling," he exclaims. "We have a great time. It's music we're proud to share with folks. It pays for a lot of the Trike Shop's projects," he laughs. "Original local music is not often a lucrative business, to say the least."
And it is obvious Blake and the Trike Shop are not doing it to get rich but rather to satisfy their creative spirits. In fact, they use their talents as a way to help other causes, including Food Not Bombs (FNB), which takes on the project of feeding Fresno's hungry every week.
Soon after Blake and the Trike Shop get back from their England tour, they will be performing a benefit for FNB at Roeding Park on the afternoon of Saturday, June 11. The group will also perform in a "welcome back" party at the Full Circle Brewery on July 23 at 8 p.m.
I feature Blake Jones often on my Tuesday radio show, Wasteland of the Free, which runs from 10 a.m. to noon on KFCF 88.1 Fresno. He composed a theme for one of my regular features, "Thrift Store Record of the Week," and, by the way, played a theremin in the production.