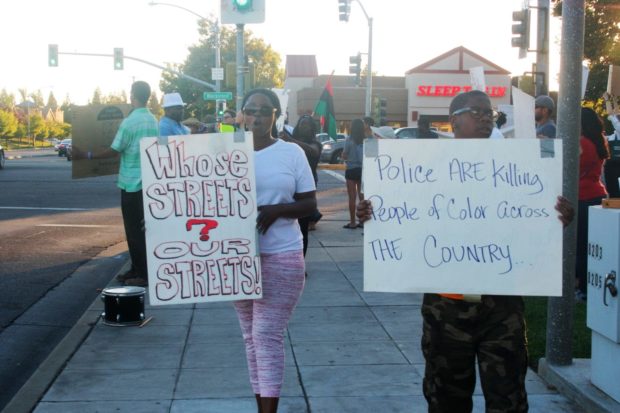 By Hannah Brandt
In July the nation was rocked once again by police shootings of African Americans. First it was the death of Alton Sterling in Baton Rouge, La. Sterling was a 37-year-old man selling CDs outside a convenience store. Video of his death at the hands of police recorded by a store employee swept social media sparking outrage and accusations of excessive force.
According to CNN, a homeless man who got into an argument with Sterling called 911 after Sterling refused to give him money. Two officers were sent to the scene. An altercation ensued, ending with one officer holding down and shooting Sterling. Unlike the vast majority of black men shot by police, Sterling was armed. He also lived in a state which has open carry laws where many people carry guns without this response. The vast majority of them are white.
A week later, video of beloved Montessori school cafeteria worker Philando Castile's death by police in St. Paul, Minn. was recorded by his girlfriend on Facebook Live. Like any footage of a person dying, it is horrific. It is even more chilling because the cell phone video was shot at extremely close range and streamed live as Castile's girlfriend broadcast the details.
Castile appears to be complying with the officer's demand for identification when he is shot point blank. He was pulled over by police, as he had been many times before, for a traffic violation. According to records obtained by NPR, in his 32 years, Castile had been pulled over 46 times and accrued $6000 in fines, the earliest before he was 19. These citations have many asking if he was targeted for his skin color and his death another example of unjustified police violence.
Both cases have people questioning police policies and procedures around the country. As has happened since the 2014 shooting of Michael Brown in Ferguson, Mo. attention has been drawn to the fact that a black man is seven times more likely to be shot by police in the U.S. than a white man. People were also furious to learn of Ferguson's imbalance of traffic citations and hefty fines placed on African Americans versus white Americans. Investigations since have revealed that is common in many jurisdictions.
Philando Castile had trouble paying for his excessive traffic fines, which made him vulnerable to further citations. Whites on average have seven times the wealth that black people do (six times that of Hispanics), putting a tremendous burden on a people who also always have around twice the national unemployment rate. That causes men like Alton Sterling to do things like sell CDs on the street, where they are more likely than whites to be accused of loitering or disturbance when doing so.
Local Concerns about Police Brutality
In July Fresno also made national news for a police shooting that similarly ended in a tragic death. This time, it was for the June 25 shooting of a 19-year-old white boy named Dylan Noble. He lived in Clovis but was pulled over for a traffic violation in Fresno. Video of this incident, which escalated when officers claimed Noble refused to put his hands up, also emerged on social media. His death is also horrific and seemingly senseless, prompting outrage about the militarization of police forces and training of officers to shoot to kill.
Local activists against police brutality, such as those from the Black Lives Matter movement, denounced Noble's killing. "We're as outraged about what happened with Dylan as about what happened to Philando and Alton," said Ernesto Saavedra. "He's white and he died in the streets the same way a lot of brown and black people have." Activists are adamant that police shootings and misconduct do not only harm people of color, but that people of color are impacted more often by police violence due to the institutional racism that still permeates all of society, not only law enforcement.
Immediately following the death of Dylan Noble, mourners descended on the gas station where he was killed. What was originally a vigil organized by his former high school teacher became a rowdy protest when a number of people spun out their cars recklessly, threw insults and bottles at police, blocked the road, and carried Confederate flags shouting "White Lives Matter." Despite these actions, police did not make any arrests and even allowed one young man to use their car radio system to speak to the crowd.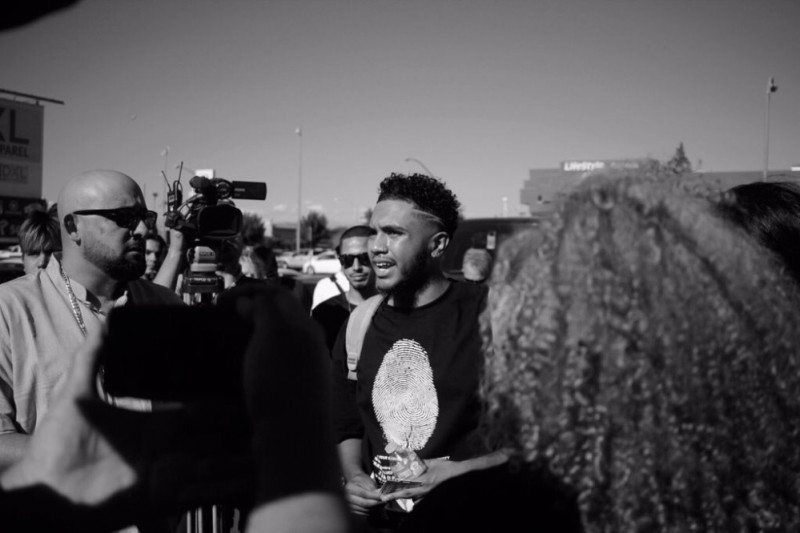 A New Generation of Activists
When Dylan Noble died, Justice Medina-who is also from Clovis-was 19, as well. He is now 20. In one week, he says, his life changed dramatically. "I went from being a regular kid in Clovis to a social activist." The young man revealed that life going to Clovis East High School was tough as a mixed race kid whose mother is African American, his father Hispanic. Bullying left him suicidal until he found solace and empowerment in making rap music.
The protest Justice Medina organized on July 9 was possibly the largest ever in Fresno to speak out against police brutality. About 500 people took to the streets of North Fresno in response to Medina's social media posts organizing the event. He never expected to gather so many people, although he points out that is still only .1% of Fresno's 500,000 residents.
This was Medina's first step into activism, as an organizer or participant. "I was happy to see people from all backgrounds and walks of life come together, but sad that it took someone's life being taken to bring people together." He says race just divides us and keeps us from creating change for all. Medina wants to bridge the generational gap between people, as well. His call is for peace, love, and community.
Unequal Treatment?
Despite his peaceful message, Medina was the only person arrested and was handcuffed immediately following the July 9 protest. He was released but cited with a misdemeanor for not having a permit for the protest and for blocking the sidewalk. This is odd given that police originally told the media the citation was for blocking the street. The citation also lists the location of the violation as U St and Divisadero, which is nowhere near where the protest was.
The protest lasted for several hours with people marching from Shaw and Blackstone to the Clovis police station. Medina also said police told him if the march hadn't gone into Clovis, he wouldn't have been cited. Significantly, he was fined $20,000, which is much higher than any protester has ever been charged in Fresno.
Activists want to know why the protest immediately following Dylan Noble's death was handled so differently by police and the fact that people in Clovis shouted racial slurs and threw objects at Black Lives Matter protesters without repercussions.
Adults in his life have told Medina he is too young to take this on his shoulders. He says, "These problems are our freedoms being taken away. We have to be willing to make sacrifices." Medina has received death threats from people on social media. It does not worry him. "People can't change things by sitting back and waiting for others to do it."
A Way Forward
Activists of all ages who have been working on this issue demand that the Fresno Police Department change its policies and practices including using lethal force only as a last resort, engaging in true community policing, and reporting to an office of independent review that is actually independent with a local administrator who has subpoena power.
Medina says it is critical to hold politicians accountable, as well as police. It was eye-opening for him to go to a City Council meeting where he saw whites from Northeast Fresno also be ignored when pleading with council members to help them with the contaminated water that fills their pipes.
"I know the harmful effects of racism firsthand," Medina declares. "Police brutality is not only about race though. It's about all Americans. We can't fix the world from Fresno, but we can have local impact."
*****
Hannah Brandt is the editor of Community Alliance newspaper. You can follow her on Twitter and Instagram at @HannahBP2. Follow the paper on Facebook at Community Alliance Newspaper and on Twitter and Instagram @fresnoalliance.