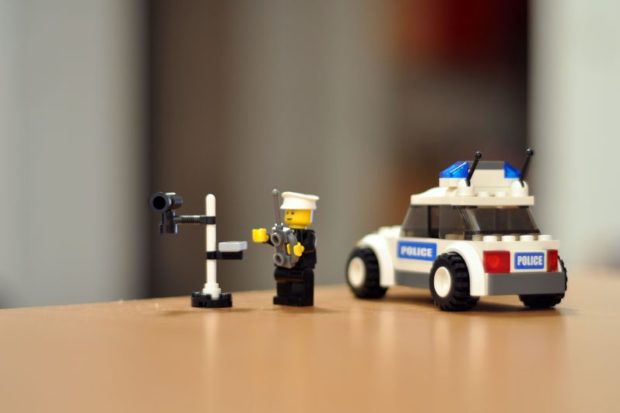 By Mike Rhodes
The video of Fresno police officer Rudy Ruiz denying Jesse Paz and his daughter permission to get on a bus at Manchester Center went viral. Over 100,000 people have viewed the incident in which Paz asks why he can't ride the bus. The response by Ruiz is, "because I said so." Ruiz does not elaborate but tells Paz that he will be arrested if he gets on the bus.
Viewers are left with a sense of outrage, incompleteness and bewilderment about the incident. It is not at all clear what happened before or after the encounter. Paz, who it turns out is a youth minister, was respectful to the officer but did keep asking why he was not being allowed on the bus. Ruiz never provides a compelling answer to that question.
Seeking answers, I submitted a California Public Records Act request to the City of Fresno and Fresno Police Department seeking Ruiz's body cam video and the incident report. I also reached out to Paz, who said he was not interested in doing media interviews.
The city took a long time, well past the 10 days mandated by the law to respond to a CPRA request, but they did eventually provide some detail about what happened before the Paz video began. In what the police call an "event report" Ruiz says that before the incident with Paz he had contacted two black men, one with a shopping cart and he asked if they were planning to catch the bus. The report says "They were not and were politely asked to leave property. Both subjects were cooperative and began to leave."
The report continues, alleging that as the two men began to leave, a Hispanic male adult (HMA) and a young girl approached (presumably Paz and his daughter). Ruiz claimed Paz said, "watch yourselves, Bro. These motherfuckers just want to put you in chains." Ruiz's report says, "He continued cursing and carrying on about being an MMA fighter. . . I asked him to leave property due to his boisterous, unruly behavior. He initially refused and then complied."
In the video that Paz recorded, he did not seem boisterous or unruly. In fact, he seemed amazingly calm, courteous and insisted on getting officer Ruiz to give him a reason why he was being prevented from taking the bus. When I talked to Paz, he was always polite and never cursed.
The obvious solution to how we can resolve this dilemma is by viewing the body cam video that officer Ruiz recorded. Whenever an FPD officer is going to interact with the public, the policy is for them to turn on their body cam. The body cam is clearly visible in the video recorded by Paz.  This is why the City of Fresno has spent money on this new technology – to clear up incidents like this where the facts are unknown or there is a dispute of the facts.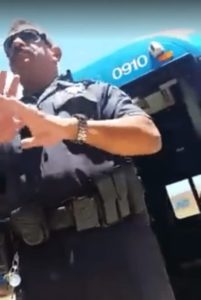 In a response to my CPRA request, City of Fresno attorney Douglas Sloan did not release the video, saying the FPD "did not locate" the "body cam footage." My sources, who have asked not to be identified, claim there was a malfunction with officer Ruiz's body cam.
Larry Donaldson, a City of Fresno attorney who is the liaison with the FPD, called to tell me that CPRA requests do not apply to body cam footage. He would not confirm or deny a video existed of the encounter between officer Ruiz and Jesse Paz, but if it did they would only release it if they were issued a subpoena. Donaldson paused and added that another route to releasing the video would be if FPD chief Jerry Dyer released it. Dyer, he said, has the discretion to release body cam video.
The video shot by Jesse Paz is on YouTube. Search: Fresno PD "Cuz I said so!"
Here is what he wrote on YouTube about the video: "This video is a glimpse of the reality of many who live in this city (Fresno), who have to put up with aggressive, bully cops."
The simple way to resolve this would be for the FPD to release officer Ruiz's video about what happened leading up to this incident. However, due to either incompetence, mechanical failure, or a desire not to be embarrassed, the City of Fresno will not release the video.
What the FPD and the City of Fresno will do is to allow officer Ruiz's statement denigrating Paz's behavior stand without any supportive evidence. Paz, who does not want to resolve this incident in the media, has filed a complaint with the Internal Affairs Department of the FPD. His faith that the system will resolve this issue in a fair and equitable manner is strong. Only time will tell if his trust in the FPD's Internal Affairs Department and the city's Independent Police Auditor is deserved.
UPDATE: More info here: http://fresnopeoplesmedia.com/2016/06/man-not-allowed-ride-bus-said-fresno-police-officer/
****
Mike Rhodes is a journalist and was the editor of the Community Alliance newspaper from 1998-2014.  You can contact him at mikerhodes@comcast.net.