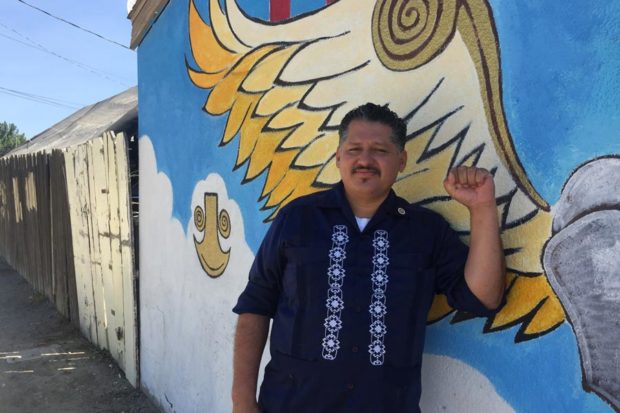 By Michael D. Evans
Huron is a peaceful town, far from anything urban. It sits in southwest Fresno County about 15 miles from Coalinga—about an hour's drive from Fresno. As of the 2010 Census, Huron had a population of 6,754, but during the harvest season that increases to more than 15,000 people. The town was founded in 1888 as a Union Pacific Railroad water stop.
Earlier this year, Huron was featured in the New York Times ("The Anti-Uber," June 17) for its Green Raiteros program, which provides two electric vehicles to promote the Latino tradition of rural ride sharing. The program is part of Valley LEAP, which is a nonprofit founded by Huron's current mayor, Rey Léon.
Léon has proven to be a true champion for Huron and its residents. He grew up there, and although he has left at times to pursue various endeavors, he keeps returning to make Huron a better place. In addition, when he is away from the area he continues to work on efforts to support Huron.
When he left to attend college at UC Berkeley, he would return during the summers. During an internship at United Health Services, he got UHS to respond to concerns raised in a community survey by opening on Saturdays and expanding its daily hours. He also started a youth group, La Raza Unida Huron (The United People of Huron), to mentor kids.
When taking positions outside Huron, Léon says that he "was giving to the community whatever resources I had access to."
Following his most recent return to Huron, Léon says people "started knocking at the door asking me to run" for mayor. "So I thought about it." Ultimately, he decided to run for mayor because of "a lot of unresolved concerns that people had."
During the campaign for mayor, Léon walked the streets of every neighborhood and talked with the small business owners. "Most of them didn't know who the previous mayor was," he said. He provided an ear for their concerns.
In November 2016, Léon defeated the incumbent mayor with an astounding 75.9% of the vote amid exceptionally high turnout of 62.1%.
What has happened in Huron since Léon's election as mayor?
"Whereas City Council meetings would have just staff attending," Léon says, "now there's community attending. They're sharing concerns that we're able to move on, direct to staff and get resolved."
Although he could bring up these issues himself, Léon prefers that the residents go before the Council. "It is more powerful that way," he says. "That's what I encourage, and that's part of the reason why you see more community there."
The town "identified over 30 projects to improve mobility, access and safety on State Highway 269 [the town's main street]." A key project in that area is what Léon refers to as a "multimodal culturally relevant pedestrian refuge."
"I want to be able to ultimately have a plaza that is the heart of the community—a refuge that is culturally relevant and multimodal, meaning that both local and regional buses will go through there," said Léon. "It will have an electric vehicle plug-in station, a place for bikes, benches, trees, green canopy and kiosks. It will be a place where people could go to walk off their dinner and get together with other people such as relatives or friends, make new friends, strengthen the community fabric and improve health."
Another key concern in the community was lighting. "Kids have to wait for the bus, and it's pitch dark because our kids going to high school have to be up really early, too early," notes Léon. Moreover, he states that some folks have told him they are afraid to walk to the store because of safety concerns. Following his election, he worked with PG&E to convert more than 200 streetlights to LED.
These changes emanated from the community. "Staff, for the most part, isn't from here," notes Léon. "So if it happens or if it doesn't, it's going to be the same thing for them because they go to their nice homes in other cities and neighborhoods that are probably well-organized, and they have everything they need. So they don't have to worry about enhancing infrastructure to improve the quality of life as much as if they were actual residents of this community, right?"
Alternatively, Léon sees himself as "hands-on and always making sure that we're moving on things."
"Part of our vision here is that the infrastructure really needs to reflect the culture," states Léon. "Back home in Michoacán, that's how it is. It's got to be that way so that the whole community can be healthier. And that's why it's important that we get our own high school."
Obtaining a high school and a separate school district is a concern that has long been a goal of the community. Currently, Huron is part of the Coalinga- Huron Joint Unified School District, on which three seats are designated for persons from Coalinga and two for persons from Huron. Léon notes that, as a result, "even if we're 100% against a measure, they're going to get it." Moreover, the closest high school in the district is in Coalinga.
"They tax us, and the investments to a great extent go in their community and not in ours," says Léon. "So we're a colony that's being exploited for our resources because our demographics provide them the ability to get special grants or special monies."
The battle for a high school has been ongoing for years with efforts through the Fresno County Board of Education and the State Board of Education.
One of the criteria on which the County Board faulted a proposed Huron high school was that it would be segregated. "But we don't have White kids here," states Léon. "Of course, we have Yemeni kids, Punjabi kids, we have our own diversity. But just no Whites. We have got at least nine languages spoken in a city of 7,000—7,000 on paper; I'm figuring it is more like 10,000 to 12,000."
"They don't understand our people, our cultures," says Léon. "They don't know how to respect that. They've never even had to respect the general cultural diaspora of the Mexicans."
Their efforts have not fared any better with the State Board. "They held our petition for five years before they put it on their agenda," says Léon. "Justice delayed is justice denied."
"Institutionalized racism was reflected at the county level," intones Léon, "and ultimately at the state level as well. We've witnessed and experienced a lot of issues around disparate treatment."
"Even though some of the administrators look like us," he says, "they still perform the actions that the institution has adopted long before them, which is very sad."
The pursuit of a local high school is ongoing. "We will continue to work on that," notes Léon. "We've got an education equity coalition with more than 100 parents, youth, business leaders and community leaders."
"We need our own institution for human development to be under our roof," states Léon, "where parents can access it and they don't have to pay for a ride to go to a high school in a different town that's many miles away. It's an issue of a cultural respect and dignity. And we're going to continue to pursue that."
"We're struggling, we're fighting to get our own school district, ultimately with a high school," implores Léon. "This is a community of families. I like to say it's a family of families. And we need to be able to develop the infrastructure and the systems to facilitate that."
"I grew up here," says Léon. "I've always been proud of being from Huron. And there's something special about folks that grow up here."
*****
Michael D. Evans is a political activist, editor and writer. Contact him at evansm@usa.net.