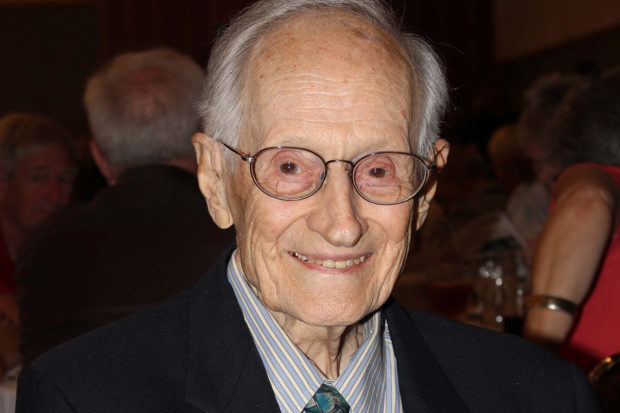 By Vic Bedoian
Alex Vavoulis, the man who launched radio station KFCF in Fresno among many other achievements, died June 9 at the age of 95. He was a proud Greek-American who grew up in New York, served in World War II, then after his return went to college, earning a Ph.D. in chemistry.
It was at Fresno State College in 1968 that chemistry professor Alex Vavoulis began his lifelong devotion to free speech, civil liberties and human rights. Vavoulis and like-minded scholars formed the Fresno Free College Foundation that year to defend poet Robert Mezey, who college officials forced out of his teaching job because he took part in a panel discussion about marijuana. Resistance to the administration's action, and severe overreaction by officials, soon exploded into a major campus free speech struggle.
As the Foundation's first president, he designed a long-term strategy to develop campus and community tolerance. His work helped transform it into an organizational base for groups engaged in worthy causes. Some of those cultural projects are active in the community to this day.
Paul Dale Bush, a colleague of Vavoulis at Fresno State and the Foundation, remembered, "He stood for free speech, progressive thought and had a great influence on the Fresno community for those ideals. Alex added significantly to the cultural community too with many arts organizations started under the Foundation and then later moving out on their own."
Vavoulis was a one-man office doing most of the organizational work as well. In 1988, a Fresno Bee editorial recognized Vavoulis, saying "In its 20 years the foundation has made an important contribution to Fresno's civic, intellectual and artistic growth." And they noted his remarkable talents and selfless dedication in advancing civil liberties, defending free speech and promoting the arts.
Under his leadership, the Foundation reached out to all segments of the Valley community to support the struggle for civil rights, provide scholarship assistance to minority students, defend freedom of the press, support the cause of independent living for the disabled and nurture those values that sustain humanity in the face of adversity.
Vavoulis's most enduring achievement is KFCF, the Central Valley's first listener-sponsored radio station. He thought the Valley would greatly benefit from access to the kind of programs that KPFA broadcast in the Bay Area.
Vavoulis and volunteers made it happen, setting up a repeater and a transmitter. KFCF went on the air in June 1975 airing a preponderance of shows from 94.1 FM in Berkeley and a wide variety of local offerings. Forty-five years later, KFCF radio is fulfilling Vavoulis's original vision and advancing his values. During his tenure as station manager, he sat on the boards of KPFA and Pacifica radio.
An important thread woven through Vavoulis's life was the classical music and especially Greek composers he loved so much. For years, he produced a radio program sharing that passion with listeners.
Subsequently, in the name of the Fresno Free College Foundation, he made complete sets of these programs, entitled Forty Radio Programs: A Focus on Greek Creativity, for the Henry Madden Library at Fresno State, the Center of Modern Greek Studies at San Francisco State, the Fresno County Library and the Library of Congress.
Vavoulis—truly a man of all seasons. Distinguished chemist, civil libertarian, arts maven. His life pursuits spanned the essential spheres of humanity—civic duty and cultural enrichment. Long may he live!
*****
Vic Bedoian is an independent radio and print journalist working on environmental justice and natural resources issues in the San Joaquin Valley. Contact him at vicbedoian@gmail.com.