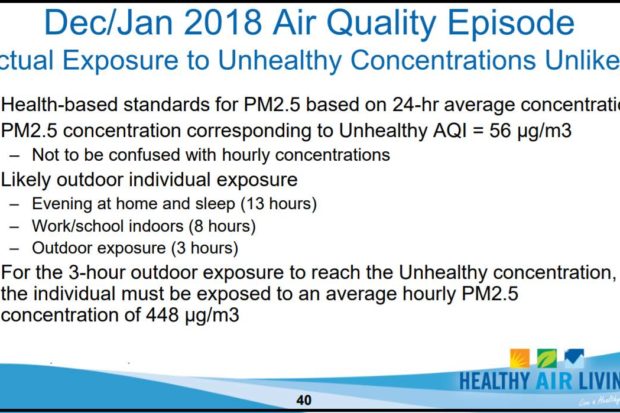 By Tom Frantz
The San Joaquin Valley had extremely high levels of air pollution over the holidays. From Dec. 24 to Jan. 5, the hospital emergency wards were jammed. People died in excessive numbers.
How bad was it? Bakersfield had 12 days in a row that were unhealthy or in the red zone of the Air Quality Index (AQI). It was the longest streak of unhealthy air in the Valley since 2003. Not once during this time could people over the age of 60 go outside safely. Children who played outside likely did long lasting damage to their lungs.
The sooty air filtered into the tightest homes through tiny cracks affecting everyone. Tens of thousands of agriculture, oil field and construction workers were exposed for long hours on most of those days. The level of PM2.5 (fine particulates) was often double the health standard for a couple of million people during this siege.
Studies show that a single unhealthy air quality day will cause an increase in death rates among the elderly. This premature mortality is compounded when the bad air continues day after day. A count of funeral home notices printed in the Bakersfield Californian showed an approximate doubling of deaths for people over the age of 60 during this holiday period. Death rates also stayed at high levels for a couple of weeks following this episode due to lingering health effects (see chart below).
Members of the public asked why there were not prominent health alerts in all the major media outlets during this time. The Air District became defensive. In fact, it took up an hour at the Jan. 19 board meeting to show that the air had not been as bad as people thought and that their current air quality information systems were adequate. Their cover-up during the meeting was actually worse than the original act of omission because they lied.
One air board member "remembered" when the air used to be a lot worse. Another said that most people don't really care about air quality. But, when air district staff did not give the public correct, science-based information about the health effects of this type of air pollution a probable crime took place.
Seyed Sadredin, Air District head, had his staff present a total distortion of how air quality standards should be interpreted. It was explained that the federal PM2.5 air quality standard is a 24-hour standard and because no one is outside for 24 hours there is little actual danger to the public (see a portion of the Air District presentation above).
But this comment is total rubbish. The air quality standards are not meant to reflect actual outdoor exposure for 24 hours. The standards are proxies from multiple studies, which have shown that when the outside air pollution reaches a certain level there are corresponding increases of premature mortality and emergency hospital visits. The 24-hour standard is not meant to correspond directly to how many hours a person is outside.
To make matters worse, the public presentation went on to say that a person would have to be outside for three hours at 448 ug/m3 before being exposed to what is considered unhealthy air quality. This statement is both a lie and dangerous to any member of the public who would take it seriously. Most people would be seriously injured if not dead from breathing air that polluted for three hours.
It is a tragedy to find a public health agency lying to the public to protect itself and giving the public false information detrimental to health. We must demand accountability and honesty from the Air District and from the politicians on the Air Board.
*****
Longtime clean air advocate Tom Frantz is a retired math teacher and Kern County almond farmer. A founding member of the Central Valley Air Quality Coalition (CVAQ), he serves on its steering committee and as president of the Association of Irritated Residents. The CVAQ is a partnership of more than 70 community, medical, public health, environmental and environmental justice organizations representing thousands of residents in the San Joaquin Valley unified in their commitment to improving the health of Californians. For more information, visit www.calcleanair.org.