BY MARCOS FRANCO
(Editor's note: Reprinted with permission from Caló News.)
It wasn't long after sheriff deputies rolled up on the more than 20,000 protestors waving Mexican flags and picket fences along Whittier Boulevard in East Los Angeles that tear gas canisters were fired and batons swung freely. What was initially intended to be a peaceful opposition to the years of inequities and high number of Latino casualties in the Vietnam War quickly turned to horror when journalist and civil rights activist Ruben Salazar and two others were killed.
The Chicano Moratorium movement of Aug. 29, 1970, was built up from years of frustration among community members who united against educational and social inequalities, with emphasis on the disproportionate percentage of Chicanos killed daily in the war. At that time, the stereotypes and other prejudices that held down Mexican Americans made them feel as though they were already at war in their own neighborhoods, and there was no justification for fighting a foreign war 8,000 miles away.
Miguel Vigil Lopez is co-chair of the 50th Chicano Moratorium Committee, which organizes events on Eastside Los Angeles and seeks opportunity and justice for Latinos at every level.
"One of the reasons we [organize] on an annual basis is to commemorate the antiwar movement, but also to continue the fight for higher education and just basic rights for our community," said Lopez, who is a substitute teacher for the El Rancho Unified School District.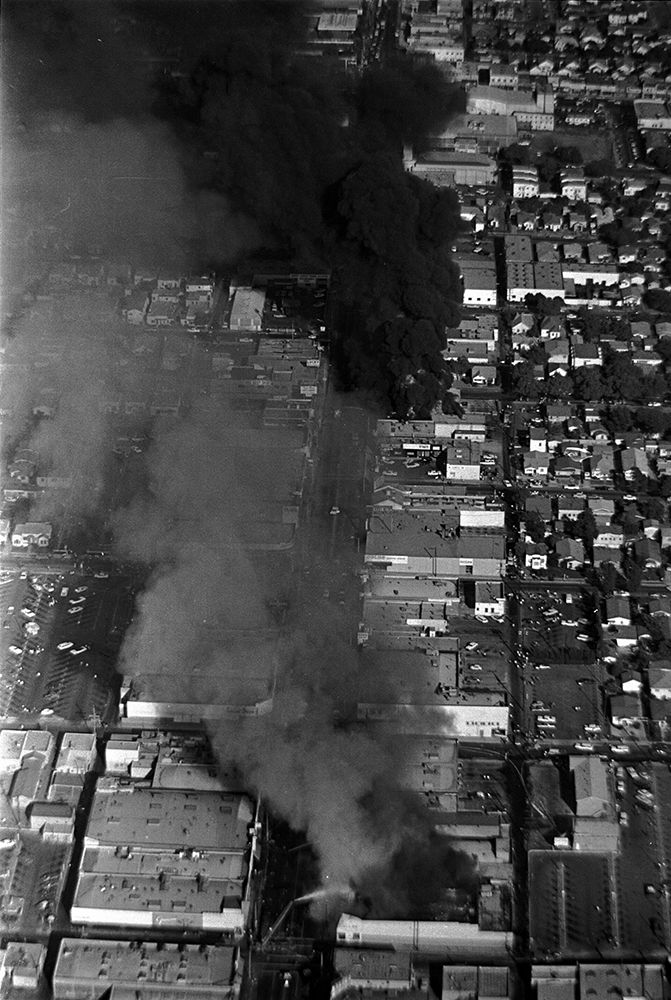 "These are the actions and events that allow us to bring people together, publicly educate and collect the narrative while pushing parents to seek ways of introducing our history and culture to our people."
Despite only making up 4.5% of the total U.S. population at the time, Latinos accounted for 5.5% of the total number of casualties in Vietnam, according to the Library of Congress, a statistic that fueled social justice groups and other advocates to revolt. The songs, dances and other performances that were broken up by aggressive policing were a stark reminder of the subordination suffered by Latinos.
But Chicanos were not the only group to oppose the war in Vietnam. In fact, an entire subculture was built by the large population of Americans who were against it. The message across antiwar rallies was the same: Preserve the lives of American soldiers and pull the troops out.
"I think there was this feeling of being expendable," said Jose Anguiano, assistant professor and graduate advisor for the Chicano studies department at Cal State LA. "We were good enough to be used as cannon fodder, but we weren't good enough to get an opportunity to go to college or to get other opportunities here in the United States."
A month after the moratorium march, the county renamed Laguna Park, the endpoint of the protest, after Salazar, who was killed by a projectile gas canister shot at his head.
Alongside the fallen journalist was 15-year-old Lynn Ward, a Brown Beret medic who was killed by an unidentified explosive, which according to the Los Angeles Times could have been a Molotov cocktail, and Angel Gilbert Díaz, a 35-year-old participant who drove his car through police barricades before crashing into a light pole and dying at USC County Medical Center three days later.
Despite being viewed as a martyr to the Chicano community, Salazar's death went unpunished when Deputy Thomas Wilson, the acting sergeant who fired the shot, walked away free of charges, driving a further wedge between law enforcement and Mexican Americans.
Although there are more opportunities today for Latinos compared to decades ago, they still lack representation in education, healthcare and home ownership despite being the largest ethnic group in the country. According to 2021 Census data, Latinos had among the highest uninsured rates in the nation at 17.7%, compared to 5.7% of Whites. Health coverage is not a cure-all, however.
The quality of insurance plays a huge factor in where a patient can seek treatment and whether they can afford medication and other expenses. A recent study by UCLA's Latino Policy and Politics Institute shows that three in five Latino children in California are insured by Medicaid, while two in five adults of the same ethnicity have the same coverage.
The same marginalization is apparent in home ownership, as just 17% of Latinos could afford median-priced homes in California compared to 34% of Whites, according to CalMatters. And while Latinos account for 39% of the state's population, just 14% have a bachelor's degree, according to EdSource.
Guadalupe Guadian is captain of the Santa Paula Brown Berets branch in Ventura County and actively organizes events in his community through the Chicana Chicano Moratorium, a group of advocates that pay tribute to the original movement. He and his team provide resources, including health services and education projects, to Latinos in the area.
"It's unfortunate that we're still fighting the same fights today," Guadian said. "We're commonly either underrepresented, misrepresented, or not represented at all, but we're still here, and some of us aren't doing very well."
While Los Angeles is a richly rooted area for Chicano history, some lifelong Angelenos are unaware of the social movements that took place in their backyard decades ago.
Anthony Samaniego is a Latino first-year mechanical engineering major at Cal State LA who studied at a charter school in Watts prior to enrolling at the university. Although he had no previous knowledge of the moratorium, he believes that, as it happened on U.S. soil, Chicano history is American history and should be noticed in high school classrooms.
"I think it should be a requirement," Samaniego said. "Students [locally] should be more knowledgeable of the struggles that were addressed during the Chicano movement."
Two years ago, California became the first state to make ethnic studies a requirement for graduating students beginning in the 2029–2030 school year after Gov. Gavin Newsom signed AB 101. Before that, the Los Angeles Unified School District board passed a resolution on its "Ethnic Studies for All" commitment in August 2020, which implemented similar policies for students graduating in 2026–2027.
"As an educator, of course, I think it's important to have topics like these taught [in American history classes]," Anguiano said. "Locally, it seems essential that students growing up in the area know this history so they're aware of what our community has struggled against and that they can fight against inequalities."
*****
Marcos Franco is a writer for Caló News. Contact him at francom.2200@gmail.com.