Anti-bias and de-escalation training could help reduce officer-involved shootings
By Leslie Fulbright
The ACLU of California released a report on Nov. 14 that identifies 146 officer-involved shootings by the Fresno Police Department (FPD) from 2001 to 2016 and analyzes the department's policies and practices related to use of force, transparency and community relations.
The report reveals a disparate impact of police shootings in low-income communities of color and shows how the department has damaged police-community relationships. The ACLU is calling on the California Department of Justice to open a civil pattern and practice investigation of the FPD's use of force.
Titled Reducing Officer-Involved Shootings in Fresno, California, the report shines a light on the disparities in officer-involved shootings and provides suggestions on how the FPD can improve its culture of secrecy, transparency and accountability.
"The Fresno Police Department must make systemic changes in order to reduce unnecessary and excessive use of force, which disproportionately harms communities of color," said Novella Coleman, an attorney with the ACLU of Northern California. "For too long, the department has hidden its policies and practices pertaining to the use of deadly force from the public."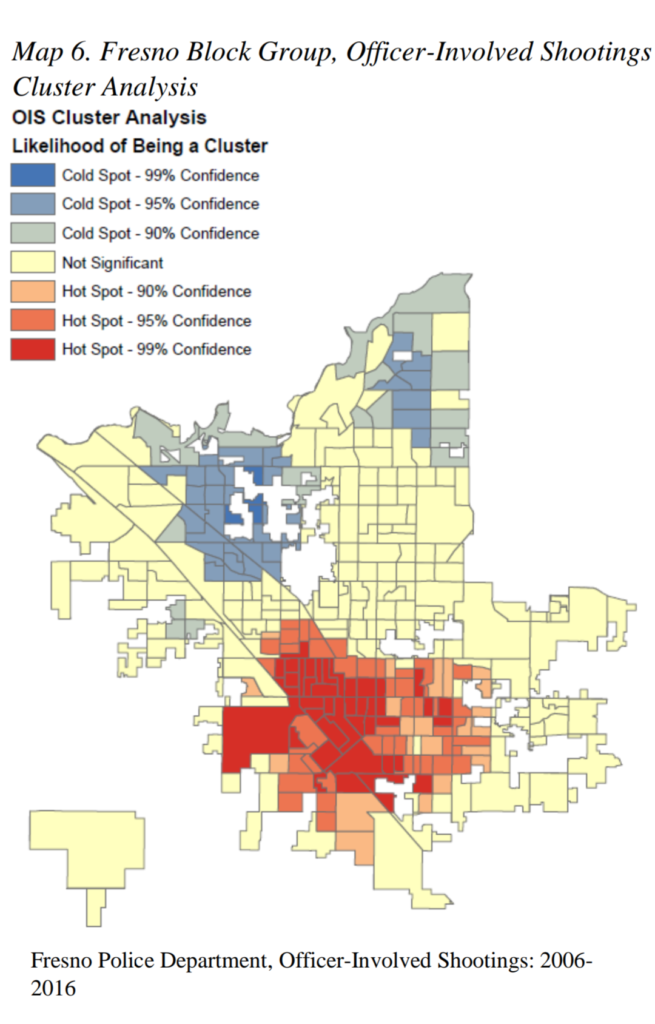 The report identifies an array of problems including the following:
Racial disparity. From 2011 to 2016, Black and Latino people accounted for 80% of people shot by police in Fresno, while only making up 52% of the population.
Lack of accountability. The Fresno County District Attorney's Office hasn't filed criminal charges against an officer involved in a shooting in any of the 146 incidents from 2001 to 2016.
Repeat shooters. The department has a pervasive repeat shooter problem. The same officers have discharged their firearm in 62% of the 146 officer-involved shootings.
Cost. Fresno has spent at least $5 million in settlements and defending lawsuits related to its officer-involved shootings.
The report also offers recommendations on how to address the problems including the following:
Training. Require continued evidence-based anti-bias and de-escalation training.
Transparency. Mandate proper and consistent use of body cameras. Tell the public if officers in their neighborhoods have a history of excessive force or racial profiling. Make department policies, training and data available to the public.
Community relations. Hire a diverse workforce, enhance community-based policing efforts and eliminate the use of social media that stigmatizes Fresno residents.
Accountability. Ensure timely investigations of officer-involved shootings, and expand the power of the Office of Independent Review and the Citizens' Public Safety Advisory Board.
In conjunction with the release of the report, the ACLU of California sent a letter to California Attorney General Xavier Becerra urging him to conduct an investigation of the Fresno Police Department. A letter was also sent to the City of Fresno requesting that the recommendations be implemented.
*****
Leslie Fulbright is the communications strategist for the ACLU of Northern California. Contact her at 415-621-2493 x309 or lfulbright@aclunc.org.