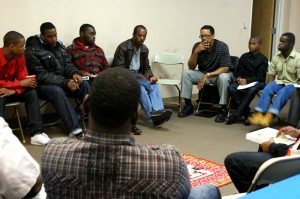 This spring, the Fresno West Coalition for Economic Development (FWCED) has sponsored the Black Men and Boys Leadership Academy (BMB). Keith Kelley, CEO/president of the FWCED says, "We are very grateful to the California Endowment for making the academy possible. This is so important for African-American males at this time."
Dr. Jean Kennedy, who is responsible for coordinating and developing the academy, adds, "Seeing so many African-American males attend this academy has been very heartening. The enthusiastic groups of participants are learning how African-American males can better cope with the complex contemporary American society."
She seconds the importance of the academy, citing research that shows the many challenges faced by the target group simply because they are Black males. Dr. Kennedy says, "Unfortunately, African-American males have been negatively affected socially, economically, spiritually and physically by many social and legislative policies.
"We launched this six-week leadership training academy to provide a healthy and safe place for African-American males of all ages to experience 'coming together' for discussions and fellowship, and to learn how to support each other in a positive manner.
"The Academy was designed to provide an occasion for black males to work together, and not feel that they always have to compete against each other. Through the guidance of our presenters, leadership skill sets have been developed, and our Black males are recognizing their own resilience."
The participants have ranged in age from 12 to 55-plus.
Here are some of their comments:
"I've learned that there are better ways to go about things other than violence" (following a presentation by Richard Stone of the Fresno Center for Nonviolence).
"The circle is a great way to open up discussion—I loved it" and "I've learned to never give up" (after participating in Dr. Karen Crozier's peace circle).
"Life is a fight and you have to use all of yourself in that fight" (following a presentation by Rev. Floyd Harris).
"I'm happy I came because I'm learning from people who care" and "We need to come together" (following a presentation by Dr. Donald K. Cheek).
"I'm learning what it means to be a man and to bring my 'A' game to make a change in my life" (following a presentation by Dr. Hansen Johnson).
"It's essential to have a healthy work environment; [that's] so important to resolve conflict" (following a presentation by Rick Gaston).
Also scheduled to present at the Academy are Dr. Francine Oputa; Colette Nwonye; Fresno City Council Member Oliver Baines; Dr. Kehinde Solwazi; Tate Hill, president of the Fresno Metro Black Chamber of Commerce; Dr. Keith Foster; and an education panel featuring Dr. Lee Farley and Charles Francis.
After completion of the curriculum on May 7, an official graduation ceremony will be held to which the community will be invited. In addition, the academy has sponsored special partnership projects with some of the participants and these projects will be acknowledged at the graduation celebration.
For information about the academy, or to help with funding its continuation after the current grant expires, contact Kelley, Dr. Kennedy or Jocelyn Chretien at 559-485-1273.