By Ernesto Saavedra
The meaning of life and our place in it; two great mountains we climb endlessly as we evolve into our being because we never seem to reach the top. The galaxy gives us direction, but where it takes us depends on our interpretation of it. Self-expression is an attempt at organizing these interpretations developing an almanac of our innermost thoughts and feelings we then use to transcend into a world that makes sense to us. The next step is putting oneself in a vulnerable position, a sort of sacrifice, and sharing it with others—learning and growing at the same time. Like all artists, Daniel Mejia does just that.
Born in Baypoint, Calif., in 1990 of parents from Nochistlan, Zacatecas, Mejia developed a love for drawing at a young age; captivated by the freedom he felt as he expressed himself. This feeling would follow him to Patterson, where he was introduced to the art of printmaking at a local high school, then Fresno State. According to his artist biography: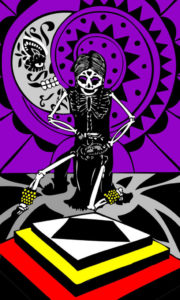 It is his experiences at the university level that have really influenced the theme of his art. As a freshman, Daniel was introduced to Danza Azteca and consequently, indigenous ceremonies. He became fascinated by the imagery and symbolism represented through the various gatherings he has been blessed to experience. He also began to identify with a spiritual and cultural aspect of his history that was previously unexplored and also not very common among the community he grew up in. These experiences would make a critical impact on Daniel's life as well as his art.
Mejia's profound sense of selflessness and spirituality drive him to give back to the community in various forms. Whether it's putting on workshops for youth, to making prints for friends, family and grassroots groups, at little to no cost, Mejia goes above and beyond. His artwork and his process is a type of medicine, like sage, and it is to be shared.
"I make and share art [as an] attempt to create opportunities for dialogue and interpretations of what comes from my mind, through my hands and onto paper. In essence, my art is a way to share what I've learned (or think I've learned) and at the same time to try to learn more from others by putting myself out there through the artwork," according to Mejia.
On the cover of this issue is Mejia's piece titled PapalOcelotl. When asked about it, this is what Mejia had to say:
Like with a lot of the more detailed prints, the imagery developed as I worked so is a very intuitive piece. I created the print around the jaguar/butterfly which is an image I drew and put on shirts for Centro Binacional para el Desarrollo Indigena Oaxaqueño along with the words "Indigenous Warrior." After I made their shirts I decided to make a print because I liked the image so much. The background and border refer to movement and the four directions; the jaguar serves as a guardian as it watches over the corn, a representation of the people, as the corn has so much historic and cultural significance.
Mejia is currently in the process of earning two bachelor's degrees at Fresno State—one in Print Making and another in Chicano Studies. For comments and more information about his work, he can be reached at mejiaavelar@gmail.com.
*****
Ernesto Saavedra is the editor of the Community Alliance. Contact him at ernesto.fresnoca@gmail.com.