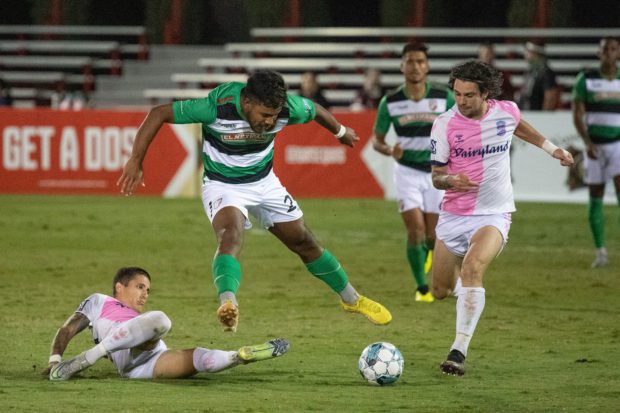 Around five years ago, I was speculating on what would be the most fun subject to photograph. It came to me: soccer!
When I was young, soccer was my favorite sport, and I played varsity in high school. It is called "the beautiful game," and I thought I would create photos that would convey the beauty.
To my surprise, in 2018, pro soccer came to Fresno! The Fresno Foxes played two seasons at Chukchansi Stadium and then dissolved. But then in 2022 pro soccer was back, and the Central Valley Fuego Football Club (Fuego FC) played their inaugural season at the Fresno State soccer stadium.
In this story, I want to address the year for Fuego FC and "soccer photography."
Nehemias Blanco, known as "Nini," is vice president of Fútbol of Fuego FC. He oversees the soccer side of things and some of the business aspects, including scouting and signing players. He is often the spokesperson for the organization. We spoke as the 2022 season wound down.
Blanco told me that his parents are both immigrants from El Salvador to Fresno. He started playing soccer at the age of three. Beginning at age 15, he played with the original Fuego, the sensational amateur team that represented Fresno from 2003 to 2017. He also played at Fresno Pacific University and later signed on with a team in the Salvadoran First Division.
Several Fuego FC players had their formative experiences with the original Fuego, Blanco pointed out, including Christian Chaney, Diego Casillas, Renato Bustamante and Nathan Smith.
Back in the day, the Fuego had some special moments. One was going up against Major League Soccer's L.A. Galaxy at an all-levels tournament. After starting out a goal ahead, they lost that game 3-1, but wow, what excitement!
Fans remember the original Fuego well. Blanco said, "There's a tradition, there's a love for the shield."
What equipment does it take to photograph a soccer game? In 2016, the Nikon company introduced its new flagship camera for the Brazil Olympics, the D5. I purchased one the next year, and I've been taking 10,000 pictures a year with it ever since.
For soccer, I use a compact telephoto lens, with a converter to extend its reach. To avoid fatigue, and keep the camera aimed correctly, I use a carbon fiber monopod, which is basically a one-legged tripod.
Many hoped the original Fuego would go professional, but instead the Foxes, owned by Frank Beshoff, became Fresno's first professional team, playing in the United Soccer League (USL). The USL is a level below Major League Soccer. MLS teams on the West Coast are the L.A. Galaxy, the San Jose Earthquakes, the Portland Timbers, the Seattle Sounders and the Vancouver Whitecaps. The Whitecaps sponsored the Foxes.
Problems for the Foxes—including not playing in a stadium dedicated only to soccer, which was only allowed by the league for two years—led to their starting over in Monterey and becoming the USL team Monterey Bay FC. They play in the dedicated soccer stadium at CSU Monterey Bay, which is built on the site of the Army's old Fort Ord.
Fuego FC is a USL1 team, which is one level down from the USL. The team management is interested in moving Fuego FC up to the USL but wants to take it slow. They don't want to jump in the USL and only last a couple of years, as did the Foxes. Permanence is the issue.
"When it comes to community," Blanco said, "I think the only way that you could have a professional team survive is when you're in touch with the community and when you show the community that this professional team is here for them, and we're not going anywhere."
A strong development for the community on the part of Fuego FC is the Regional Training Center that former Foxes coach Adam Smith has organized. It is an academy for players ages 16 to 19, with facilities in Fresno, Bakersfield and Merced. If they are good enough, players in the academy can integrate into Fuego FC.
Also searching for new talent, Blanco's been doing some globe-trotting. He recently came back from a scouting trip to Spain, France and South Africa. He saw a lot of games.
"You're just like, man, these guys just need a bit more structure and play every day and they'll be incredible footballers!," says Blanco. "So [we're] opening doors and networking."
The Foxes and Fuego FC played at night under lights. Fortunately, my camera is extremely sensitive in low light. Remember, with film, you could get a rating of ASA 100 or 400? Now, I sometimes shoot at a rating of 25,600! The image quality is such that I can make a large print and have the picture be clear.
With sports in mind, the camera has a separate computer just for the focus—it can follow players through quick moves and keep them sharp, while shooting 12 frames per second.
The map of USL1 teams shows that they are based mainly on the East Coast. Blanco said, "It's tough flying to the coast. We're getting there no earlier than 11 p.m. to 12 midnight and playing the next day."
There is expansion going on in the West, however. New teams are starting out in Santa Barbara and Spokane, and there are others in the works.
New professional teams just about always run in the red. Fuego FC's owners, Juan and Alicia Ruelas, are supporting financial losses for now. In time, the organization, of course, wants to break even or turn a profit.
The process of getting a good shot is simple, although it isn't easy. I wait until players are at a distance from me where their figures fill the frame in the viewfinder, roughly in midfield. Hopefully the ball is in the frame. I lock focus on the key player and start firing, and I keep firing until the ball is kicked away. I want to see the players' faces and show more than one player at the same distance from the camera.
The Fresno State soccer stadium holds about 2,500 fans. Fuego FC shares it with the Fresno State men's and women's soccer teams, who in their seasons practice there during the day. The Fuego FC games are on Saturday evenings, or sometimes on Wednesdays.
Fuego FC only sold out two games this season, the first and the last of their home games. There's a special feeling when the stands are full. Monterey Bay FC fills the stands with regularity. Blanco says Fuego FC will do what it can to see that happen in the coming year.
Standing close to the field has its risks. Once, at Chukchansi Stadium photographing a Foxes game, a player from the other team was frustrated by a call, and while play was stopped, he kicked the ball off the field. It came right at me and hit me in the stomach. It hurt, but I was glad it didn't hit my camera! He came up to me a few minutes later and apologized. I thought that was sporting, and I forgave the guy.
Chris Estep is a Fuego FC super-fan and leader of the Skulk, a supporters' organization. The supporters are members of several organizations, also including the Vigilantes and the Esquadrón. They wear team gear, play drums and light smoke bombs when Fuego FC scores. Estep attended nearly every game this season, banging a drum and singing throughout.
He appreciates the quality of the team. He said, "Christian Chaney has done well. Diego Casillas can play well. [Villyjan] Bijev has been one of the best in the USL over the past several years. And then we had a bunch of other people who came in and did well."
However, Estep was outspoken about the downside of the changes transitioning from Foxes games at Chukchansi to Fuego FC games at Fresno State.
"It was a big transition I think, in a couple of different ways," he said.
"For one, the team is in a lower league. It's one level down from the Foxes. So, there were a lot of people who kind of felt like it dropped a level, a big level, in the product that we were getting.
"Also, with the [original] Fuego, and then with the Foxes, there was kind of a longstanding tradition of gathering before the matches and after the matches at [breweries like] Tioga, Sequoia or other places in downtown that were available. That wasn't possible at Fresno State.
"There, there wasn't anywhere nearby that could host that kind of gathering. We had pre-match tailgating in the parking lot, which didn't really turn out to be much.
"It was expensive to park ($20), and so not a lot of people showed up for those. Plus, the heat, it was always really hot out there. There's no shade."
Estep also complained about the high prices charged by the concessions, for which the profits he said went to Fresno State: "Bottles of water were $5 and, you know, in the heat of Fresno, a $5 bottle of water just seems cruel."
Estep's complaints should be a caution to Fuego FC. Life is not all peaches and cream. The fans have their feelings, and they need to be respected.
The last Fuego FC home game of the season, I was not getting lucky. I didn't feel I had any good shots. I checked each one on the back of my camera. Nothing! This had never happened before. I always had something.
I steadied myself and told myself, "That's soccer!" But when I put them on the computer days later just to see what went wrong, frame 390 out of 413 was a real keeper!
I had simply been fatigued when checking it out and missed its significance. It's the photo that you see below. Now that's the beautiful game! I can't wait until next year…