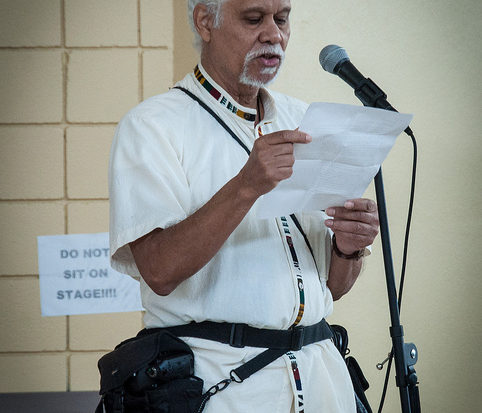 By Boston Woodard
An event that prisoners look forward to in many penitentiaries is a visit from special guest speakers who volunteer to offer advice, guidance, assistance and encouragement. Guest speakers can range from religious folk, academics, medical specialists to sports, music and arts enthusiasts. Among those most appreciated are ex-prisoners bringing news, hope and optimism to those of us still behind bars.
On May 26, 2011, Wilbert Rideau, a former death row prisoner at Angola State Prison in Louisiana and an author and award-winning journalist, made a visit to the California Correctional Center (CCC) in Susanville. After serving 44 years for a murder committed during a bank robbery when he was a teenager, Rideau's fourth trial resulted in a lesser conviction of manslaughter and he was released in 2005. Rideau's visit was arranged by the CCC's chief medical surgeon, Dr. Windsor. After reading Rideau's memoir, In the Place of Justice, Dr. Windsor believed this story would be of great benefit to Susanville's prisoner population.
Before Rideau's talk, I had the good fortune to be given a few minutes to speak with him personally. Over the past several years, Rideau has become one of my inspirational paradigms. As I became interested in understanding my own calling as a prisoner-writer, I had sought out copies of Angola's news magazine, The Angolite, an award-winning prisoner publication begun in 1975. As a contributing writer for the San Quentin News and Soledad Star, and as editor of The Communicator in the 1990s, I have known about Rideau and his accomplishments. I was excited to meet him and hear him speak. It is my belief that The Angolite opened lots of cell doors for many jailhouse writers by giving us a template and incentive for reporting on our prison experiences.
The Angolite was, to my knowledge, the only uncensored prisoner publication in the United States. Rideau and his prisoner editorial staff were allowed to report unfettered truth about prison life. Because Angola's warden sanctioned it, Rideau was able to give us the gift of his experience and knowledge, and to inform the outside world of what really goes on behind the walls of the prison as funded by taxpayers' hard-earned dollars. He became the first African-American prison newspaper editor in the country.
Rideau's prison journalism goes back more than three decades to the early 1970s when he wrote the column "The Jungle" for Black weeklies in Louisiana and free-lanced articles in mainstream media including the Shreveport Journal and Penthouse magazine. He became involved with radio, television and documentary films, and became a correspondent for National Public Radio. He helped create and produce two films, Final Judgment: The Execution of Antonio James and The Farm, which was nominated for an Academy Award.
Speaking to us at CCC, Rideau recounted episodes of tumult and violence ubiquitous through Angola's long history. Murders, riots, racial tension, dreadful living conditions and helplessness were some of the realities he spoke of. With raised head and confident voice, Rideau enlightened our attentive assembly as to how, even amid the din and anarchy of prison life, there is hope and possibility through prisoner-initiated rehabilitation groups.
"Right now, in Angola State Prison," Rideau said, "dozens of groups and rehabilitation programs are happening." These groups are self-sustaining, supporting themselves because Angola's warden allows them the freedom to do so. Prisoners hold food and craft sales and solicit funds from the outside to sustain these life-changing groups and events. Louisiana taxpayers do not fund these programs.
California prisoners have, in the past, been allowed to have similar programs. But the "tough on crime" and "lock 'em up and throw away the key" attitude of today pooh-poohs the suggestion that prisoners deserve the opportunity to change. Although California wardens have the authority to allow such rehab programs, for the most part they choose not to permit them.
There were lots of questions for Rideau from the CCC audience. Many of the men were interested in things like: How does it feel to be out of prison after so many years? What do you do to enjoy the free life? What advice can you give to help us after parole? Rideau gave each questioner a generous answer. He offered advice only someone with his experience could offer.
The hundreds of Susanville inmates who were given the opportunity to listen to and speak with Rideau are extremely grateful, to him and to Dr. Windsor. Three months after his visit, his stories and wisdom are still the topic of many conversations on the yard.
More about Rideau can be seen at http://en.Wikipeida.org/wiki/Wilbert_Rideau.
Rideau wrote In the Place of Justice: A Story of Punishment and Deliverance recalling his experiences at Angola.
*****
Boston Woodard is a prisoner/journalist serving his sentence in Susanville State Prison. Boston has written for the San Quentin News and the Soledad Star and edited The Communicator.