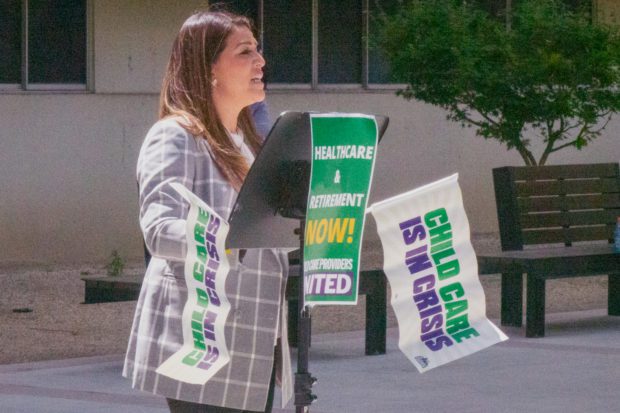 Hundreds of childcare providers around the state stopped working for a day as a protest to demand better working conditions and benefits. "A Day Without Childcare" occurred on May 9.
Several of these workers gathered in front of the State Building in downtown Fresno to express their concerns and to push state officials to take action on their behalf. They were supported by SEIU 521, parents, activists and political candidates.
"We want people's support; basically we need a retirement plan and health insurance," said Matilde Maravilla, a childcare provider from Madera.
"We deserve those benefits, and particularly these days, after the pandemic. I have colleagues who are sick but can't afford healthcare."
During the event, Fresno City Council Member Esmeralda Soria expressed solidarity with the workers. "I know that Governor Gavin Newsom supports these workers' demands, but we need action." Soria is now running for State Assembly District 27.
According to an SEIU statement, "The COVID pandemic reinforced the importance of childcare for our families and economy, but it also exacerbated a childcare crisis that has existed for decades. With thousands of childcare closures, infections and deaths amid this pandemic, we are facing the brunt of the crisis right now."
Childcare providers work long hours, mostly at home, taking care of children whose parents can't bring them to a daycare center because of the high cost.
"I start every day at 5 a.m., and I am done around 6:30 p.m.," said Maravilla. "We provide breakfast, teach, play with them…Children require a lot of attention."
Childcare providers are the only option for low-income families.
"Providers love what they do, but they need support," said Phil Arballo, a candidate for the newly created Congressional District 13. "Many of them are leaving this profession because they get better-paid jobs somewhere else."
Childcare providers expect Governor Newsom to fulfill his promise to help them.