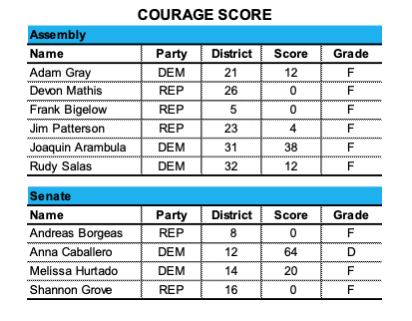 By Community Alliance Staff
On Feb. 28, the Courage Campaign announced the 7th Annual Courage Scores.
The Courage Score is a tool that helps Californians hold their elected representatives in the State Assembly and State Senate accountable. This is done by increasing transparency on how legislators vote on important bills and by helping constituents better understand the degree to which big money infects the political process.
The Courage Campaign reaches out to more than 100 progressive advocacy groups throughout the state, surveying them on their priority bills from the previous legislative session.
The votes of every legislator on those bills are reviewed, narrowing-in on close votes that squeaked past committees and house floors, requiring the courage of legislators.
The Courage Campaign evaluates how well each legislator represents their district by comparing their votes to how progressive their district is.
Below are the Courage Scores for Assembly and Senate members in Fresno and nearby counties. See the complete list at couragescore.org.