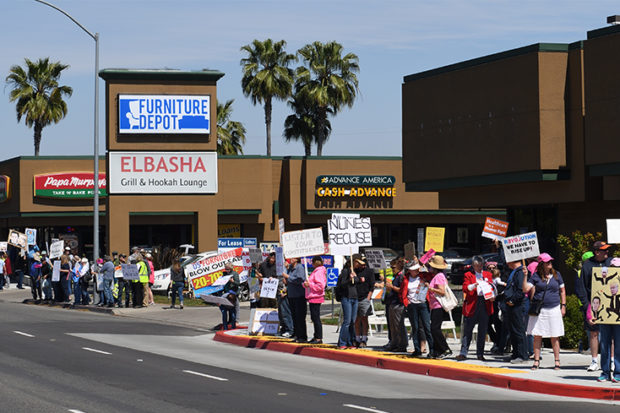 By David Derby
My wife and I witnessed something during the first week of the Trump administration that sent us reeling with outrage as we witnessed an evil that some say had constituted the most reactionary set of policies in the modern history of our country.
Our reaction as we sat in disbelief: We need to do something—but what? Little did we know that there were others, many others sitting in isolation thinking the same thing. Motivated by a common concern, we started by finding each other, our friends and neighbors, through e-mail, Facebook, Twitter and, most important, face-to-face conversations. And we all had a need—a deep need to stand up for the values of justice, fairness, compassion, tolerance and inclusion that were being eradicated in front of our eyes.
We eventually found solidarity and resistance to form one of the strongest grassroots movements in Congressional District 22, sometimes referred to as NotNunes! and comprising several groups. No one authority ordered, organized or paid us to become protestors and to begin fighting against the Trump catastrophe. We did not start out seeking guidance from the traditional political powers that work from the "top down." No, we started at the "grassroots up."
Below are some of the groups in the grassroots movement that have emerged in the Central Valley and the people who have found the courage to take a stand.
Central Valley Indivisible had its genesis when three women (Sophia DeWitt, Natasha Moiseyev and Charlotte Waldo) got together for dinner 10 days after the election and asked, What now? After several long meals over the next few weeks—and after the release of the Indivisible Guide—it was decided to form an Indivisible group with a specific focus on CD22 represented by Rep. Devin Nunes (R–Tulare). What began with these three people has grown.
Central Valley Indivisible was established on the premise that people need to talk less and do more to protect progressive values in the Central Valley. They commit to one concrete act in the coming month. Among other causes, many in the group focus on Nunes, urging him to be accountable for representing and hearing the views of all constituents, and now identifying a viable challenger because he refuses to perform his Constitutional duties.
More recently, Central Valley Indivisible joined with Together We Will (TWW) to plan and execute larger actions such as a recent "Town Hall for a Better Future" in Visalia on April 19 where 250 people came together in a town hall meeting in hopes that Nunes would show up to listen and talk with his constituents. He did not!
Together We Will Fresno/Central Valley, created locally by Pam MacDonald, Carol Kim, Julia Shatz and Nicole Purcell, is a movement that grew out of the mobilization of everyday people activating into a grassroots movement. TWW's intention is to plan and enact sustainable, long-term solutions that encompass our progressive priorities, including both political and social activism. The local chapter of TWW is focused on finding and supporting a progressive candidate who will be a voice to all constituents of CD22.
"Together We Will stand up, refuse to be silenced and reclaim our democracy as everyday people taking decisive unified actions to defend and advance our rights" (twwusa.org). TWW Fresno/Central Valley and Central Valley Indivisible have joined with other groups to plan and execute larger actions such as the town hall in Visalia.
A third group, Speak Up CD22!, is a story of people finding people in true grassroots fashion. This group originated when Jenny Martin and Nancy Griesser had to name a Feb. 25 town hall as a Resist event online. Martin headed up a group of close friends who regularly called and e-mailed Nunes' office. Griesser was friends with a member of this group who put her in e-mail contact with Martin. Martin and Griesser began brainstorming the town hall concept and with the help of Martin's group pulled off a successful town hall of 250 people in front of Devin Nunes office in downtown Clovis. He did not show.
Again on March 31, Speak Up CD22! organized all the groups mentioned in this article to greet Nunes, who was addressing a Valley agricultural lenders meeting at Tornino's in Fresno. All the grassroots efforts came together with approximately 400 people protesting against Nunes and asking him to meet with his constituents. He has not.
Yet another group was formed by my wife, Beverly, and myself for the same reason mentioned above—resistance to the Trump Agenda. We started by standing in front of Nunes' office in Clovis with signs protesting many of his agenda items. As a couple of friends joined us, word spread that an event was available called Every Tuesday Vigil where people could come for a peaceful protest of civil discourse and voicing their opinions with handmade signs. Starting with the two of us, Every Tuesday Vigil now hosts 25–30 resistors weekly. We also support all the other groups as we plan together in solidarity to unseat Nunes.
All these groups have been blessed and supported by Nancy Gilmore, who has been the invaluable "glue" in communicating within the groups, between the groups and to the outside world as to what the resistors of CD22 are doing. Approximately 2,500 people follow her tweets daily telling about our NotNunes! movement.
*****
David Derby is a resistance activist driven to action by the Trump agenda. Contact him at dderby@cvlaweb.com.
Together We Will

Facebook: TogetherWeWillFresnoCV

Twitter: @TWWFresnoCV

Unseat Nunes Campaign

www.unseatdevinnunes.com/

http://unseatnunes.com/

Twitter: @UnseatNunes

Pledge at Crowdpac to Unseat Nunes: www.crowdpac.com/campaigns/198144/unseat-devin-nunes-help-us-turn-red-districts-blue

Speak Up CD22!

Contact Nancy Griesser at nancyg@mail.fresnostate.edu

Every Tuesday Vigil

Contact Beverly & David Derby at dderby@cvlaweb.com

Overall CD22 Efforts

Contact Nancy Gilmore Twitter @fireRealNunes