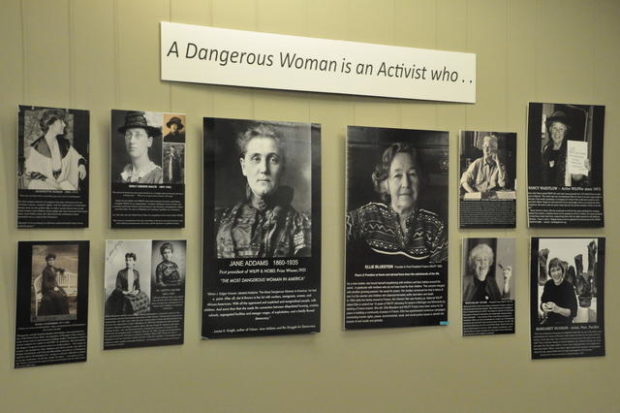 PLEASE JOIN US IN CELEBRATING WILPF–FRESNO 50TH ANNIVERSARY AND WILPF–INTERNATIONAL CENTENNIAL
Dangerous Women: 50 Years in Fresno, 100 Years Internationally
Inspiring historical and educational Exhibitions are being prepared in two locations: at the CSUF Madden Library, and at the Fresno County Central Library. Phase One of a WILPF-Fresno Oral History Project is in post-production. Fundraising has obtained $6,000 of the $10,000 budget identified for the event, including a $2,000 Mini-grant from WILPF-U.S. Section.
Our main exhibition will be at the California State University Fresno Madden Library Pete P. Peters Balcony Third Floor Gallery:
The Library Dean and Staff have donated the Third Floor Gallery for the WILPF Exhibition from the 4th through the 27th of September 2015. The Exhibition will be open during library hours throughout this period. Docents will be available on the evening of the Reception and periodically throughout the duration of the Exhibition.
You are invited to the Welcoming Reception on Friday, September 11, from 5 to 7 pm.
The Exhibition will be open from the 4th through the 27th of September, during normal CSUF Madden Library hours: M—Thurs 7:45 am to 11 pm (closed Sept. 7 Labor Day); Fridays 7:45 am to 5:00 pm; Saturdays 10:00 am to 6:00 pm; and Sundays 2:00 to 10:00 pm. Free parking in all lots after 4 pm on Friday.
This Exhibition will provide an inspirational overview of international and local history in WILPF's campaign for a peaceful society and a peaceful world. Women who have stood up for peace will be highlighted, including Jane Addams, first U.S. woman to win the Nobel Peace Prize, and first International President of WILPF. Phase One of WILPF-Fresno Oral History will be unveiled. A review of significant and moving local events will include WILPF-Fresno's suit against the City of Fresno for removing Think Before You Register anti-draft placards from city buses and one teacher's award-winning experiences in teaching peace to elementary school children in one of the local schools.
An emphasis on current peace-building focuses on social justice and earth democracy issues, including water as a resource for all, support for respectful, just relationships with Cuba and Latin America, as well as opposition to war and oppression in the Middle East, help and housing for people without homes, and justice and peace for all people here in the US. Our witty and melodious Raging Grannies group is an important part of our herstory and will sing at the Opening Reception.
Fresno County Library and WILPF-Fresno have united to honor Fresno's treasure, award-winning author Margarita Engle: Uncovering our magical stories through the eyes of children and youth
September 12 1- 3 PM
Saroyan Gallery, Fresno Central Library
We invite you to join us. You may bring your children and grandchildren or your own inner child. Margarita Engle has won many awards for her children's and young adult books, including the Jane Addams Peace Award, the Pura Belpré; she is also the first Latina author to have earned a Newbery Honor Award. Her books explore little-known but important subjects and are based on careful primary-source research, which she somehow transmutes into dreams and magic.
Her new book, Enchanted Air, is a memoir written in blank verse, as are many of her books. In an interview (courtesy of megmedina.com), Margarita Engle said,
"Writing about one's own childhood is a process of writing by heart. There are no guidelines, no patterns to follow, no research to depend on, no papery or digital maps of the mind. When I decided to write ENCHANTED AIR: Two Cultures, Two Wings, all I had was my own memories, and the emotions they still contain, long after adulthood has made an unusual childhood seem like someone else's strange, impossible life.
I wrote this memoir in the form of free verse—and in present tense—in order to bring the memories back to the surface, an experience I have always dreaded, and never thought I would want to share in public, where I am guaranteed to cry when I read the poems out loud.
My reasons for writing a memoir are various, depending on what the reader brings to my pages:
Enchanted Air is a celebration of the role of travel in a child's education.
Enchanted Air is a plea for peace and family reconciliation.
Enchanted Air is an act of empathy for stateless people.
Enchanted Air is a true story meant to speak directly to bicultural children, and to the adults who try to understand us."
This event will be bilingual. Margarita Engle will be present and will speak and read to us. During the month of September, the display cases by the doors of the Central Library will feature bilingual exhibits by renowned Fresno artist Janet Capella, featuring WILPF and the Jane Addams Peace Association books. Don't miss it!
WILPF FRESNO SUPPORTS SEPTEMBER DAYS AGAINST THE BLOCKADE
The Institute for Policy Studies, the International Committee for Peace, Justice and Dignity to the Peoples, IFCO/Pastors for Peace, and the National Network on Cuba will participate in 3 days of events to call for and learn about truly normalizing relations between the U.S. and Cuba. You can help make this real.
People of faith and conscience will raise their voices and come together in the heart of Washington DC to say no to the immoral and cruel blockade against the people of Cuba. This gathering, which will bring together progressive faith leaders and activists from across the nation, will serve to celebrate the recent victories in the struggle to free the Cuban 5 and normalize US-Cuba relations. This effort will include educational and advocacy events in Washington DC over September 16, 17, & 18. If you can't make it to Washington DC, you can call and write your senators and representatives and visit them at their district offices. For more information see http://ifconews.org/2015/08/13/updates-september-days-in-washington-dc-against-the-blockade
WILPF FRESNO SHOWS UP FOR BLACK LIVES MATTER
Since the event was announced shortly before it happened, there was no formal decision made, but many WILPF Fresno members came to the Fresno participation in a nationwide event called #BlackOutMonday & #UnitedWeFight organized by those in Ferguson on the one year anniversary of Michael Brown's murder, Monday, August 10.
For information go to http://fergusonaction.com/demands/
GET COSTA OFF THE FENCE AND ONTO THE SIDE OF PEACE
Representative Costa has not yet made a decision about the Iran deal, and he may be the key vote. His number is 559 495-1620. Call him!
WILPF BUSINESS MEETING

There will be no business meeting in September. Next meeting October 8, open to all members.

WOMEN IN BLACK

September 2, (first Wednesday of each month) at noon at Fresno County Courthouse. Wear black, bring a sign, and stand in silence for peace – we ask that you respect the silent vigil, please.

STIR IT UP – WILPF – ON KFCF 88.1 FM (LISTENER-SUPPORTED FREE SPEECH RADIO FOR CENTRAL CALIFORNIA)

September 23, 3 PM (4th Wednesday of each month) Jean Hays does outstanding interviews on subjects involving WILPF interests and activities. You know you want to tune in!

RAGING GRANNIES

Meetings on selected Mondays at 7 PM. Call Ellie at 229-9807 for details.