WILPF BUSINESS MEETING

WILPF will meet on Nov. 9 at 7 p.m. at the Fresno Center for Nonviolence (1584 N. Van Ness Ave.). This meeting is open to all members.

WOMEN IN BLACK

This worldwide network of women is committed to peace with justice and actively opposed to injustice, war, militarism and other forms of violence. Nov. 1 (first Wednesday of each month) at noon at the Fresno County Courthouse. Wear black, bring a sign if you wish and stand in silence for peace.

STIR IT UP–WILPF ON KFCF 88.1 FM

(Listener -supported free speech radio for Central California)

Nov. 22, 3 p.m. (4th Wednesday of each month). Jean Hays does outstanding interviews on subjects involving WILPF interests and activities. Tune in to 88.1!

RAGING GRANNIES

Meetings on selected Mondays at 7 p.m. Call Patty at 559-999-9709 for details.
EARTH DEMOCRACY STEPPING UP TO MEET THE CHALLENGE
WILPF Earth Democracy Fresno is taking off during an environmentally challenging year! We met and decided on several topics to support. They are as follows:
Opposition to the Temperance Flat Dam
Protection of state parks
Pesticide use in and around schools
Drinking fountains: Where are they and/or where have they gone?
We will meet on Nov. 7 at 10 a.m. and will decide on a permanent meeting time each month. WILPFers are encouraged to attend. Call 559-313-7674 for the meeting location. Remember: There is no Planet B.
---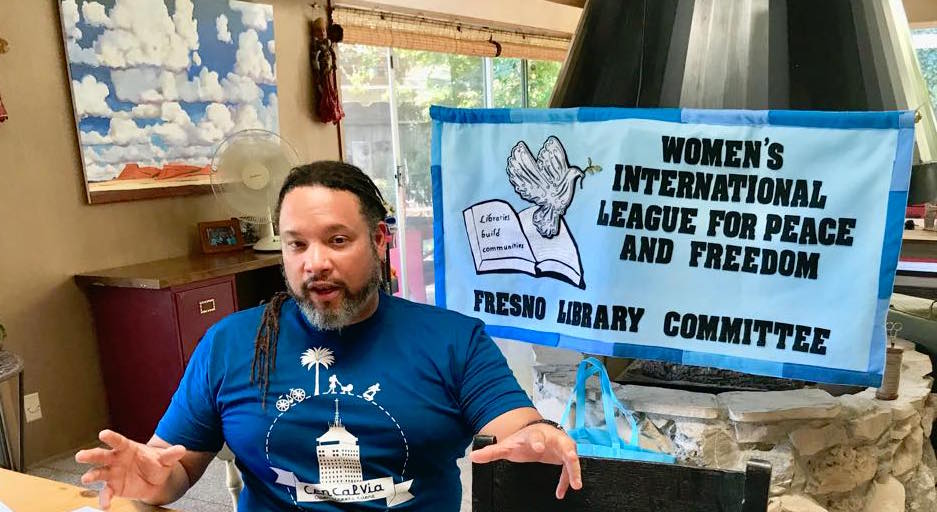 FRESNO POET LAUREATE BRYAN MEDINA AT OCTOBER LIBRARY COMMITTEE MEETING
We had a blast with Fresno's Poet Laureate! He joined our meeting, autographed his books, and loved learning about Jane Addams and the award books we donate, and we loved learning about his hopes, vision and projects as the People's Poet Laureate of Fresno. Thank you, Bryan!
The Library Committee has donated Jane Addams Award books to West Fresno, Gillis and Central libraries. Betty Rodriguez Library and Jane Addams School will soon receive their donations of books. The Jane Addams Children's Book Award annually recognizes excellent children's books that get children thinking about peace, social justice, the global community and equity for all people, and the Fresno WILPF Library Committee annually donates sets of the books.
---
RAGING GRANNIES FOREVER!
The Raging Grannies go from one powerful performance to another. Take Back the Night is their next event. They were heard singing anti-Arpaio songs at the Smash White Supremacy protest on Sept. 28.
---
LEGISLATIVE COMMITTEE–URGING OUR REPRESENTATIVES TO DO THE RIGHT THING
The Legislative Committee is currently dealing with the issues of control of automatic and semiautomatic weapons, and immediate aid and debt relief for Puerto Rico. Last month's intensive effort against the Temperance Flat Dam included meetings with the legislative aides of our national and state representatives and a meeting with Rep. Jim Patterson, with Anita Lodge and Catherine Fowler contributing their expertise. We recently have been pressing for action on DACA; we support the bipartisan Dream Act but join DACA recipients in their insistence that protection for Dreamers not be used as a bargaining chip or in punitive actions against other immigrants.
---
SEPTEMBER DAYS AGAINST THE BLOCKADE
Cuba and the Bolivarian Alliance Committee Chair Leni Villagomez Reeves had the chance to go to Washington, D.C., and advocate against the blockade of Cuba with the International Committee for Peace, Justice and Dignity. Five recent U.S. graduates of the Latin American School of Medicine joined this effort to tell our senators and representative why the blockade of Cuba is against the interests of both countries. Who would know better than these young doctors from underserved communities who had the opportunity to study medicine on full scholarship in Cuba and who will now return to their communities to serve poor people! We had three special guests from Cuba, most notably Dr. Jesus Renó, head of pediatrics at the National Institute of Oncology and Radiology in Havana, Cuba, who spoke of the difficulties and frustrations of trying to obtain the best medicine and equipment for children with cancer¾problems caused by the U.S. blockade of Cuba.
---
FRESNO WILPF AT THE HARVEST FESTIVAL
Fresno WILPF climbed into the Sierra Foothills to participate in the annual Harvest Arts Festival on October 14 and 15. We shared sunshine and music and information with the mountain community; special thanks to Jean, Janet, Gerry and Nancy, Joan and Stan, Leni and our interns, Guruveer and Alicia (and Tim).
---
FRESNO WILPF CO-SPONSORS SUFFRAGE FILM
Fresno WILPF will co-sponsor Fresno Filmworks' showing of The Divine Order on Nov. 11 at 2:30 p.m. at the Tower Theatre. This film deals with women's struggle for the vote in Switzerland. Women in Switzerland only gained the right to vote recently, with the last holdout canton against women's suffrage finally forced to yield by federal court order in 1990. Yep, not a misprint–27 years ago, and we never heard about this as a human rights violation because…? Perhaps because Switzerland is a White Protestant country?
We give to the community: In addition to the Fresno Filmworks donation, recent Fresno WILPF donations have been made to Arte Américas on its 30th anniversary and to the Tamejavi Festival, celebrating the Central Valley's diverse immigrant communities. For consideration next month are donations to Fresno Veterans for Peace and to the Dakota Eco-Garden.
---
ECOGARDEN NEWS
Construction goes on and many volunteers from Fresno State are helping. Roger Perry's recent Sun Records Tribute Night raised some much-needed funds. For more news and to donate, visit https://ecovillagefresno.org/dakotaecogarden/.
Gerry Bill and Nancy Waidtlow of the Dakota EcoGarden visited nine homeless housing sites in Oregon and Washington in August. Here are five of the most interesting visits. There are other possible urban responses to people without homes, which are both better and more effective than Fresno's recent criminalization of sleeping outside.
Tacoma, Wash.: The city has established a safe and legal campground for transitional housing on city land. It is a tent village, with tents and all services provided by the city. The village has a large dome tent that covers 62 individual tents inside, giving them double protection from the elements. There are an additional 24 tents outside the main structure. Because some tents house couples, there are 92 people sheltered there.
Seattle, Wash.: Seattle now has seven tiny house villages plus some moveable camp villages. Nickelsville Georgetown is one of four sites in Seattle operated by Nickelsville, a nonprofit organization. A sister organization, the Low-Income Housing Alliance, operates the other three sites, including one "low barrier" come-as-you-are site. All are on city land and receive funding from the city.
Olympia, Wash.: Quixote Village houses 30 formerly homeless people in tiny homes with their own half-baths. There is a community building with a kitchen, a shower and laundry facilities, plus socializing space and office space for social work staff. The village receives financial support from the City of Olympia and Mason County. Panza, the nonprofit that runs the village, is planning to build two more villages.
Eugene, Ore.: Located on city land, Opportunity Village in Eugene houses 34 people in tiny homes. Kitchen, bathroom and laundry facilities are separate. It is operated by Square One Villages, a nonprofit organization. Square One is building a second village nearby called Emerald Village. It will have slightly larger, self-contained tiny homes with kitchen and bath facilities. The tiny homes will rent for $250 to $350 per month.
Portland, Ore.: Dignity Village in Portland is the granddaddy of all tiny home villages for the homeless. Founded in 2000 by a group of homeless themselves, the village is completely self-governing. It is located on city land and has the blessing of the city. It is funded by donations and by some onsite economic activity.
–Gerry Bill and Nancy Waidtlow