WILPF BUSINESS MEETING

May 12 (second Thursday of each month), 7-9 p.m. at the Fresno Center for Nonviolence, 1584 N. Van Ness Ave. Meetings are open to all members.

WOMEN IN BLACK

May 4 (first Wednesday of each month) at noon at the Fresno County Courthouse; come at least once a year, perhaps during the month in which your birthday falls! Wear black, bring a sign if you wish and stand in silence for peace.

STIR IT UP – WILPF – ON KFCF 88.1 FM (LISTENER-SUPPORTED FREE SPEECH RADIO FOR CENTRAL CALIFORNIA)

May 25 (4th Wednesday of each month) at 3 p.m. Jean Hays conducts outstanding interviews on subjects involving WILPF interests and activities. Let Jean know if you have ideas for a program. Tune in!

RAGING GRANNIES

Meetings on selected Mondays at 7 p.m. Call Ellie at 229-9807 for details.
WILPF LIBRARY COMMITTEE NEWS
During the month of April, the Library Committee and (life-size cardboard) colleague Jane Addams presented a set of the 2015 Jane Addams Children Book Awards to each of these Fresno County Library branches: West Fresno Library, Gillis Library and Central Library, Doris Gates room.
The event at the Betty Rodriguez Library will take place on Wednesday, May 11, at 3:30 p.m. WILPF members and the public are invited to attend.
Since 1953, the Jane Addams Children's Book Award annually acknowledges books published in the U.S. during the previous year. Books commended by the Award address themes or topics that engage children in thinking about peace, justice, world community and/or equality of the sexes and all races. The books also must meet conventional standards of literacy and artistic excellence.
You may have heard us last month being interviewed about these donations on the WILPF Stir-It-Up Program, moderated by Jean Hays. We also talked about the importance of our Fresno County Library as our community's library.
For 30 years the Fresno branch of the Women's International League for Peace and Freedom has been donating sets of Jane Addams Peace Association children's books to the Central Library. We have donated to West Fresno and Cedar Clinton for several years and this year is the first year that we have donated to Gillis.  You might note that Margarita Engle, a local author, has her book, Silver People: Voices from the Panama Canal, included in the 2015 honored books.
---
2015  Jane Addams Children's Book Awards
Separate is Never Equal: Sylvia Mendez and her family's fight for desegregation, written and illustrated by Duncan Tonatiuh, published by Abrams Books for Young Readers. Winner, Books for Younger Children, 2015.
The Girl From the Tar Paper School: Barbara Rose Johns and the advent of the Civil Rights Movement by Teri Kanefield, published by Abrams Books for Young Readers. Winner, Books for Older Children, 2015.
Whispering Town written by Jennifer Elvgren and illustrated by Fabio Santomauro and published by Kar-Ben Publishing. Honor Book for Younger Children, 2015.
Shooting at the Stars: The Christmas Truce of 1914 by John Hendrix, published by Abrams Books for Young Readers. Honor Book for Younger Children, 2015.
Revolution by Deborah Wiles, published by Scholastic. Honor Book for Older Children, 2015.
Silver People: Voices from the Panama Canal by Margarita Engle, published by Houghton Mifflin Harcourt. Honor Book for Older Children, 2015.
A children's book about Jane Addams:  The House that Jane Built by Tanya Stone & Kathryn Brown, published by Henry Holt & Company.
Check out our Library Facebook Page:
https://www.facebook.com/WILPF-Fresno-Library-Committee-437118029825800/photos_stream
And these are our Library Facebook event pages:
https://www.facebook.com/events/1067306173307963/
https://www.facebook.com/events/1309355049093706/
https://www.facebook.com/events/1119208024768254/
START CLEANING AND GATHERING ITEMS        
FOR THE 7TH ANNUAL WILPF YARD SALE!
SATURDAY, MAY 21, the WILPF Yard Sale will once again be held during the Harvard Avenue Block Sale. We will be in the front yard of WILPF member Patty Bennett, 512 East Harvard.
We are counting on your donations. All proceeds will benefit WILPF's projects and programs. Once you have "cleaned and gathered" you may drop items off at Patty's home beginning on Saturday, May 14. Time to let go of some of those things you never use, never wanted or have two of. . . .
Hope to see many at the WILPF Yard Sale, either Friday, May 20, to sort and organize or Saturday, May 21, to help sell!
A reminder and more details will be sent to the WILPF listserv at the beginning of May.
---
ENLIGHTENED APOCALYPSE WORKSHOP REPORT
Education, hope and true engagement were only a few of the words to describe Enlightened Apocalypse,  WILPF's Earth Democracy workshop March 19 at Artè Amèricas. Most of the participants had seen the CineCulture film "Racing Extinction" the night before, preparing them for the work ahead. We began the day with an opening ceremony in Arte's plaza, led by Mono Tribal Chairman Ron Goode, who was also our first presenter. Ron spoke and showed photos of his work in the Sierras, protecting and managing the forest using Indigenous principles. He works with many, young  and old alike, who seem to be truly engaged in the work of protecting Mother Earth.
Walt Shubin then told stories of the San Joaquin River and the changes that have occurred over the years due to issues of who wants to control it. Lloyd Carter addressed the issue of "deadbeat dams" as well as selenium-contaminated soil due to over-farming. Steve Haze gave us an expert presentation on aquifers and the possible return of Tulare Lake. Dr. Heather Rally, who was in the film "Racing Extinction" and acted as post-screening discussant on Friday, attended our workshop and gave a short presentation at the end.
As a final activity of the day, workshop participants signed a pledge on a bookmark each was given. It stated:  I live within the San Joaquin Valley watershed. Its life-giving past, present and future, its joys and sorrows are my responsibility. As a good steward of this Earth, I will build a relationship with and help preserve these once-mighty rivers and all other beings. I will be a guardian of the Earth for future generations; a guardian of all living things. 
             Besides the energy of hope being very present in the workshop room, the energy of engagement was powerful. After the event concluded, most of the more than 40 attendees stayed awhile to talk and exchange ideas. There was a definite feeling that we want to continue the dialogue with individual bi-monthly meetings with our presenters and other teachers. As was stated in the film "Racing Extinction": "Better to light one candle than to curse the darkness. Maybe someone else with a candle will find you and, together, you will find others." Each of our workshop participants came with their candle of hope and passion to learn more about helping Mother Earth in her time of need; they found each other. This was just the beginning. Stay tuned for more!
A huge thanks to our Earth Democracy Workshop Planning Committee: Ann Carruthers, Kyla Mitchell, Donna Salwasser, Joan Poss, Jay Hubbell, Sanda Balderrama Rios, Jean Hays. Special super thanks to Frank Delgado, director of Artè Amèricas, for all his help with the workshop preparations and for opening the Artè  meeting room to us.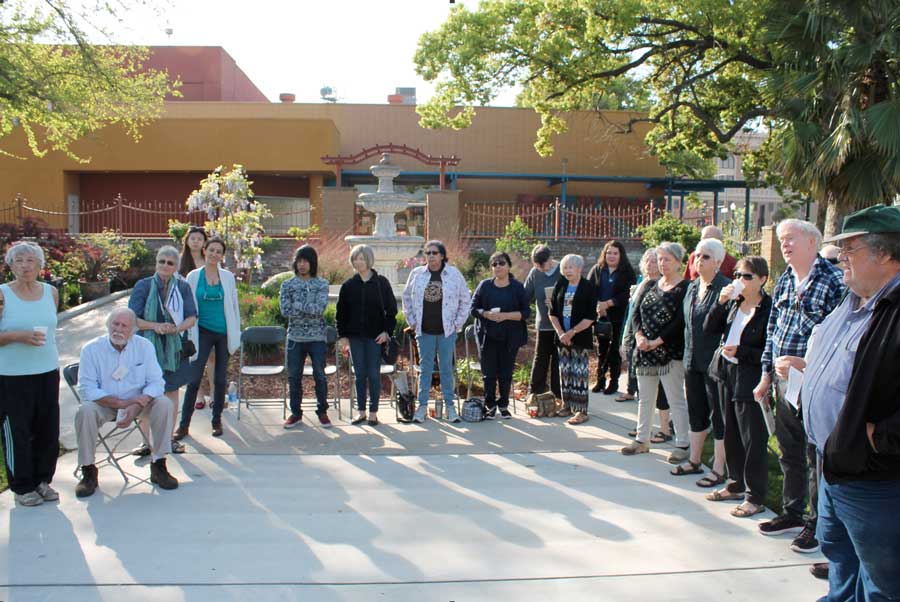 ---
NEWS FROM THE DAKOTA ECOGARDEN
Right now the Dakota EcoGarden, our transitional "home"  at 2231 W. Dakota Ave, is a bustling place, with people finding permanent housing, taking classes, tending a rain-loving garden. Call Nancy W for information about vacancies or volunteer/donation opportunities. Thanks to WILPF, the Community United Church of Christ, Gabbie Hall, and many others for helping us with their contributions recently.
We are building a nice relationship with CSUF and getting volunteers through their community service program. Dr. Wei Wu's construction management class came with their professor to see what we have done with low cost, eco-friendly structures and systems. Later, Gerry Bill, Nancy W., and Mayuko Russell went to their class to see the designs they came up with when asked to design a living space for $300. They were very interesting!
Design work continues on the second Eco Shelter. New ideas, such as the track for it to rotate on, take time to develop, especially when cost has to be considered.
---
DEG FUNDRAISER
Sunday, May 22, 2-5pm. Garden Party. 4235 N. Maroa. Proceeds to DEG residents' health and education fund. Gourmet appetizers, wine, silent auction. LANCE CANALES AND THE FLOOD will provide exciting musical entertainment. Information: 559-779-7412. General admission: $40, two for $75; students: $35. Parking will be on Maroa or side streets so persons not able to walk easily may want to come early or plan to be dropped off. OR: call Nancy's cell 417-5137 to get someone to pick you up if you have to park far away. If you have items for the silent auction, also call Nancy, but at her home phone: 224-1738.
---
FOOD NOT BOMBS NEEDS VOLUNTEERS
Fresno's Sunday chapter of Food Not Bombs is in need of more volunteer help to continue their commitment to serve a hot meal free of charge each Sunday afternoon at 3 p.m. in Courthouse Park, Tulare and L Street.
Our WILPF intern Sirina Resendez invited Brittany and Ruben of  FNB to make a presentation at our April meeting. They explained that they have a good working system, including sufficient donations of fresh produce and other food items, plus a place to prepare the meals at CAFÉ Infoshop, 935 F Street. However, they need more volunteers to help with the food preparation starting at noon every Sunday, transportation of the food to Courthouse Park, and serving starting at 3.
More information is available at the group's website, fnbfresno.org, and on their Facebook page.