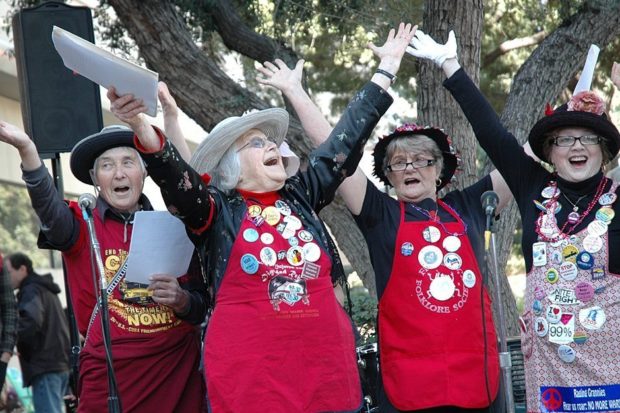 WILPF BUSINESS MEETING

March 14, Thursday, 7PM, at Fresno Center for Nonviolence, 1584 N Van Ness. This meeting is open to all members.

WOMEN IN BLACK

March 6, first Wednesday of each month at noon at Fresno County Courthouse; come on the month in which your birthday falls! Wear black, bring a sign if you wish, and stand in silence for peace.)

STIR IT UP – WILPF – ON KFCF 88.1 FM (LISTENER-SUPPORTED FREE SPEECH RADIO FOR CENTRAL CALIFORNIA)

March 27,  3PM (4th Wednesday of each month) Jean Hays does outstanding interviews on subjects involving WILPF interests and activities. Let Jean know if you have ideas for a program. Listen!

Also on KFCF 88.1: WILPF member Dr Jean Kennedy, Keeping It Real 9PM every Tuesday

RAGING GRANNIES

Meetings on selected Mondays at 7PM. Call Ellie at 229-9807 for details.
WILPF NOMINATED FOR NOBEL PEACE PRIZE
The International Peace Bureau has nominated WILPF for the 2013 Nobel Peace Prize.
One aspect that motivated this nomination is the work of Reaching Critical Will, established in 1999 to facilitate NGO participation and activity in relation to UN disarmament efforts. Human rights work based of the WILPF Comprehensive Approach, bringing together issues of peace and security with women's human rights, was also cited in the nomination, as was Peace Women/UNSC 1325. This UN Security Council Resolution on Women, Peace, and Security has been followed up by WILPF with reporting and organization efforts for women in areas of war and conflict.
WILPF was born in wartime, protesting against war. WILPF is the oldest international women's peace organization, dating back to 1915, when over 1000 women from 12 countries met in the Hague, in spite of closed borders and war. The meeting issued a strong protest against war and rejected the claim that war can protect civilians, and especially women. It adopted a set of principles for lasting peace and international cooperation.
Over the years many thousands of women have been mobilized by WILPF to work for peace, disarmament, human rights and social justice. Two WILPF leaders have been Nobel Peace Prize Laureates – Jane Adams in 1931 and Emily Greene Balch in 1946.
We have a long and proud legacy to live up to, whether or not we "all become Nobel Peace Prize Laureates" this year.
More information can be found at www.wilpfus.org
THE INVISIBLE WAR
FILM MARCH 15 CO-SPONSORED BY WILPF
Friday, March 15, 2013, 5:30 PM Peters Education Center Auditorium
(West of Save-Mart Center in the Student Recreation Center Building)
The Invisible War, an Academy Award nominated investigation into the epidemic of rape within the US military. Focusing on the powerful stories of several young veterans, the film is a moving examination of the personal and societal costs of these assaults. The film reveals that hundreds of thousands of service members have been assaulted over the past several decades, with nearly half of those assaulted being male. Combining interviews with high-ranking military officials and members of Congress with the testimony of veterans, the film catalogues the conditions that have protected perpetrators and allowed this epidemic to continue. It is both a comprehensive inquiry and an insight into what can be done to bring about much-needed change. Discussant: Kirby Dick, filmmaker.
CHASING ICE – FIRST STOP ON WILPF'S EARTH DEMOCRACY TOUR
FILM WITH WORKSHOP MARCH 22, 23
Friday March 22, 5:30 PM., Peters Education Center Auditorium
(West of Save-Mart Center in the Student Recreation Center Building)
Coming soon……….WILPF's Earth Democracy Tour and Workshop. Our Earth Democracy National Issues Section received a grant to take our environmental show on the road in California to teach about and help promote the Precautionary Principle, and Guardianship for Future Generations. The first stop on this tour will be Fresno on March 22-23, with the Earth Democracy Leadership Team as our guides. The workshop will begin with the CineCulture screening of Chasing Ice, by environmental photographer James Balog, who headed to the Arctic to capture images of melting glaciers to tell the story of the Earth's changing climate. His hauntingly beautiful videos compress years into seconds and capture ancient mountains of ice in motion as they disappear at a breathtaking rate. Following the post-screening discussion workshop participants will stay in the Peters Auditorium to discuss our stories of environmental problems, and how we became involved in helping to save Earth.
Saturday's workshop, 9 AM-2 PM, will be held at the College Community Congregational Church, 5550 N. Fresno St. The day's activities will include a discussion of the living draft Declaration of the Rights Held by Future Generations and Bill of Responsibilities for Present Generations, first drafted by those who attended the Women's Congress for the Rights of Future Generations in Moab, Utah in 2012.  Also included will be further discussion of the plague of affluenza, disaster capitalism, the Precautionary Principle, the Commons, Guardianship guidelines, and how to engage in active hope. Participants will bring up local environmental issues and discuss ideas of how to deal with them. Bring something to put on Mother Nature's altar during the workshop. You are invited to come to our Earth Democracy workshop and engage in the exchange of ideas and information which will help us to see with new eyes as we work to save our beautiful Mother Earth. The workshop is free; all are welcome. Co-sponsors are welcome.  More information: 559-313-7674.
WOMEN IN BLACK AT CSU FRESNO
WILPF interns Alex Williams and Rosie Funes have teamed up with Fresno State's feminist activist student organization Women's Alliance to bring WIB back to the campus community. This exciting endeavor will provide a venue for students to participate in direct action and bring attention to the various forms of violence our world experiences. For more information, please contact Alex Williams at aswilliams@mail.fresnostate.edu or 559-283-1768.
WILPF CLUSTER MEETING APRIL 27
The WILPF Spring Cluster meeting, with other California branches, will be at the home of WILPFer Pat Wolk, 6661 N. Forkner in Fresno, April 27, 9 AM-3 PM. All WILPFers are invited to come and share ideas, successes, and future plans for their branches. We still need people for the Cluster Planning Committee. If you can help, call Jean at 313-7674. Watch for more detailed information next month.