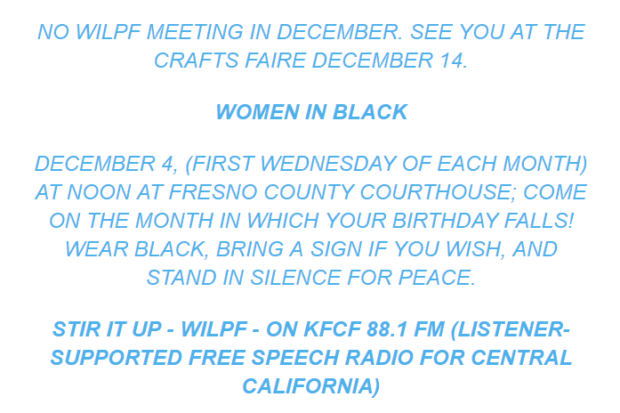 No WILPF meeting in December. See you at the CRAFTS FAIRE December 14.

WOMEN IN BLACK

December 4, (first Wednesday of each month) at noon at Fresno County Courthouse; come on the month in which your birthday falls! Wear black, bring a sign if you wish, and stand in silence for peace.

STIR IT UP – WILPF – ON KFCF 88.1 FM (LISTENER-SUPPORTED FREE SPEECH RADIO FOR CENTRAL CALIFORNIA)

(Usually 4th Wednesday of the month at 3PM) Jean Hays does outstanding interviews on subjects involving WILPF interests and activities but NOT on Christmas Day. Tune in next month.

RAGING GRANNIES

Meetings on selected Mondays at 7PM. Call Ellie at 229-9807 for details.
WOMEN IN BLACK APPEAL
Dear all, Please decided to come at least once a year and stand with us the first Wednesday of the month. We-Sue Kern, Eric Parsons, and I- are the usual and would like to see more of you besides some of the faithful few like Jean Hays and Ann Carruthers.
Our WILPF interns will have Women In Black on campus in the free speech area on Dec. 5 at 12:30. Please support them. They give our branch 15 hours a week. They're fabulous.
Peace, Joan
PEACE COMMUNITY CRAFTS FAIRE —- needs you!
DECEMBER 14, the second Saturday in December, at the Big Red First Congregational Church on Van Ness Blvd at Weldon, 10 AM-4 PM. Call Nancy Waidtlow 224 1738 with any questions and to sign up to help. And think about donating for our silent auction and raffle, or garden table, or for the soup and dessert table. And please: Volunteer!
NEW MEMBERSHIP RENEWAL PLAN
Fresno WILPF voted to have membership renewal take place in December, with those present at the Crafts Faire renewing their memberships in person there. You may also send your renewal to Nora Dewitt, our Membership Chair: 3862 N. Wilson Ave, Fresno CA 93704
WILPF DIRECTORY 2014
The updated Directory will be available for WILPF members to pick up at the Crafts Faire. You are also encouraged to renew your membership for 2014 at that time. Nora DeWitt, membership chair, will be at the Faire all day to receive your money. Thanks! Any questions, please call Nora at 225-1894, or e-mail at noradewitt@gmail.com
RAGING GRANNY BEAR SALES – SEND A GRANNY TO THE UNCONVENTION.
The Fresno Raging Grannies are selling Raging Granny Peace Bears as a fundraiser. We're trying to make sure some of us attend the Raging Grannies Unconvention in Montreal in June. The bears are $10 and are for sale at the FCNV, and the WILPF Crafts Faire. They are irresistibly cute in their Granny aprons and hats.
THE WHISTLEBLOWER CALLS ATTENTION TO HUMAN TRAFFICKING
On Tuesday, November 5th, WILPF and Fresno Rising screened the film The Whistleblower with the support of College Community Congregational Church, Central Valley Human Rights Coalition, ACT for Women and Girls, and CSUF Women's Studies Dept. The film focuses on sexual slavery, human trafficking, and corruption by UN peacekeepers who became implicated in the trafficking of eastern European women into sexual slavery in post-war Bosnia in the late 1990's. WILPF's copy of the film is available to anyone who would like to watch or organize a screening.
Our discussants from Centro La Familia let us know that over 100 victims of human trafficking have been identified and rescued in the Fresno area. Director and Advocate Mario Gonzalez stated that gangs and the cartels traffic individuals for the sex trade, labor and service industries and that human trafficking is rapidly growing as it is nearly as profitable as drugs and weapons; it is projected that soon the profits in selling humans will surpass all other illegal activity in the United States mainly because there is no limit to the number of times a person can be bought and sold! Mario also stressed that any minors working in the sex trade are trafficked victims, even if they appear willing. The elements of trafficking are force, fraud, or coercion used to control people. The trafficker controls the victims' lives and money and forces them into work against their will in commercial sex, labor or service industries. Victim Service Advocate Maria Villaseñor discussed the special needs of the victims and the reasons that they may fear to reveal their traffickers. She explained that new laws have been passed to help provide extended services for the victims once they are identified, which is key to helping the individuals find ways to survive without being exploited again and falling back into another trafficked situation. Both Mario and Maria spoke of the Make It Stop campaign and encouraged all of us to become aware of the signs of trafficking and to call the National Human Trafficking Resource Center hotline at (888) 373-7888 if we suspect a trafficking situation exists.
WILPF's Committee on Advancing Human Rights and Fresno Rising stress how important it is that each of us become aware that modern day slavery exists, right here in our valley. This issue of human trafficking needs the attention of all of us! We invite you to join us at the Human Rights Day – human trafficking awareness event hosted by the Central Valley Human Rights Coalition: film screening of Trade of Innocence on Sat Dec 7th at CCCC 7-9pm and Panel Discussion with the film director and advocates from local agencies on Sun Dec 8th at ICCF 3-5pm.
Peace ~ Teresa Castillo