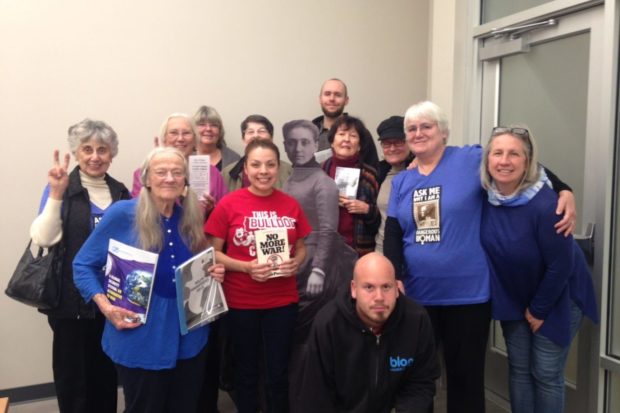 WILPF BUSINESS MEETING

WILPF will meet Thursday April 14, 7 PM, at Fresno Center for Nonviolence, 1584 N Van Ness.  This meeting is open to all members.

WOMEN IN BLACK

April 6, first Wednesday of each month at noon at Fresno County Courthouse; come on the month in which your birthday falls! Wear black, bring a sign if you wish, and stand in silence for peace.

STIR IT UP – WILPF – ON KFCF 88.1 FM (LISTENER-SUPPORTED FREE SPEECH RADIO FOR CENTRAL CALIFORNIA)

April 27,  3 PM (4th Wednesday of each month)  Jean Hays does outstanding interviews on subjects involving WILPF interests and activities.  Tune in!

RAGING GRANNIES

Meetings on selected Mondays at 7 PM.  Call Ellie at 229-9807 for details.
TAX DAY, Wednesday, APRIL 15th – VOLUNTEERS NEEDED!
April l5th is a very important day for WILPF to educate the public about where their tax money goes at the Griffith Post Office from 9:00 a.m. to 5:00  p.m.  We'll be handing out Community Alliances and tax information in one and two hour shifts.  Please call me at 227-6134 and tell me what shift you can take.  This is one of the times we aren't preaching to the choir.  An important occasion.                               _____Joan Poss
---
SHOWING UP FOR RACIAL JUSTICE
White folks who care that "BLACK LIVES MATTER"
Wednesday, April 6, 7:00 to 8:30 at the
Unitarian Universalist Church,  2672 East Alluvial Ave. Clovis, near Willow.
(People of all races  are welcome.)
We will be further exploring:
Why we have come here,
What SURJ is and why it is,
What white groups we are connected with,
Ideas we have for engaging white folks in our community.
Please come and invite interested friends and associates.
It was suggested that we read "willie lynch letter 1712." The 4 page text is at: https://archive.org/stream/WillieLynchLetter1712/the_willie_lynch_letter_the_making_of_a_slave_1712_djvu.txt
I would further suggest reading "Island Beneath the Sea" by Isabel Allende, for a fuller story of this era. Just to forewarn you, neither are pleasant readings.
The Tucson SURJ Facebook page has the following books suggested for white allies:
http://www.bustle.com/articles/144531-18-books-every-white-ally-should-read
On March 25th a hearing in Federal Court was scheduled for the Fresno Police Department's killing of Freddy Centeno, the mentally ill man who was holding a water nozzle when he was shot 9 times. I will be there to support the family. Call me at 240-9205 for information about the hearing and future actions.
—–Ingrid Carmean
---
SAVE THE DATE -YARD SALE MAY 21
 Get ready to donate your stuff and your time!
The WILPF yard sale will be Saturday May 21.  Time to do your spring organizing and set aside some items to donate for the sale.  We'll need volunteers to work that day.  It's lively and fun – come help out!
---
DISARM/END WARS: FRESNO WILPF SUPPORTS NUCLEAR WEAPONS ABOLITION BILL
After the January visit of Ellen Thomas and Carol Urner, the Legislative Committee drafted a letter and will make visits to our representatives urging support and co-sponsorship of DC Congresswoman Eleanor Holmes Norton's bill,  "The Nuclear Weapons Abolition and Economic and Energy Conversion Act of 2015." – HR 1976, reintroduced for the 12th time in Congress.   This bill was based in part on the promises much of the world thought President Obama was making in his Prague speech in April 2009, to help lead the world step-by-step toward the complete elimination of nuclear weapons.  Regrettably, in the years since Prague, the US has moved to spend one trillion dollars over the next 30 years for new nuclear bomb factories, delivery systems, and warheads.  The bill calls for prompt leadership by the US in achieving an international treaty for the elimination of nuclear weapons world-wide, under strict international control.  Under the bill, the US resources that would otherwise have been spent on nuclear weapons would be used for the development and deployment of sustainable carbon- and nuclear-free energy sources and investments in healthcare, housing, education, agriculture, and environmental restoration.
---
WILPF FRESNO JOINS WILPF-US IN CONDEMNING THE MURDER OF BERTA CÁCERES
 -from the resolution-
On Thursday, March 3, 2016, Berta Cáceres, indigenous feminist human rights activist, was murdered in her home in Honduras. This came after a series of death threats against her and other indigenous rights activists. Berta Cáceres, a member of the Lenca indigenous group, and other activists were fighting to protect their lands and waterways from environmental destruction. The Women's International League for Peace and Freedom, US Section, joins other peace as well as human rights and women's activist organizations in strongly condemning the murder of one of our own. We deplore the role of the US government in the 2009 coup and ongoing militarization of Honduras.
-what we can do-
Contact your Senators and Members of Congress and contact the following   ambassadors: Ambassador Jorge Alberto Milla Reyes // Honduras Embassy in the U.S.
202 506-4995, 202 450-3146    consulado.washington@hondurasemb.org
Ambassador James D. Nealon // US Embassy in Honduras
011 (504) 2238-5114, 2236-9320       NealonJD@state.gov or usahonduras@state.gov
Ask them to insist
1.on an independent investigation of the murder of Berta Cáceres.
2.that Mexican human rights activist Gustavo Castro Soto be released from Honduran custody and permitted to travel. Honduran authorities have required the sole witness and fellow victim of the attack, to remain another 30 days in the country. He has already provided testimony and fears for his safety in Honduras.
---
APRIL DAYS AGAINST THE BLOCKADE OF CUBA
Only Congress can end the so-called embargo – considered a blockade by Cuba due to its extra-territorial aspects.  This policy has divided the US from almost all of even its closest allies.  The vote in the UN in October of 2015 on the resolution calling for an end to the economic, financial, and trade embargo of Cuba was adopted, with 191 countries voting in favor and only 2 against.  It has harmed the reputation of the US everywhere in the world, and particularly in Latin America.  The UN General Assembly reiterated its call to all States to refrain from promulgating and applying laws and measures not conforming with their obligations under the UN Charter and international law, which reaffirm freedom of trade and navigation, and once again urged States that have and continue to apply such laws and measures to take the necessary steps to repeal or invalidate them as soon as possible.
This is exactly what we are asking Congress to do. Obama can't unilaterally end the blockade, but Congress can.
It is time to end the blockade of Cuba for many reasons. Some of these reasons have to do with creating a foreign policy rooted in respect for the sovereignty of other nations, so that the United States will not continue to isolate and shame itself both in the Americas and elsewhere in the world.  Some have to do with respecting the liberties of the people of the US, who should have freedom to travel and trade.  Some reasons are based on justice and morality – the attempt to isolate and deprive an innocent civilian population to place political pressure on them is reprehensible.
Change is not going to come without struggle.
A coalition of groups is organizing the second "Days of Action" in Washington, DC, to push for real change. A number of Cubans experts from the island will join us to share the realities of Cuba and their views on the new era of relations.
Solidarity friends from across the United States and from other countries are invited to come to Washington April 18-22, 2016 to share ideas and widen the awareness of the impact the U.S. blockade has on the Cuban people and the people of the United States as well. The Second Days of Action activities will include organized advocacy visits to Capitol Hill, an interactive community forum with speakers from Cuba, and more.
Let us bring our message to elected officials to demand an end to the U.S. blockade on Cuba and the travel ban. For those in the U.S. who cannot travel to Washington, it is equally important to visit local offices. The Legislative Committee will schedule these visits.  Contact Jean Hays, Betty Sempadian, or Leni V Reeves to join us.
for more information about national actions see:
http://theinternationalcommittee.org/
WILPF COOKBOOK
As part of Fresno WILPF's 50 year celebration, we reprinted our 1972 cookbook which is a colloborative collection of recipes by WILPF members.  To purchase one for $25, please contact Teresa at (559)360-8054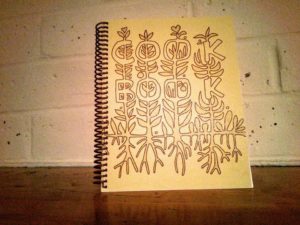 The WILPF page is compiled and edited by Leni Villagomez Reeves.  Contact at lenivreeves@gmail.com
(end)