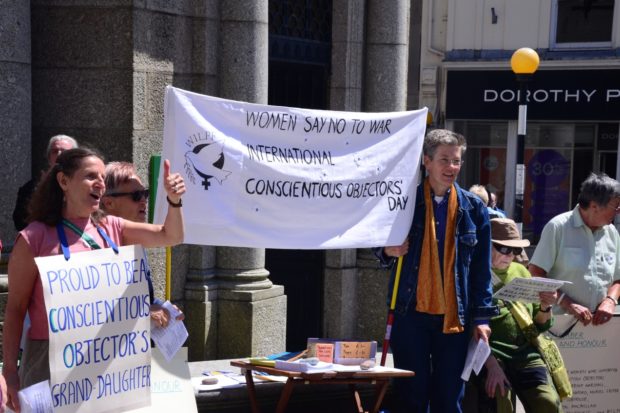 WILPF BUSINESS MEETING

April 11, Thursday, 7PM, at Fresno Center for Nonviolence, 1584 N Van Ness. This meeting is open to all members.

WOMEN IN BLACK

April 3, first Wednesday of each month at noon at Fresno County Courthouse; come on the month in which your birthday falls! Wear black, bring a sign if you wish, and stand in silence for peace.)

STIR IT UP – WILPF – ON KFCF 88.1 FM (LISTENER-SUPPORTED FREE SPEECH RADIO FOR CENTRAL CALIFORNIA)

April 24  3PM (4th Wednesday of each month) Jean Hays does outstanding interviews on subjects involving WILPF interests and activities. Let Jean know if you have ideas for a program. Listen!

Also on KFCF 88.1: WILPF member Dr Jean Kennedy, Keeping It Real 9PM every Tuesday

RAGING GRANNIES

Meetings on selected Mondays at 7PM. Call Ellie at 229-9807 for details.
WILPF CALIFORNIA CLUSTER MEETING HERE ON APRIL 27
The Fresno branch of WILPF will be host to the Spring Cluster meeting Saturday, April 27, 9:30 AM-4PM at the home of Pat Wolk, 6661 N. Forkner Ave., Fresno, 93711. Pat's phone is 431-3653, or patwolk@yahoo.com. Help is needed for set-up, registration, and clean-up the day before and day of the Cluster. Please, please consider helping!!  Hospitality is also needed for those WILPFers who travel to Fresno the day before the Cluster. If you can house someone on Friday evening, April 26, contact Patty Bennett at 225-9511 or patriciajb@aol.com. Our Cluster gatherings are always exciting times when various branches share what they have been doing for the last 6 months. We hope to see all WILPFers there!
TAX DAY ACTION – VOLUNTEERS NEEDED
April 15th, a Monday, is tax day.  We will be distributing postcards showing that the Pentagon has over half of the budget. These can be sent to Obama with your budget priorities. We'll also be handing out fliers giving people the names of their representatives so they can contact them. Please call me, Joan, at 227-6134 and tell me what time you can volunteer.  We'll be at the Griffith Post Office from 9:00a.m. to 5:00 p.m. on April 15 and we need you to come and help.
FRESNO RISING!
Fresno Rising is a local continuance of One Billion Rising, which is a global movement to end violence against women and girls everywhere. Fresno Rising is a group of passionate activists dedicated to taking a stand against the continued abuse and violence towards the female sex.
Since V-Day (see the front page of February's issue of the Community Alliance for the excellent article written by WILPF member Georgia Williams), Fresno Rising has been very active and has made a point of breaking the rules whenever necessary. They've done several flash mobs around Fresno and Clovis and have held planning meetings to discuss further actions and ways to truly make things better for the women of Fresno and, in turn, the world.
Although one of the lead organizers, WILPF member Kyla Mitchell, will be going to Uganda to do humanitarian work with the people there, Fresno Rising will continue to have events in and around Fresno and will welcome her back once she returns. She will be busy spreading awareness there, too!
Fresno Rising has invested in a portable loudspeaker with microphone, so opportunities for future events reach far and wide. If you have an event coming up or know of one that would be a perfect fit for their powerful and moving flash mob, search "Fresno Rising" on Facebook or email fresnorising@gmail.com. Suggestions are welcomed and appreciated.
THE RIGHT TO KNOW THE TRUE COST OF WAR
Without an organization, without political background, prompted only by his conscience, a then-22-year-old army private knowingly risked his life and liberty in order to inform the world. As a result he endured treatment which the top UN torture investigator deemed "cruel and inhuman", and he now faces decades in prison if not life. He knew exactly what he was risking. But he made the choice to do it anyway because of the good he believed he could achieve, because of the wrongs that he believed needed urgently to be exposed and combated, and because of his conviction that the public should learn the truth about the bad acts their governments are doing in secret.
Heroism is real, though it has been depicted often in strange and distorted ways. Whatever it means, it is embodied by Bradley Manning.
You can hear his statement online at pressfreedomfoundation.org.