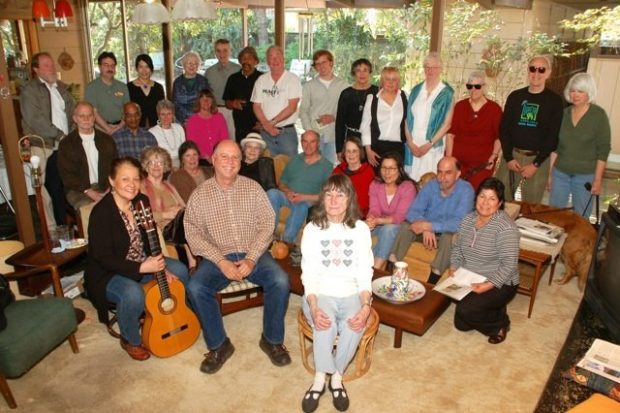 DANGEROUS WILPF WOMEN IN ACTION
By Joan Poss
On Oct. 9, the first Wednesday of this month, Ingrid Carmean, Sue Kern and I were holding our silent vigil against all wars. At about 12:30 p.m., I noticed behind us a sheriff's deputy talking loudly with a slightly built Black man; the deputy had the palm of his hand on the young man's chest and was pushing him against a window. I walked up holding the sign "War IS Not the Answer" and told the deputy to take his hands off the young man. He told me to back away for my own safety. In the meantime, four other deputies arrived and one asked me who I was. I replied, "WILPF."
In the meantime, Ingrid was photographing the incident. When one of the deputies noticed Ingrid photographing, he took his hand off the young man's chest and stepped back about two feet. Sue asked the young man what he had been detained for. The young man replied, "He said my pants were too low." Sue said, "He can't detain you for fashion." The deputy must have then asked her to stay out of it because she replied, "I am a lawyer." Then the atmosphere changed even more, and the deputy soon let the man go.
Ingrid then spent about 20 minutes with the young man explaining how he can use his smart phone whenever necessary to send a recording of any incident to the ACLU (American Civil Liberties Union). At MOBILEJUSTICECA.org, any smart phone user can download the free ACLU app, which will record an incident and automatically send the recording directly to the ACLU in case there is a civil rights violation that warrants follow up. A good source of local information is www.cccjc.org. These are important Web sites because Black Lives Matter—though when I said that to the first sheriff, he replied, "All lives matter." I then repeated, "Black Lives Matter."
The young man couldn't thank us enough, shook all our hands and went off instead of probably ending up as yet another person who should not have been jailed.
We hope that more of you will join us on the first Wednesday of each month. Sometimes I wonder why I keep doing the vigil. I almost always get an answer. This one was awesome.
FRACKING TOUR NOVEMBER 14
The Earth Democracy WILPF branch committee received a generous grant from National WILPF recently to conduct and film a tour of various fracking sites in Kern and Fresno counties. The tour will take place on Nov. 14. Participants will meet at 7:30 a.m. in the parking lot by the downtown Office Depot and Starbucks on Tulare Street next to the Highway 41 Tulare Street exit. We will depart in vans at 8 a.m. sharp and travel to Bakersfield where we will meet up with Tom Frantz, our tour guide, at 10 a.m.
The tour will include the Kern River Oil Field, a hillside where oil field wastewater is sprayed continuously, some crops being irrigated with oil field wastewater and some contamination sites. We will stop for lunch halfway through our journey and end the tour in the Shafter area.
We should arrive back in Fresno around 5 p.m. Sometime during the trip we will be "passing the hat" to secure donations to offset the cost of van rental, but no one will be turned away for lack of funds.
A videographer from the CMAC (Community Media Access Collaborative) will accompany the tour and film the experience. The outcome will be a DVD of our tour. As you know, a picture is worth a thousand words. We want everyone to see the devastation that comes from fracking in order to move forward to stop it! The DVD will also be available through the WILPF-US Web site.
We have a few spaces left on the vans. If you are interested in touring with us, please respond as soon as possible! If you have questions, call Jean Hays at 559-313-7674.
INTERMOUNTAIN NURSERY THANKS FROM JOAN POSS
Special thanks to Susan Leeper who set up an attractive WILPF table for us (see photo) for the two-day Intermountain Nursery Harvest and Peace Festival on Oct. 10–11. Jean Hays and Nancy Waidtlow, respectively, set up each morning. Not a small task. Pat Wolk and Katzi Engle took up the first part of Saturday afternoon. Bev Fitzpatrick and Kyla Mitchell did the late shift and safely stored our literature. Ingrid Carmean did the Sunday afternoon shift with me. Great to have extra hands to pack the stuff up for another day. Hope more of you will join us next year.
WILPF Fresno invites you to our annual Peace Community Crafts Faire! As always, admission is free and all are welcome. And there are still spaces available for vendors; please contact Jay at 559-292-4905 if you're interested in becoming a vendor. Also, we'd love to have more volunteers! If you're able to volunteer your time or donate a homemade soup or items for our silent auction, please contact Kyla at 559-346-8253. Make sure to mark this fun event for the whole family on your calendar!
---
WILPF BUSINESS MEETING
Nov. 12 (second Thursday of each month), 7 p.m.–9 p.m. at the Fresno Center for Nonviolence, 1584 N. Van Ness Ave. Meetings are open to all members.
WOMEN IN BLACK
Nov. 4 (first Wednesday of each month) at noon at the Fresno County Courthouse; come at least once a year, perhaps during the month in which your birthday falls! Wear black, bring a sign if you wish and stand in silence for peace. See below for a story about the October Women in Black vigil.
FRACKING TOUR
Nov. 14, 7:30 a.m.–5 p.m. See detailed information below.
STIR IT UP—WILPF
KFCF 88.1 FM (listener-supported free speech radio for Central California)
Nov. 26 (fourth Wednesday of each month) at 3 p.m. Jean Hays conducts outstanding interviews on subjects involving WILPF interests and activities. Let Jean know if you have ideas for a program. Tune in!
RAGING GRANNIES
Meetings on selected Mondays at 7 p.m. Call Ellie at 559-229-9807 for details.
WILPF PEACE COMMUNITY CRAFTS FAIRE
Dec. 12, 10 a.m.–4 p.m. at First Congregational Church, 2131 N. Van Ness Blvd.