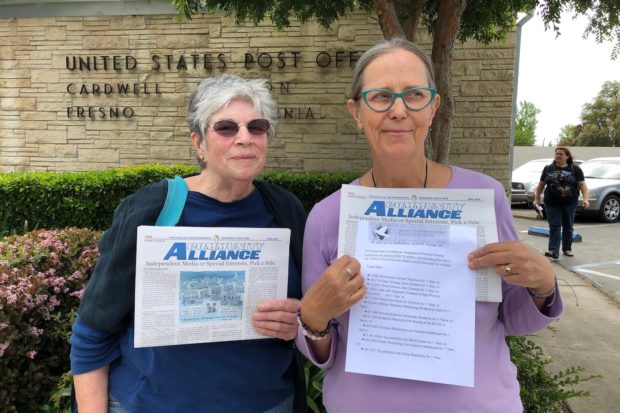 WILPF MEETING
WILPF will meet Thursday, May 13, at 7 p.m. at the Fresno Center for Nonviolence, 1584 N. Van Ness Ave. This meeting is open to all.

STIR IT UP–WILPF ON KFCF 88.1 FM
Listener-supported free speech radio for Central California
May 22, 3 p.m. (4th Wednesday of each month). Jean Hays does outstanding interviews on subjects involving WILPF interests and activities. Tune in to 88.1!

LEGISLATIVE COMMITTEE
Meets monthly. Contact Jean Hays at skyhorse3593@sbcglobal.net.

LIBRARY COMMITTEE
Meets monthly. Contact Ann Carruthers at acarruthers@earthlink.net.

RAGING GRANNIES
Meetings on selected Mondays at 7 p.m. Call Patty at 559-999-9709 for details.

WOMEN IN BLACK
A worldwide network of women committed to peace with justice and actively opposed to injustice, war, militarism and other forms of violence. May 1 (first Wednesday of each month) at noon at the Fresno County Courthouse. Wear black, bring a sign if you wish and stand in silence for peace.

MEMBERSHIP
Send dues to WILPF Fresno, P.O. Box 5114, Fresno, CA 93755. For inquiries or information updates, contact Evonne Waldo at evonnewaldo@yahoo.com.

Find us on Facebook!
WILPF Fresno Library Committee
Fresno WILPF Cuba Solidarity Committee
JANE ADDAMS AND FRIENDS GO TO CALWA
Seven dedicated WILPF Library Committee women visited the third grade classes of Annie Henson-Jones and Kate Andrade at Calwa School and presented them with a set of 2017 Jane Addams Children's Award Books for their school library on April 3.
Together, we talked about the books, read Dangerous Jane to learn about Jane Addams and created peace doves that became peace banners. Jean Hays taught the children a peace song, and we enjoyed singing with the aid of student musicians.
The principal and the librarian joined us for the book donation. In response to our "time of peace," we received wonderful thank you notes from all 46 students. Our thanks to the teachers for allowing us to spend time sharing our mission of peace with their students.
—Ann Carruthers, Jean Hays, Cheryl Caldera, Nancy Godwin, Sandra Iyall, Bev Fitzpatrick and Janet Capella

Cheryl Caldera reading to children at Calwa School. Photo by Sandra Iyall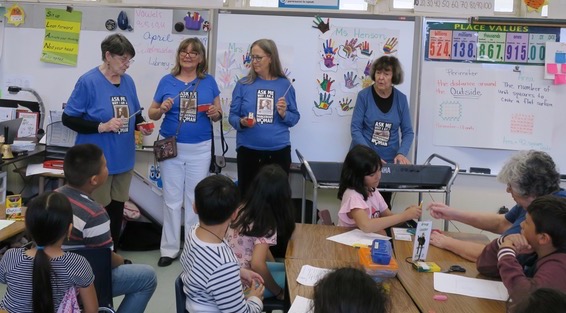 Ann Carruthers, Sandra Iyall, Nancy Godwin and Jean Hays play music, while Janet Capella works on art. Photo by Sandra Iyall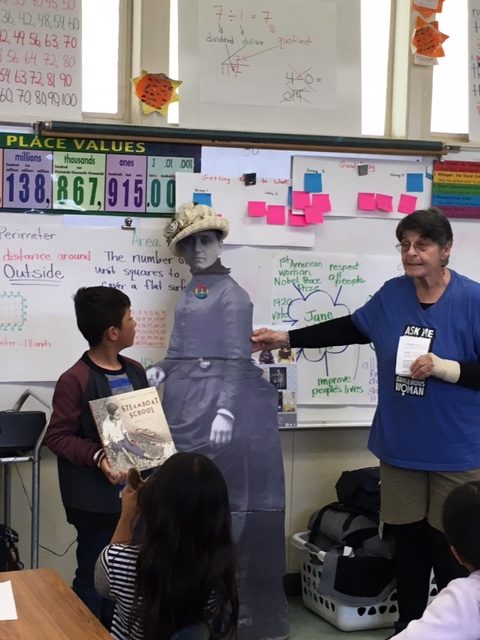 Ann Carruthers talking about Jane Addams. Photo by Sandra Iyall
Thank you notes. Photo by LVR

JOIN EARTH DEMOCRACY FOR A CLOSER LOOK AT THE RIVER AND ITS DENIZENS
Earth Democracy invites you to its next up-close-and-personal encounter with Mother Earth and the beings that share it with her. We will tour the Friant Fish Hatchery on Saturday, May 18, at 9:30 a.m. Meet in the free parking lot (FINNS Hatchery sign) just after passing Lost Lake on Friant Road.
We will see and feed fish and be accompanied by a fish expert. You are invited to pack a lunch to enjoy after the hatchery tour. Picnic tables with a great view are available on the beautiful patio. Our tour leader will be Heidi Ann Isner from the Kings River Conservation District.
Become better acquainted with our friends with fins! For more info, call Jean Hays at 559-313-7674 or Catherine Fowler at 559-674-9990.
WILPF EDUCATES THE PUBLIC ABOUT WHERE THEIR MONEY GOES ON TAX DAY
Fresno County taxpayers are paying $793,750,000 for the Department of Defense, not including the cost of war. How many teachers, or clean energy jobs, or children or veterans receiving healthcare would that money have provided?
WILPFers were at post office in Fresno on April 15 to let people know that there are better ways for our government to use our money and that the war economy consumes an enormous amount of the U.S. budget while human needs are neglected. They also hand out the Community Alliance with real news about so many issues including the WILPF page.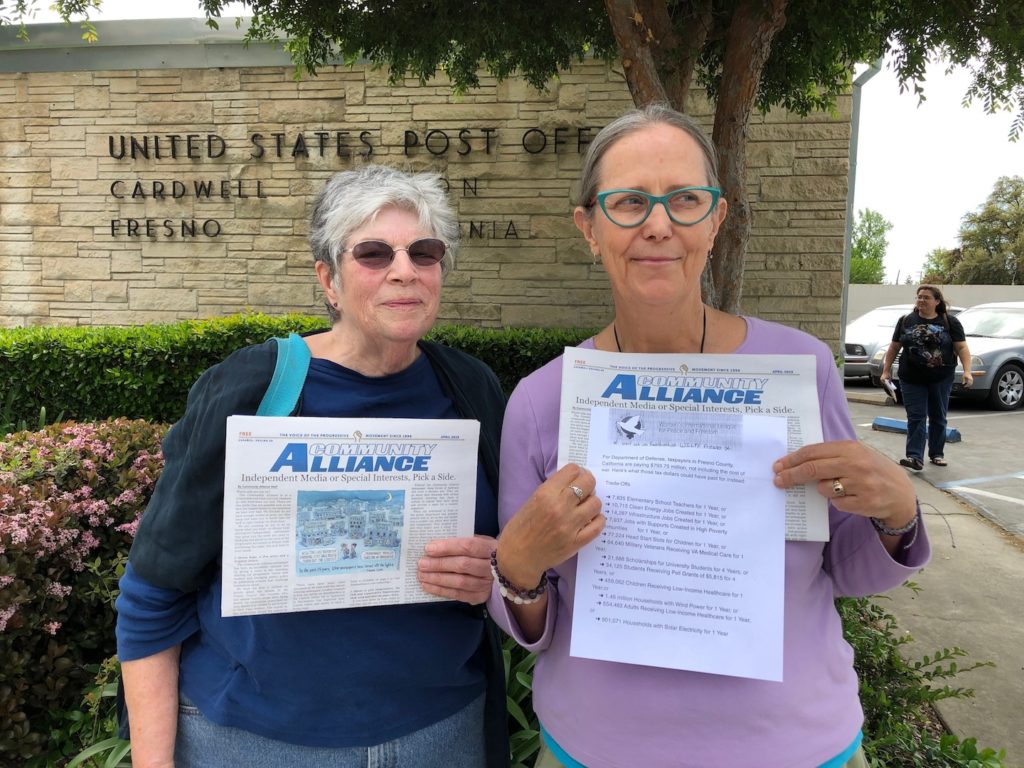 Janet Capella and Nancy Godwin hand out Tax Day information. Photo by Bev Fitzpatrick

NEVER BEEN TO THE DAKOTA ECOGARDEN?
Want something nice to do on Memorial Day weekend? Join us on Saturday, May 25, from 5 p.m. to 8 p.m. for a Potluck/Open House party. Bring something yummy to share and come, whether for the first time or as a regular.
All are invited to join in celebrating this unique Fresno project, which gives a second chance to people who are homeless or almost homeless. New things to see: the outdoor kitchen, the even better woodshop with a new floor and a larger tarp roof, and a beautifully handmade captain-style bed in the "dinosaur egg eco-shelter."
We are just west of West and Hughes avenues at 2231 W. Dakota Ave. Carpool if you can as parking can be difficult. Mobility-challenged folks, let us know and you can park inside the fence if there is room. For more info, call Nancy Waidtlow at 559-224-1738.
YOU CAN BE PART OF "MAYBE SOMETHING BEAUTIFUL…"
The Arne Nixon Center has been working with artist Rafael Lopez, and with the community in the Cedar and Tulare neighborhood on a community mural design. Painting will take place on Saturday, May 11, as a community project, and there will be a dedication and celebration.
You don't have to be an artist; paint pourers and cleaner-uppers are also needed. To volunteer, visit https://ancmural.org/get-involved/volunteer/.
Of course, WILPF Fresno's Library Committee is involved in this project as well as the Raging Grannies, who will be singing at the celebration.
JUNE 19—SAVE THE DATE FOR THE PASTORS FOR PEACE CARAVAN TO CUBA EVENT
This year, we are fortunate to have filmmaker Catherine Murphy as one of our speakers. We'll show the short version of her film Maestra, which is about the Literacy Campaign in Cuba. Our other speaker will be an experienced community activist from Cuba.
This is a great chance for those who have questions about Cuba or a special interest in just how it is possible to teach everyone how to read and write, and how that changes everything. The event begins at 6:30 p.m. with live music at the Wesley Methodist Church sanctuary at 1343 E. Barstow Ave. in Fresno.