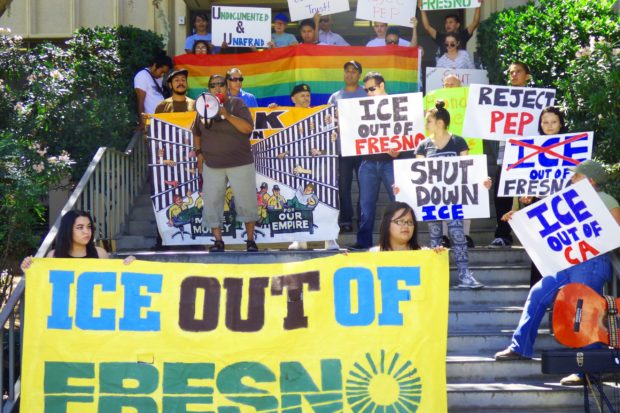 By Luis Ojeda
On July 9, the Fresno County Sheriff's Department announced that it had launched a "unique program at [the] Fresno County Jail" that would provide two ICE (Immigration and Customs Enforcement) officers access to inmate records and interview rooms at the jail. The department boasted that more than 20 individuals had been turned over to ICE since the program began on June 22.
Although a growing number of jurisdictions are moving toward reducing collaboration with ICE, this new program does just the opposite. This is yet another example of Sheriff Mims' anti-immigrant record. Her department initially refused to commit to implementing the TRUST Act in 2013. It was not until members of Fresno Immigrant Youth in Action held a civil disobedience in front of the county jail that Mims caved to pressure.
Advocates have again responded by launching the ICE Out of Fresno campaign, an effort to end all collaboration between local law enforcement and ICE in Fresno County. It's time to elevate the conversation beyond buzzwords and talking points.
"We call on Fresno County Sheriff Margaret Mims to put an end to all collaboration with ICE," says Oday Guerrero, Fresno Immigrant Youth in Action organizer. "This program is neither 'unique' nor 'progressive' but will instead further erode trust between local law enforcement and immigrant communities and reduce the department's credibility. Sheriff Mims should not be in the business of deportation."
These latest efforts represent an attempt at getting around last year's Miranda- Olivares v. Clackamas County case, which found ICE detainers to be completely voluntary and that detentions based on these holds were unconstitutional. It also goes against the spirit of the TRUST Act, a state law that seeks to reduce deportations in California. Rather than hold individuals an extra amount of time and risk lawsuits, Mims has recklessly decided to give ICE full access to the jail.
Fresno County should be looking at ways to end its relationship with ICE instead of further entangling local law enforcement with a federal agency that cannot be trusted. At a time when "Black Lives Matter" is sparking a conversation around structural racism and White supremacy in America, we must look at how the Fresno County Sheriff's Department continues a history of criminalization and mass incarceration of people of color. We know that the community cannot trust local law enforcement, and policies like these show that the sheriff's department is not interested in mending its relationship with the community.
Sheriff Mims likes to mention the fact that she supports immigration reform and points out that this would help good immigrants who obey the law. However, this only perpetuates the good immigrant versus bad immigrant narrative that ignores the complexity of this issue. Such statements are lazy attempts to put people into neat little boxes when the reality is much different. The "felons not families" narrative is dangerous and shows how too often we are willing to throw members of our community under the bus. This is something that even progressives are guilty of doing. You cannot be pro-immigrant and support Sheriff Mims' deportation programs, which relegate undocumented immigrants as disposable.
The people that fall into ICE's priority for deportation are your neighbors, your parents, your brothers and sisters, friends and community members. These include parents who were previously deported and returned to be reunited with their family and community. It also includes gang affiliation and DUIs. Such policies illustrate the criminalization of people of color that are more likely to be severely prosecuted than their White counterparts. Our communities know about the ridiculousness of gang databases that often target people of color based on association or physical appearance.
Overall, these priorities ignore the need to focus on rehabilitation, mental health, substance abuse, lack of economic opportunity and the need to reform our arcane drug laws. Deportation does none of this and is a failed immigration policy that does not get to the core of the issue.
The Fresno County Sheriff's Department gets it wrong again, and Sheriff Mims should not be making policy decisions based on arrogance and a desire to come off as tough on crime and gain celebrity status by appearing on Fox News, a racist, xenophobic network that attempts to pass as a news network.
Make no mistake about it; we will remember what side of the issue you stand on and as Martin Luther King, Jr., said, "In the end, we will remember not the words of our enemies, but the silence of our friends." We call on all the good people of Fresno to speak out against deportations because when we say not one more deportation we mean not one more deportation.
*****
For more information on how you or your organization can be part of the ICE Out of Fresno campaign, contact Luis Ojeda at 559-223- 1192 or lojeda@ciyja.org.