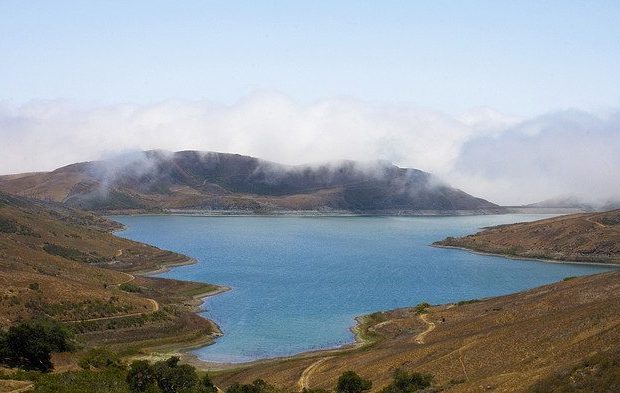 By Cesar Campos 
Coming over the Pacheco Pass Highway, at the San Luis Reservoir, I catch a desolate glimpse of the yellow, dried-out grass on the hillsides. I have to remind myself that it is early spring on what promises to be a treacherous summer across the state. Years ago, this was my favorite entrance into the Valley—something about the layers of green and the sun shining on the water, emitting a promising glare.
When I studied at UC Merced, my friends and I used to drive out to the reservoir and find a spot to watch the sunset over the water. The mesh of colors complementing the orange of the dimming sky. Today, those days seem far away and detached. As I move my way down south into Fresno County, I continue to think about the stark difference from those sunny, fresh days of April.
Currently, in my work, I have the opportunity to work alongside environmental justice communities struggling with disproportionate pollution sources and disadvantaged social characteristics. To these communities in the San Joaquin Valley, this drought quite literally means larger sacrifices, worse options, intensified poverty and fewer opportunities to bloom.
Over the last couple of weeks, I have read incredible headlines like "You're looking [at] numbers that were right on par with what was the Dust Bowl" or "California has about one year of water left in its reservoirs" or "44% of California is now suffering from 'exceptional' [drought] conditions." Meanwhile, local and state governments continue to scramble for options to provide some sort of relief for this tightening grip—often ending in a myriad of options that are not incredibly helpful to those who are most affected.
Just last week in a press release, Kevin De Leon (D–Los Angeles), Senate president pro tem, announced the creation of an Office of Sustainable Water Solutions "designed to assist disproportionately impacted communities… obtain access to resources to address drinking water and other needs." This announcement comes after months of work from water, legal and environmental justice organizations across the San Joaquin Valley advocating for this type of relief. Although many of the groups who worked on achieving this celebrated the announcement and are invested in supporting the implementation, everyone expects the process to achieve this to be difficult.
For my part, my organization (the Central California Environmental Justice Network) continues to advocate for resident-participatory avenues to compliance and enforcement of environmental regulations. With the knowledge that less water also means higher concentrations of pollutants, and further potential for small violations to constitute large problems, protection of surface and groundwater has never been more important. Over the past six months, these efforts have been successful at closing enforcement and compliance cases with three dairies, thee agricultural growers and three oil exploration companies in Kern and Fresno counties.
All of those cases, through resident-led monitoring initiatives, have helped us learn from the direct experiences of affected communities. We have seen the reality and fervor of their concern for poor quality and scarcity, given that they realize their position in the frontlines to suffer acute and chronic consequences.
In our work, it is impossible to forget that the industries that are now praying for rain and relief, macro-scale agriculture, oil exploration and concentrated animal feeding operations historically have been responsible for widespread contamination to groundwater reservoirs that have left countless communities without access to potable water. For years, we have seen how low-income communities have struggled to gain access to safe drinking water, fighting against high concentrations of nitrates, PCBs and arsenic in multiple areas.
After years of slow government processes to bring relief to these communities, it is not surprising that we continue to be skeptical as those same low-income populations are now literally running out of water. Just in the last month, through our network in Fresno County, residents have helped us identify two private wells that have gone dry in a small, unincorporated community outside of Sanger. The community referred to as Tombstone Territory is unincorporated, functions on private wells and residents report that their water has not been tested in decades.
Similar stories have previously made local and national headlines in the towns of Cantua, Farmersville, Shafter and in several other places across the Valley. The narratives across these places serve as prime reminders that the drought is not simply a monetary problem—but it is, in fact, a struggle for survival in many disadvantaged communities.
As we open a statewide discussion about cutting back on water usage in metropolitan areas, I hope that people are also reminded that water conservation goes hand-in-hand with water protection. In fact, in rural areas across the San Joaquin Valley water protection may be a more adequate discussion, although it is also a more difficult one.
To have this conversation, we need more residents to believe that their monitoring and reporting actions are now more important than ever. I am hopeful that this shift is happening, as I've worked with communities where it is becoming increasingly clear. To have this conversation, we need macro-level industries to acknowledge their historical connection to water contamination and to begin self-monitoring in an attempt to protect the resource. I hope this becomes clear to the industries as they continue to seek relief.
Furthermore, to have this conversation, we need government regulators to identify innovative ways to tighten environmental protection regulations and to parallel those regulations to health and safety issues. Local jurisdictions need protocols for proactive testing of private wells and for making sure that emergency relief gets to unincorporated areas.
The Division of Oil, Gas and Geothermal Resources needs to update regulations on produced water injection wells, drilling mud discharge and surface wastewater ponds. The San Joaquin Valley Air Pollution Control District needs to revisit the efficacy of its sump rule. The Regional Water Quality Control Board needs to update its regulations concerning concentrated animal feeding operations and agricultural discharge. Furthermore, we need a coordinated approach to point out source violations, prevention activities and avenues for contamination.
I believe in the resiliency of the San Joaquin Valley. As we saddle up to enter one of the toughest summers in recent history, we must look forward to better times and make policy decisions that can take us there. I cannot help but think of the community voices in disadvantaged communities who remain optimistic despite terrible circumstances. They have done so for many years and continue to emit feelings like gorgeous sunsets at the San Luis Reservoir.
*****
Cesar Campos is coordinator for the Central California Environmental Justice Network. Contact him at cesar.campos.12@outlook. com.