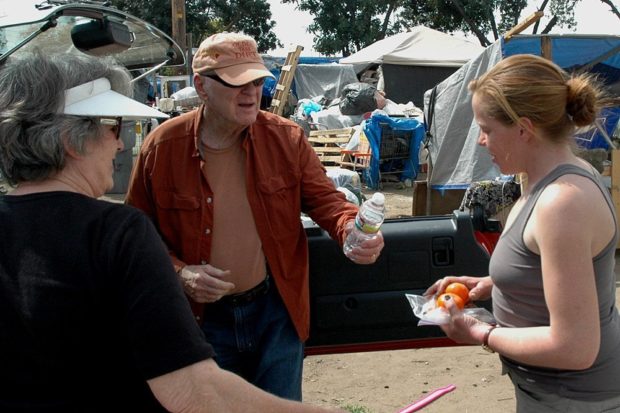 By Karen Goodman
Our small group of people, mostly from the Unitarian Universalist Church, has been working directly with the homeless for more than a year. We go down every Thursday to deliver toilet paper, water and other items as needed or available. We have recently taken on some new elements in this outreach.
Working with Mike Rhodes and the Community Alliance, we are beginning to place dumpsters in the homeless encampments. Enough money has been raised from small donations to initially cover this expense. One dumpster was placed recently at H Street and San Benito Street. To directly involve the people living on the street, we are providing encouragement, along with work gloves, large trash bags and as many rakes, shovels and brooms as we can find.
At the Monterey and E street encampment, the garbage, stretching across the entire street, was cleaned up in early February by the city. It was a disaster. The owner of the property at the north end of the alley has evicted the people. That area became especially bad in recent weeks. We have now placed two dumpsters at this location and hope this will help in the future. In addition, Rhodes has hired two homeless men to help with cleanup.
A second effort from the committee is the distribution of condoms. We have been working with the county and have contacted the state to secure an ongoing supply of condoms and lubricant. We are hopeful our efforts might slow the spread of AIDS and STDs and prevent pregnancies in the camps. We have been encouraged by the enthusiasm the homeless population has shown when we distribute the condoms. We also promote the Fresno County AIDS clinic by passing out leaflets to all recipients.
In addition, Jenny Martin and Anna Hecker have been working with Westside Rescue and homeless dogs and cats. Westside Rescue provides food, shots and emergency vet care every other Friday in front of the Fresno Rescue Mission from 5 p.m. to 7 p.m. The emphasis now is to see that dogs and cats are being neutered and spayed. With this in mind, we are attempting to only give out food on the off weeks and only to those who are willing to spay or neuter their animal.
Finally, Hecker is in the early stages of developing a micro loan program to assist in emergencies.
Many thanks to the following:
I want to mention Joe Kalpakoff and Mid Valley Disposal. Although our group has raised enough money to initially pay for dumpsters ($185 a month each), we found the cost of extra pickups impossible. After a meeting with Kalpakoff and his associates, Mid Valley has generously agreed to do extra pickups as necessary. Mid Valley has been most cooperative and helpful.
Thank you to Maria Lopez and other caseworkers at the Renaissance House. We are learning more about the program from Lopez and will, of course, continue to work with the street people to register with the Housing Authority and/or begin the process of working with the Mental Health people.
Don Negri, a member of our group, is a retired optometrist. Negri is providing reading glasses to anyone in need. Working with Lopez, he sets up a table in the conference room on Thursdays to assist the homeless with glasses and refer those in need of an eye doctor. What generosity.
Lupe Oftedal, owner of the store Bebe, has donated a large number of jeans, along with two big sacks of hygiene products.
Margarita Reyes continues to collect needed items from her friends and family.
Haidie Simonet has been making knitted hats. What a blessing in this cold weather.
The United Christian Church has a source for new underwear and socks and has donated some handmade knitted scarves. Thank you all.
We may yet experience some freezing weather. We post information about the warming shelter on the Porta Potties and hand out small flyers as needed.
Wish list for Renaissance House:
toilet paper
coffee pots, blenders
blankets, sleeping bags
rugs
hygiene and first-aid items
bath rugs
socks and underwear
radio and small TVs
rakes, shovels and brooms
If you can assist financially to support the portable toilet and dumpster project, contributions (tax‑deductible) may be sent to the Eco Village Project of Fresno, c/o Mike Rhodes, 4773 N. Arthur Ave., Fresno, CA 93705, or the Universalist Unitarian Church Social Justice Account, c/o Karen Goodman, 5328 N. Colonial Ave., #101, Fresno, CA 93704.
If you have any questions, feel free to call. You would be most welcome to join us on Thursday if you are interested.
*****
Karen Goodman retired from real estate, followed by two years as a Peace Corp volunteer in Bulgaria. She is actively involved with M'ella House, the League of Women Voters and the Unitarian Universalist Church of Fresno. Contact her at kalgood@earthlink.net.