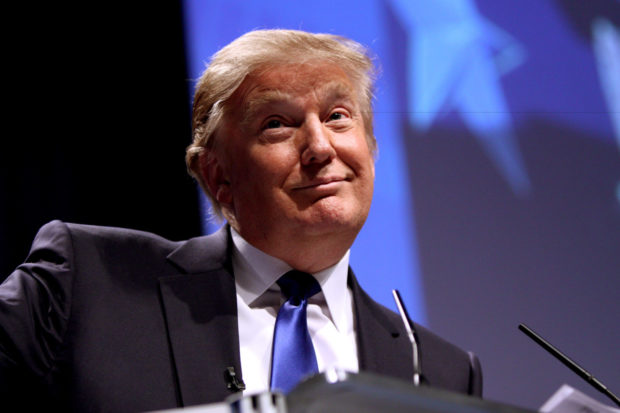 By George B. Kauffman
Editor's Note: Article originally written in August
The news is rife with news about Donald J. Trump, all of it bad for him, except that he seems to be unaware of this and is delighted as always to be the center of attention.
The news is coming in now faster and faster! New and old names appear and disappear! Have we finally reached the tipping point?
The circle seems to be closing around Trump (but we've heard this again and again!). Robert Mueller, head of the Special Counsel Investigation on Russian interference in the 2017 U.S. election, is seeking Grand Jury testimony (with subpoena power) from public relations executives who worked with Paul Manafort. Trump's chief strategist and xenophobe Steve Bannon has been fired. Mueller is investigating whether retired General Michael Flynn had a part in obtaining Hillary Clinton's e-mails. Mar-a-Lago cancellations continue after Trump's latest toxic tantrums. Andy Hemming, the young guy whose job was to pump out good news about Trump, quits. Trump continues to try to stop the Russia investigation again and again. With his own words, he has admitted and proclaimed his collusion with Putin and the Russians. Sean Spicer resigned as Trump's press secretary. Trump top counterterrorism advisor Sebastian Gorka of Breitbart fame (or rather infamy) resigns. While Trump's impeachment seems imminent, he is considering running for a second term!
While a Category 4 hurricane (Harvey) bears down on Texas, Trump finds time to delight his base of nutty believers by threatening to shut down our government if Congress doesn't pay for his wall with Mexico (Incidentally, he fails to mention that the Chinese wall failed to keep the Mongols out or that we, not Mexico, will pay for the wall). In the face of the hurricane he also announced his first presidential pardon), that of disgraced Sheriff Joe Arpaio of Arizona, an affront to law officers everywhere, another confirmation of his continuing intent to defend White supremacists, racism, anti-immigrant, and anti-minority discrimination and to rule as an imperial president. He also disbanded the climate committee. After running against fruitless foreign wars, Trump said that he consulted with his generals (He did not!), is reversing course and increases military force in Afghanistan (America's longest war), and is considering having a private firm mine for lanthanum there. On Aug. 25, Gary D. Cohn, the director of the White House Economic Council, wrote a resignation letter after President Trump blamed "both sides" in the deadly protest this month against a Charlottesville, Va., rally by White supremacists and neo-Nazis, according to three people familiar with the document. Cohn ultimately changed his mind and decided in recent days to remain on as Mr. Trump's chief economic adviser, said one person familiar with his thinking. Donald J. Trump is a bully, and the only way to resist him is to fight back with all our strength and resources. Never attempt to rationalize his egregious behavior or consider it to be normal or "just typical politics."
Because Republicans won't do anything to oust Trump, our only hope lies with the Democrats. However, I recall the statement of humorist Will Rogers (1879–1935): "I am not a member of an organized political party. I am a Democrat."
On Aug. 26, radio and TV host and lawyer Michael Smerconish stated that removing Trump from office by impeachment or otherwise would not solve the problem of healing the rift between Americans and uniting the country. I wish that this were all "fake news," Trump's favorite term for whatever he doesn't like. Unfortunately, it's real! What are we to do?
With reference to the recent astronomical phenomenon, the solar eclipse of Aug. 21, the only eclipse that I would like to see is Trump's, but much longer than the 2 hours, 38 minutes, and 30 seconds that occurred in Fresno.
*****
George B. Kauffman, Ph.D., chemistry professor emeritus at Fresno State and a Guggenheim Fellow, is a recipient of the American Chemical Society's George C. Pimentel Award in Chemical Education, the Helen M. Free Award for Public Outreach and the Award for Research at an Undergraduate Institution, and numerous domestic and international honors. In 2002 and 2011, he was appointed a Fellow of the American Association for the Advancement of Science and the American Chemical Society, respectively.