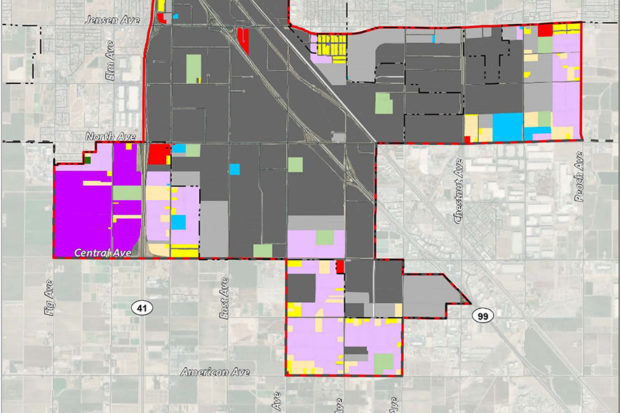 By Kevin Hall
Increased diesel exhaust in people's lungs has a secure future in Fresno. Despite being the focal point of groundbreaking studies by Stanford and UC Berkeley concluded more than a decade ago showing the toxic gas's DNA-mutating effects, Fresno city leaders' recent words and actions have made it clear that air pollution and public health are no longer issues for local politicians.
The worst quote of the year—so far—still goes to District 3 Fresno City Council Member Miguel Arias, whose constituents are already suffering from thousands of daily truck trips due to unlawful industrial warehouse development in the Reverse Triangle between Highways 41 and 99 south of downtown.
Speaking of the second Amazon warehouse approved by the city without proper environmental review, he dead-wrongly told the Fresno Bee, "This agreement is an example that we can facilitate the coexistence of creating new jobs without impacting the health and safety of our neighbors."
Those are chilling words for residents of West Fresno, too, where Arias is attempting to facilitate the rezoning of 92.5 acres back to industrial uses, but that project pales in comparison to the 5,000 acres—nearly eight square miles—of land under discussion that wraps around that parcel on two sides and stretches for miles to the north and east throughout south Fresno, Calwa and Malaga. More than half is proposed to be zoned for heavy industrial uses alone.
In a further arrogant display of disregard for public health, the City announced its plans for the massive rezoning without involving community advocates. Ashley Werner, directing attorney at Leadership Counsel for Justice and Accountability, tweeted in early April:
"For more than a year, South Central residents gave input into a specific plan. They ask the City of Fresno: do not zone for polluting industry around our homes and schools. Residents and Leadership Counsel provided the City a community map with buffers between sensitive places and industry."
Werner, who has been representing vulnerable residents throughout the region for a decade, noted that when city leaders released their land-use map in late March, they "ignored a year-plus of input from residents of California's most pollution-burdened neighborhoods.
"The City's imposition of warehouses and other industry on south Fresno neighborhoods, without notice and over residents' objections, time and time again, perpetuates and entrenches the City's long history of racial and environmental injustice."
Now we wait for the environmental impact report (EIR).
*****
Kevin Hall hosts Climate Politics on KFCF 88.1 FM every second and fourth Friday, 5 p.m.–6 p.m. He tweets as @airfrezno and @sjvalleyclimate, coordinates an informal network of climate activists at www.valleyclimate.org and can be contacted at sjvalleyclimate@gmail.com for presentations and information.