By Simone Whalen-Rhodes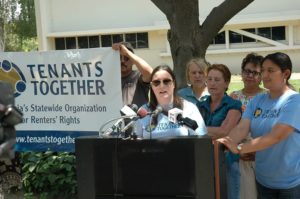 After years of neglect by the property owners, the Fresno Inn was recently shut down by city officials who declared the property a hazard. The city moved the tenants to temporary accommodations at the Ashland Inn. These developments followed repeated citations by the city and demands from tenant advocates that the property owners, Campo de Campo LLC and its principals, comply with state and local law. In blatant disregard of the health and safety of the residents, the owners refused to make repairs and have refused to make any relocation payments to tenants.
On Feb. 20, tenants represented by the Law Office of Kirkland & Rozzo sued the owner on behalf of 28 tenants, demanding repairs and compensation for the deplorable conditions at the Fresno Inn. The defendants (including Dr. Narender Bhatia, a medical doctor in Los Angeles) have neither fixed the property nor made relocation payments. The case is Bier v. Leyton in Fresno Superior Court.
On May 7, city officials declared the property "imminently dangerous" and required it vacated. This was done after the city discovered an active gas leak that threated the safety of tenants. Approximately 70 tenants occupying more than 40 units were required to vacate. The city notified the owners in writing that they were required to pay relocation payments to the tenants—payments that still have not been made.
In the meantime, the city has paid for the tenants' temporary housing at the Ashland Inn. Initially, the city paid for a week, a period that was extended after a request from Tenants Together. City officials have been working with nonprofit organizations to find new housing for the displaced tenants. Some tenants have been rehoused, but others are still in limbo. Tenant advocates have applauded the city's most recent efforts to prevent the tenants from becoming homeless but also argue that the situation should never have occurred in the first place.
"The city needs to crack down on slumlords proactively, rather than waiting until everything falls apart," commented Dean Preston, executive director of Tenants Together. "The challenge now with the Fresno Inn situation is to make sure the tenants get new housing and that the owners end up footing the bill for all of the misery and cost they have caused the city and the tenants."
At a May 22 press conference, speakers described the steps being taken to prevent residents from being homeless and to hold the landlord accountable, including an update from attorney Heather Rozzo regarding the pending lawsuit against the owners.
*****
Simone Whalen-Rhodes is the Fresno regional organizer for Tenants Together. Contact her at swhalenr79@gmail.com.