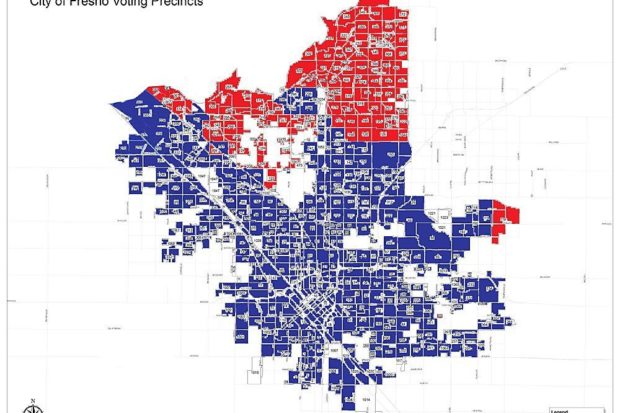 By Pam Whalen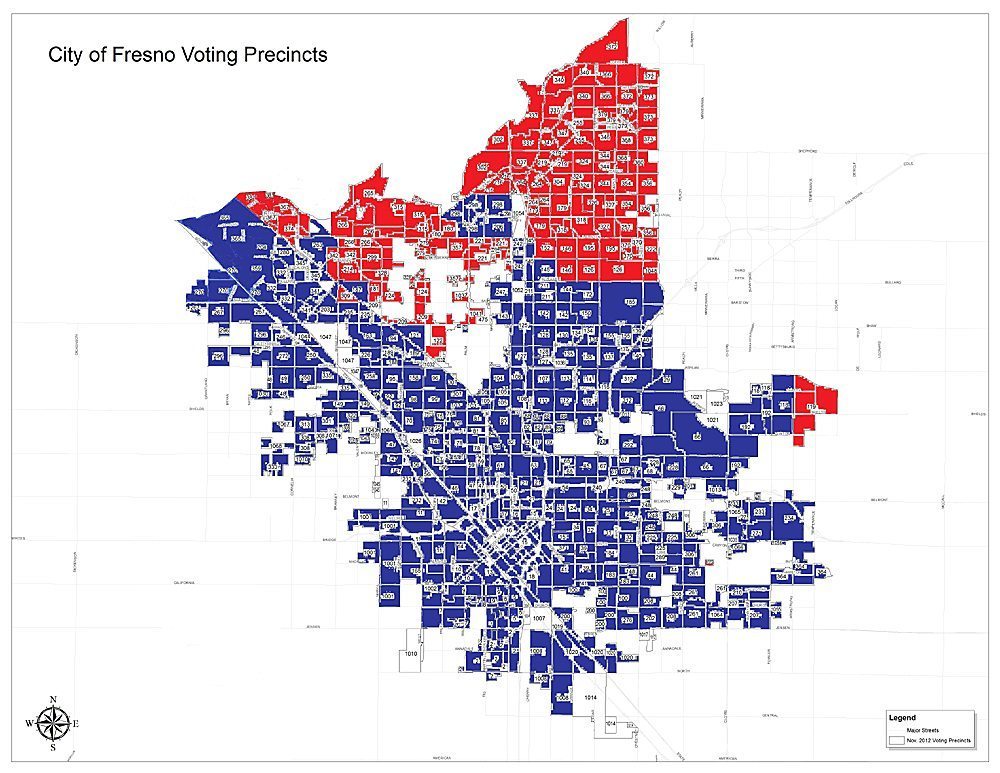 Voting pattern in the City of Fresno
Blue = Precincts voting for Barack Obama
Red = Precincts voting for Mitt Romney

Many people believe that Fresno is a conservative community. To help dispel that myth, the Community Alliance newspaper has produced this map that illustrates voting patterns in the City of Fresno.

This map not only shows overwhelming support for the more progressive candidate in the race but also shows what many refer to as the "Tale of Two Cities." The affluent north Fresno precincts voted for Mitt Romney and the rest of the city voted for Barack Obama.

It is interesting to note that the voter turnout in the far north precincts is much higher than it is in the rest of the city. For example, Precinct 366 (Cedar and International) had 81% voter turnout and 77% voted for Romney. On the other end of town, in Precinct 8 (Church and Elm), we saw 39% voter turnout, with 96% voting for Obama. If voter turnout was the same throughout the city, Republican Party candidates would not have a chance, except in their increasingly isolated corner of the city.
As shown by innumerable polls and all elections featuring high voter turnout, Fresnans are not conservative and we are not (as a whole) racists or "fill in the blank" -ists. People everywhere want more equality, more justice, less war, less prisons and a bright future for our children and our planet. This holds true for the nation, our state and Fresno.
In fact, Fresno is home to a large and vibrant progressive activist community. Recent events such as the formation of the Progressive Network of Central California and the defeat of the CEMEX mining proposal on Jesse Morrow Mountain are signs of a dramatic coming of age of this often maligned and marginalized political force in local politics.
What progressives lack is not dedicated activists or broad popular support but rather sophistication and a strategy to forge majority support into effective political power.
Many organizations and activists have begun reflecting on this situation and have started a conversation on what steps are needed to build the organization that will empower local voters to achieve success around the issues most important to them.
The first thing that is obvious is that no one organization can do this alone. Local progressives work on a myriad of issues and causes. We must come together to discuss how we can work in concert and collaboration mapping out a winning electoral strategy. This process has begun as a result of the 2011 Jim Hightower event, which triggered the formation of the Progressive Network of Central California. This is a good beginning, and this process must continue and deepen.
That said, there are certain necessary elements that must be attained in any effort to win important races in 2014.
We must build our capacity. This includes raising money to fund key electoral campaigns and recruiting sufficient volunteers to overpower our wealthy and powerful adversaries.
We must identify, recruit and support the strongest progressive candidates in those races that we can win. We can achieve, at least, a left-of-center majority on both the City Council and the Board of Supervisors in 2014 if we do our work now to run strong campaigns in a few races. But we must act now and not wait until a few months before the election.
We must build a precinct structure. We must work hard to build the ground army needed to bring our progressive-minded majority of voters to the polls (or mailbox). We must register voters, find precinct leaders and engage hundreds of volunteers to talk to their neighbors to rally them to act in their own best interests.
This is a huge task but eminently doable. Many organizations are already making important progress in this process and laying the foundations.
Communities for a New California has been a constant presence in south Fresno for the past two years. They have knocked on thousands of doors, registered voters and talked to voters multiple times about the issues most important to them. The Fresno County Democratic Party has begun building a precinct structure and conducted a comprehensive field campaign in the last election. This for the first time in living memory.
The Central Valley Progressive PAC raised and delivered strategic funds to important races this year and conducted precinct walking and phone activities for State Center Community College District candidate Kevin Hall. And, of course, labor and allies did the heavy lifting to defeat Proposition 32 and push Proposition 30 over the top.
Now we as a community need to take it to the next level. There is a place and a role for everyone in this process. Plan now to do your part.
*****
Pam Whalen is the newly elected president of the Central Valley Progressive PAC. Contact her at 559-994-9390 or pamwhalen@comcast.net.
If you want to get involved:

Communities for a New California
Sabina Gonzalez, 559-394-8725
organize@anewcalifornia.org

Fresno County Democratic Party
559-495-0606
fresnocountydemocrats@yahoo.com

Central Valley Progressive PAC
Pam Whalen, 559-994-9390
pamwhalen@comcast.net

Progressive Network of Central California
Paul Pierce
paul@paulepierce.com
(Please include "PNCC" in subject line.)