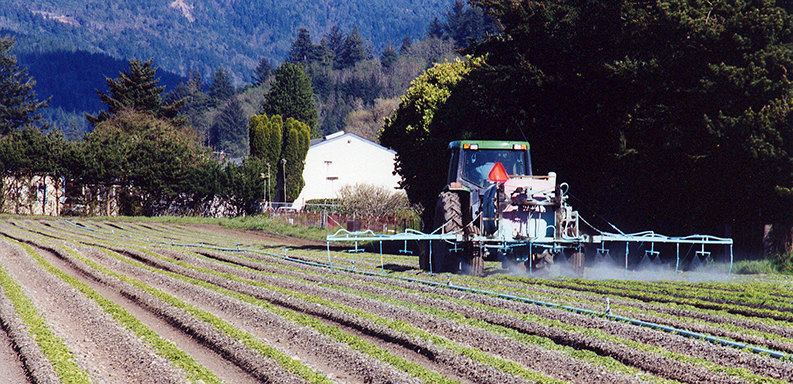 In February 2021, the Community Alliance published an article describing the intensive use of pesticides in California and the efforts that several state entities are undertaking to protect people from pesticide exposure.
Here is a brief recap to refresh our memories:
In February 2020, the California Air Resources Board (CARB) approved a community emissions reduction plan (CERP) that included a notification pilot as a strategy to mitigate the exposure of Shafter residents to air pollution. A quarter million dollars were earmarked to help fund a notification pilot that will inform residents before pesticides are applied. The former director of the Department of Pesticide Regulation (DPR), Val Dolcini, and the CalEPA secretary, Jared Blumenfeld, expressed publicly their support for the notification pilot in Shafter and for a similar statewide program.
Governor Gavin Newsom included in his proposed budget in January 2021 $10 million to implement a statewide notification program that would inform residents before pesticides are applied. The line item remained in the approved 2021–2022 state budget, and the DPR staff rolled up their sleeves and, cheered by environmental justice (EJ) advocates, began the process to develop a statewide system that provides information to the public about the pesticides used around them.
The new DPR director, Julie Henderson, wasted no time, and since August 2021, she and her team have organized meetings with county agricultural commissioners (CACs), visited counties with a large ag presence (including Fresno) and huddled with some EJ groups.
The DPR hired professionals from the California State University Sacramento Consensus and Collaboration Program to lead a series of focus groups and webinars to listen to multiple stakeholders including residents, other regulatory agencies, community organizations, regulated industries (farmers, professional applicators, registrants, commodity associations) and ag commissioners, among others. With such a diverse group, it is not surprising that so far points of view are disparate in multiple ways.
According to the summaries of the focus groups that the DPR posted on its website, there are differences of opinions in at least the following considerations: 1) who should receive the notifications, 2) when they should receive them, 3) what information should be provided and 4) how notifications should be made.
The Who: In this matter, the spectrum of opinions is wide—from "everyone" should have access to this information to setting parameters based on proximity to the pesticide application either because you work or live nearby; some recommended one-quarter mile, others two miles from the application site.
The When: Some focus group participants expressed that four hours before the application was enough, whereas others asked for as much as a week in advance. But most of the opinions oscillated between 48 and 72 hours.
The What: In this area, there was also a range of perspectives. Some people considered that giving the specific location was important, whereas others suggested just saying that an application would be taking place within a defined boundary. Those in favor of having more details wanted to receive the application date and time as well as pesticide information (product, mode of application, level of toxicity, routes of exposure, potential symptoms, length of potential exposure). In terms of which pesticides should trigger the notifications, the opinions were equally diverse. There are voices that want to receive notifications for all pesticides applied in California, while others think this notification system should be limited to restricted materials or for those with higher levels of toxicity.
The How: There was no shortage in the type of recommendations—from websites where all notices of intent (NOIs) are published (NOIs are permit applications that growers must submit to CACs at least 24 hours in advance of applying a restricted pesticide) to text messages, phone calls, apps, e-mails, door hangers and even an "Amber alert" type of system. Some suggested an "opt-in" system to receive the notifications and went as far as recommending charging a fee to those wanting to receive the notifications.
Regardless of which side you are on—those who want to receive notifications for all pesticides in a variety of forms or those who are okay with the status quo—the reality is that the DPR has a lot of work ahead of it. The signs that we have gotten from the DPR show that their balancing act is not leaning toward more protections for residents who live and work near pesticide applications and that it is too afraid of inconveniencing the ag commissioners and growers.
Why such a pessimistic conclusion? The DPR is dragging its feet behind a "participatory and thorough process" that will take it until 2024 to develop a new regulation that finally will lead to the implementation of a statewide notification system.
Furthermore, the DPR director has made it clear that she has no intention of making the Kern County agricultural commissioner implement the pesticide notification pilot that two government entities—the CARB and the San Joaquin Valley Air Pollution Control Board—have approved and funded. "The state has no authority over the ag commissioners," she says.
Well, things have certainly changed in a year. In December 2020, the former DPR director, Dolcini, had sent the Kern County ag commissioner a strong letter requiring him to implement the notification pilot. Kern County Ag Commissioner, Glenn Fankhauser, refused in an eight-page letter sent to the DPR in January 2021.
A year later, the new DPR head recognized her defeat and shared with Shafter residents and advocates that they will have to wait until 2024, when "hopefully" the statewide notification system goes into effect. Of course, most likely there will be a system that does not inconvenience the growers or the ag commissioner.
The so-called lack of authority of the DPR over CACs is something that we heard multiple times, mostly from ag commissioners themselves, but having a DPR director confirm it is appalling and worrisome. The Kern County ag commissioner and the Kern County supervisors who backed him up in his reluctance to implement the notification pilot in Shafter have shown us that Big Ag and local politicians have more power than what we would like to believe.
What is left for us to do? Pray and light candles so God illuminates and gives strength to the DPR regulators so they can live up to what they claim is their mission "protect human health and the environment of all Californians"?
Maybe that, but also continue fighting and advocating so that the health and safety of people who live and work near agricultural fields treated with dangerous pesticides is deemed important by the DPR now, not until 2024.