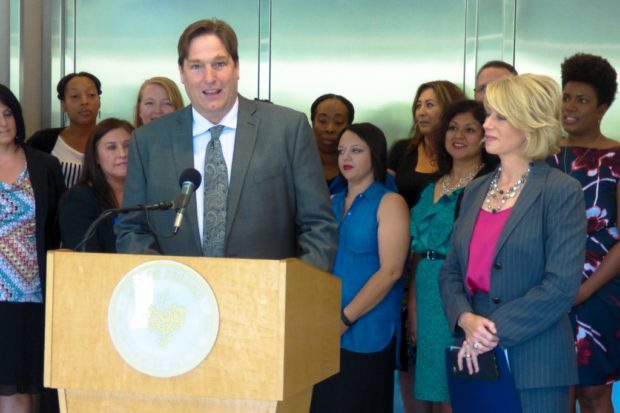 By Ernesto Saavedra
On June 15, near Church and Maple in Fresno, the bus Feliciano Franco was living in went up in flames burning him alive. He was homeless and living in the bus with permission from the church it was parked next to. Two weeks before, Fresno Mayor Ashley Swearengin, Director of the Fresno Housing Authority Preston Prince and others, in a celebratory manner, announced that homelessness in Fresno had decreased dramatically since 2013. This is based on data collected from the Point in Time Count (PIT), a system used by the Department of Housing and Urban Development to document the number of homeless people.
Swearengin highlighted that the decrease in homelessness was a result of her willingness to take it on, "I remember taking office in 2009 and one of the earliest acts that I conducted was reaffirming the city of Fresno's commitment in implementing the city and county plan to end chronic homeless."
Swearengin went on to note lessons learned, "We learned that implementing the national best practice model of Housing First really does work." Swearengin also highlighted overcoming some challenges, specifically, the homeless encampments, "We knew that we couldn't just disperse people but needed to work with them to get them services and housing first, then ultimately being able to close those encampments."
P r i n c e d e c l a r e d Swearengin a champion in addressing homelessness, "I remember six years ago meeting with you and you were veracious in wanting to understand the issue of homelessness and what were the solutions. We needed a champion and you were that champion." Prince went on to say that "yes, we do see people on the streets, but there are many more in homes."
According to the 2015 PIT numbers, for the city of Fresno, the "unsheltered homeless population" is 814 compared with 1,534 in 2014, and 1,829 in 2013. For Fresno and Madera counties as a whole, in 2015, it is 1,183 compared with 1,883 in 2014 and 2,537 in 2013.
The 2015 number of "sheltered homeless population" in the city of Fresno is 456 compared with 580 in 2014 and 504 in 2013. For Fresno and Madera counties, it is 539 in 2015 compared with 714 in 2014 and 504 in 2013.
One of the organizations credited was Fresno First Steps Home, a private organization that "provides funding to area nonprofits and agencies that help individuals move through each step toward independence." Its board includes Swearengin (secretary, treasurer), Tom Richards (chair, Fresno First Steps Home; chair, 10-Year Plan to End Homelessness; and CEO, The Penstar Group), Jeff Collins, (vice-chair, Fresno First Steps Home; senior vice president, Kaiser Permanente), R. Michael Alexander (president, United Way of Fresno County), Nancy Hollingsworth (CEO, Saint Agnes Medical Center), John Taylor (representing Tim Joslin, CEO, Community Medical Centers in Fresno) and Kurt Madden (chief technology officer, Fresno Unified School District). Fresno First Steps Home supports what it calls the "Housing First methodology," a critical component of Fresno's 10-year plan to end homelessness.
Given the PIT numbers and the people involved, it appears that Fresno's plan is heading in the right direction. However, not everyone is buying it and call into question the methodology and the sincerity of those involved.
"After the homeless encampments were destroyed in late 2011, the Fresno Police Department has carried out a relentless campaign to take their property, issue citations for trivial reasons and forcing homeless people from one god forsaken place to another," said Mike Rhodes, longtime homeless rights advocate. "The fact that the homeless have been forced to find better hiding places, have died because of the harsh conditions or have left town is not a reason to celebrate."
Rhodes goes on to say, "The methodology for collecting the information is flawed and absolutely does not reflect the actual number of homeless people in Fresno. For example, if a homeless person spends the day and night with a friend on the day of the Point in Time count, they are not counted. If he or she is in the hospital, it is the same thing…If the total number of homeless people in Fresno and Madera County, as reported at the mayor's press conference is only 1,183, how in the hell do they explain the fact that there are 6,738 homeless students in Fresno County alone? There are 3,729 homeless students in the Fresno Unified School District, according to a recent report from the California Homeless Youth Project."
In November 2012, there was a grand opening of the Renaissance on Santa Clara Street near the Poverello House. This was an $11 million project built to provide housing for the homeless. Rhodes happened to be there and he found out that "The Penstar Group was awarded $1 million as the consultant on the Renaissance at Santa Clara project."
In addition, Rhodes noted that Richards and other Penstar executives were major contributors to Swearengin's c a m p a i g n s , " R i c h a r d s contributed $6,800 to Ashley Swearengin's campaign for state controller in 2014 and other Penstar executives made significant contributions to Swearengin's run for mayor."
Rhodes, like other homeless advocates, is critical of the mayor's plan and approach and urges people to not be fooled, "The mayor and her cronies are simply manipulating…they want to make themselves look like heroes, and position Swearengin to run for higher political office. Don't be fooled by their smoke and mirrors."
Homelessness is a critical issue that deserves critical dialogue and analysis from all sides of the political spectrum, not just CEOs and politicians. Where are the voices of those who are actually homeless? Where was Feliciano Franco at when Swearengin and Prince were celebrating? Was he invited to be a part of Fresno First Steps Home? Was Feliciano Franco counted in the Point in Time Count?
The issue of homelessness has deep roots here in Fresno and it will take more than a PIT count and housing to solve.
*****
Ernesto Saavedra is the editor for the Community Alliance. Contact him at ernesto.fresnoca@gmail. com.