The start of a new school year can be like the coming of spring. There can be a glow of fresh, exciting possibilities in the air, the anticipation of the new.
Something that often sets the tone for a new school term is the principal's message. It can help all of the stakeholders to see what their school has been and envision where it's heading.
In a recent review of principals' messages on various Fresno Unified School District (FUSD) high school websites, one stood out. The principal started by doing the tried and true. He established an upbeat tone, dubbing his site "a fine academic institution" and praising its "extensive and robust" Advanced Placement (AP) program and its numerous clubs.
Early on, however, he also cited his high school's most recent performance on the Smarter Balanced Assessment Consortium (SBAC) standardized test scores: "68% in ELA [English] and 32% in math." He was quick to point out that these numbers are higher than those of other high schools in the district.
The implication here was that these results on the SBAC point to the impressive academic accomplishments of his 11th graders and that they provide even more reasons for stakeholders to take pride in this high school.
In reality, disconcerting test results like these do nothing of the kind.
As reported in GV Wire, FUSD Trustee Keshia Thomas had a far different response after she viewed this year's numbers: "These SBAC scores are a state of emergency. They're 911. The house is on fire."
The same article also points out that—for decades now—the district has ranked close to the bottom when compared to similar school districts across the nation.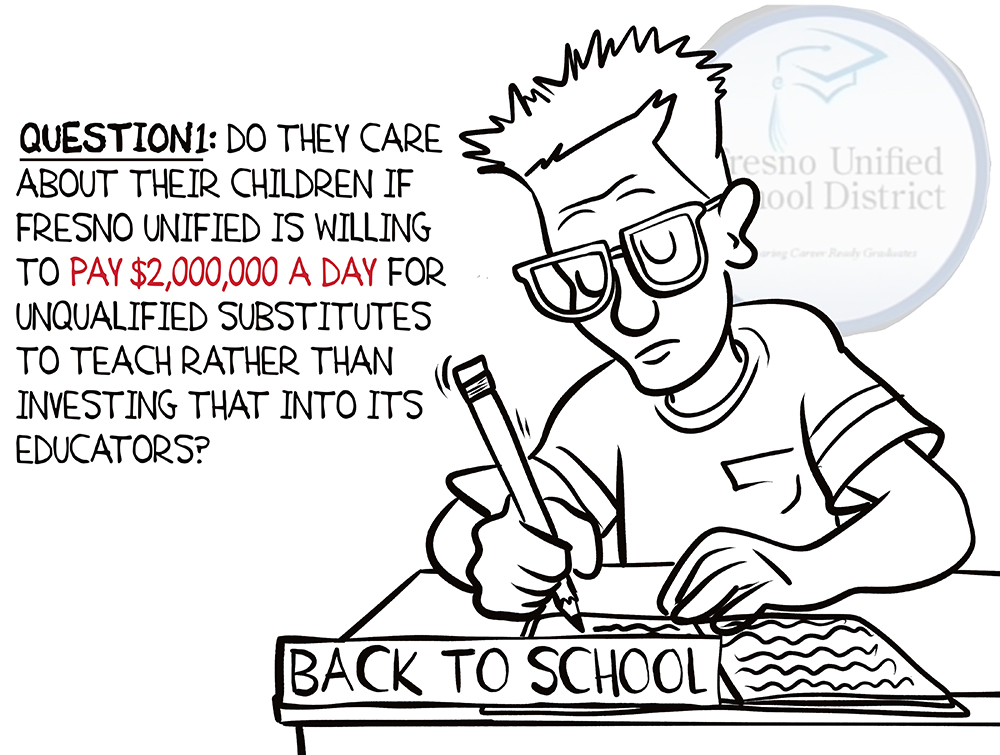 In his missive to his school community, this principal, however, chose to characterize the numbers quite differently.
Nowhere in his message did he express concern about these less-than-acceptable rates of proficiency in key academic areas. Nowhere did he provide details about how he aims to address this sorry state of affairs and hike scores in SBAC exams in the future.
And he's not alone. His counterparts at other local high schools also strained to emphasize the positive. One boasted of a "campus where…students and parents work together like no other place to make up this amazing community." Another trumpeted that his site "is one of the best high schools in all of Fresno."
It's hard to reconcile such rosy pronouncements with the sobering reality about outcomes on standardized assessments that have underwhelmed for many years now.
In a way, it's understandable that organizations of all stripes seek to stress the positive and cast their achievements in the best light. On the other hand, just saying that you're great, unfortunately, doesn't make it so.
GV Wire's Bill McEwen drew attention to the district's track record of poor test scores early in 2020 in an article titled "Fresno Unified Out of Excuses for Terrible Academic Performance."
He lamented that the test scores in the district continued to be disappointing despite the greater funding coming its way from the state, and he criticized the district's habit of promoting students to higher grades "even if they read at a third-grade level and can't do simple math." The upside for the FUSD, he concluded, is that "it does enable Fresno Unified to brag about its 87% graduation rate."
Other procedures, like encouraging grade inflation and relying on ethically dubious credit recovery systems like Edgenuity to help students "earn" credits to graduate, also do their part to spruce up the FUSD's image.
Such actions fail, though, to address a longstanding academic emergency.
The challenges facing the district loom large and deserve to be addressed more openly and honestly. A business-as-normal approach, as exemplified in these principals' messages, doesn't seem appropriate given how vital dramatic improvement is for our region's civic and economic well-being.
One can imagine an alternate scenario in which principals' messages, instead of being chock-full of standard feel-good tropes, acknowledge the challenges that their schools are facing and articulate specific strategies and timelines for turning this unacceptable state of affairs around.
So how can the district find its way out of this long-term curse of low scores and poor academic performance? The literacy initiative that it recently unveiled, which aims to have all students reading at the end of the first grade, could well be an important part of such a shift.
Something else would also help tremendously: The district's leadership could work toward a quick settlement with the Fresno Teachers Association in their current contract talks. The ongoing negotiations continue to distract and disrupt. They curtail morale and deflect employees' attention from the important business of instruction.
By agreeing to a new contract, the FUSD could put a lengthy period of strife and contentiousness behind it, which could clear the way to pursue bold action to meet students' academic needs.
That, in turn, could unleash some truly exciting new possibilities for the 2023–2024 school year.