By Mike Rhodes
If progressives want to get good people elected to the Fresno City Council and the Fresno County Board of Supervisors, it is going to cost money. How much? The charts on this page give us a look behind the curtain at what it costs to run a viable electoral campaign in Fresno. Money is not the only factor in who gets elected, but no politician here wins without it. Money gets your message out to the voters, keeps your name in front of them with brochures and signs, and pays for campaign workers to get out the vote.
The Central Valley Progressive PAC works to tip the scale in favor of progressive candidates, but it was only able to contribute a modest $7,250 in this primary election. Organized labor and individuals also contribute to progressive political candidates in Fresno, but compared to conservative business interests in this area, those contributions are a drop in the bucket.
Builders, developers, real estate and other special interests contributed heavily (see sidebar) to the Cary Catalano and Clint Olivier campaigns in the Fresno City Council District 1 and 7 races, respectively. Olivier won outright over the progressive community's candidate Mike Wells, and Catalano will be in a November runoff with Esmeralda Soria.
Independent expenditure (IE) committees are another way for special interests to influence elections. In the June 3 election, more than $75,000 was spent for or against Fresno City Council candidates through IE reports (as of May 23). For example, the Fresno Firefighters Legislative Action Committee spent $8,200 to support Olivier, but that contribution does not show up on Olivier's campaign finance reports.
Although there is a strong correlation between money and the number of votes a candidate gets, it is not absolute. Look at Rama Dawar in the Fresno City Council District 1 race. He spent $91,754 to get 811 votes, just ahead of Rebeca Rangel. Rangel spent only $9,946 for her 718 votes.
Dawar spent $113 per vote, whereas Rangel spent $14 per vote.
Would Rangel have won if she had $90,000 to spend in the election? The answer would depend on how she spent the money, but most political observers think she would have received more votes if she had enough money to level the playing field. If Wells in District 7 had the same amount of money as the incumbent Olivier, the odds are he would have received the 350 more votes needed to put him in a November runoff.
There are ongoing campaigns to address the undue influence of money in the political process. For example, Governor Jerry Brown recently signed SB 27, a bill to force dark money nonprofits to reveal their secret funders when they try to influence California elections. SB 52, the California Disclose Act, if passed will let voters know who really is paying for political ads—on the ads themselves. Political ads would have to clearly and prominently list their three largest funders.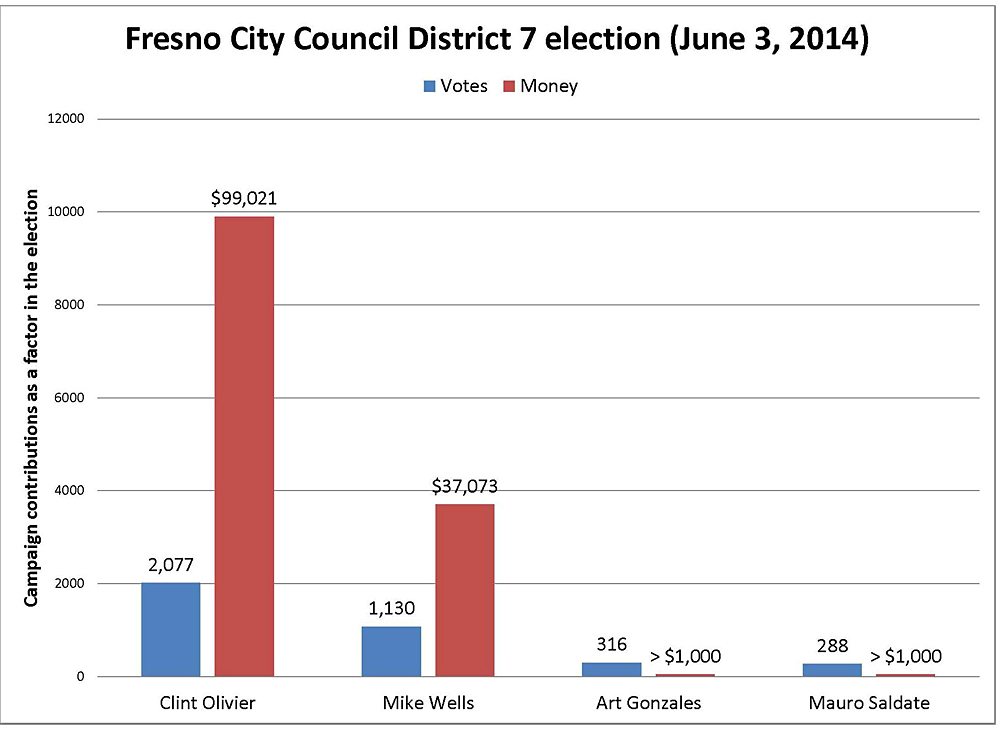 Ultimately though, campaign finance reform needs to level the playing field and prevent money from distorting the democratic process. But progressives, if they want to win political power in this community, can't sit out elections until that happens.
The political reality in Fresno is that it does take money to win an election. If progressive candidates had enough financial resources, there are strategies and tactics they could have used to win.
With enough money, a candidate can hire a competent political consultant who has experience running a campaign. A good consultant, if hired early enough in the campaign, can help in a number of ways. The consultant can analyze the political landscape and determine a path toward victory.
Rather than knocking on every door, a consultant can develop a list of frequent voters who are likely to vote for progressive candidates. That gives the campaign a target list of who to visit first. If you are a progressive Democrat, it makes more sense to visit households that have Green, Peace and Freedom and Democratic party voters rather than homes with no voters or Republicans who vote infrequently.
With enough resources, a campaign can recruit and coordinate volunteers, people to call voters, walk precincts and put up signs. Progressive candidates must develop a message that connects with voters, be good fund-raisers, walk precincts and inspire volunteers.
If a campaign has enough money, it can have volunteers (or paid staff) walk and call to identify supporters and then in the last day or two before the election, contact them again to make sure they voted.
A well-funded campaign can target particular demographics and create messaging particularly for them. For example, in Districts 1 and 7, candidates might have had a specific brochure that reached out to Hmong voters. They could have had Hmong volunteers or staff that called Hmong voters and spoke to them about why they should vote for a progressive candidate. This could be done with other demographic groups as well.
Builders, developers and other financial interests run Fresno because they have figured out how to make the system work in their best interest. They get their people out to vote, they manipulate the electoral system by pouring money into the campaigns of their preferred candidate and they disenfranchise poor and working-class voters.
The challenge for progressive electoral activists is to figure out how to empower the majority of people in this community to rise up and take power in Fresno. When progressives develop a strategic plan around electoral politics that builds political unity and raises enough money to win, more progressives will get elected, and things will change.
The most organized group currently working on this effort is the Central Valley Progressive PAC. Learn more about this PAC at www.cvppac.org.
*****
Mike Rhodes is a regular writer and photographer for the Community Alliance newspaper. Contact him at mikerhodes@comcast.net.
Political Contributions from Special Interests

City Council District 7 Candidate Clint Olivier
(partial list)

Granville Homes, Inc.—$4,100
Farid Assemi, Granville Homes, Inc.—$1,000
Fresno Chamber PAC—$1,000
Wal-Mart Stores, Inc.—$1,000
California Real Estate PAC—$5,000
River Park Properties II—$4,100
Bonadelle Homes, Inc.—$4,100
Noyan-Frazier Properties, LLC—$888
Associated Builders and Contractors Northern CA Chapter PAC—$4,100
West Coast Waste—$3,500

City Council District 1 Candidate Cary Catalano
(partial list)

California Apartment Association PAC—$4,100
California Real Estate (PAC)—$2,000
Gunner & Andros Investments A Partnership—$2,000
Western Manufactured Housing Communities PAC—$500
Laila Alvardo, The Alvardo Group—$4,000
Leonel Alvardo, The Alvardo Group—$2,000
Paula DeYoung, DeYoung Properties—$1,500
Friends of Ashley Swearengin—$4,100
Karen McCaffrey, McCaffrey Homes—$500
Mid Valley Disposal—$2,500
Chris Shane, developer—$1,000
Richard Spencer, Spencer Enterprise—$1,000