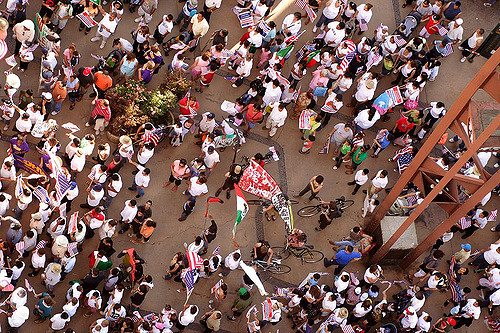 By Jonathan Luevanos
In the wake of the controversial presidential election of Donald Trump, many cities across the nation have recently addressed the threat of an ensuing anti-immigrant reality. However, the anti-immigrant reality is not new.
According to an article published by The Economist on February 8, 2014, titled, "Barack Obama, deporter-in-chief," America is expelling undocumented immigrants at nine times the rate of 20 years ago. The report states that President Obama has outpaced any previous President on federal deportations of immigrants. While the Democratic establishment has been primarily responsible for the current deportation of immigrants, on November 13, 2016, Republican President-elect Donald Trump said that he will deport or incarcerate 2 to 3 million immigrants with criminal records. Trump has called for nationwide collaboration between local law enforcement and immigration authorities.
Many sanctuary cities across the nation have vowed to protect immigrants from deportation. A sanctuary city is a city that has adopted a policy of laws or actions that follow certain procedures which protect immigrants by not prosecuting them solely for violating federal immigration laws. In sanctuary cities, local law enforcement officials are not required to contact Immigration and Customs Enforcement (ICE) on the immigration status of people they come in contact with. Sanctuary cities such as San Francisco protect immigrants from federal immigration authorities.
On November 14, Mayor Ed Lee of San Francisco informed the public that the election of Trump will not change San Francisco or its values. Lee said that San Francisco would remain a beacon of inclusion and the city stands united. He said San Francisco will help protect all of the immigrant families in the city. While the City and County of San Francisco have uncompromisingly protected immigrants from federal deportation proceedings, other cities across the state have recently expressed their solidarity with immigrants.
In Fresno, community officials have expressed a determination to support immigrants. The agricultural empire of the Central Valley has been built on the backs, sweat, blood and tears of many immigrant farm workers of color. Immigrant farm workers have sacrificed themselves to their communities by sustaining the Central Valley economy. Because of the economic importance of the immigrant population to the Central Valley, addressing Trump's anti-immigrant rhetoric has become a top priority for some community officials.
On November 16, Fresno City Council member Esmeralda Soria met with city leaders for a post-election message of unity over fears within the immigrant community about the future. Soria along with dozens of people representing the local government assured immigrants that they will have extensive support in the new reality of a Trump presidency. Soria is already looking into the Fresno County Sheriff's collaboration with ICE.
According to an article published on November 11, 2015 by the American Civil Liberties Union (ACLU) titled "Keep ICE out of Fresno: Advocates Demand an End to Sheriff Mims's Policy," since June 22, 2015, the Fresno County Sheriff's Office has given ICE wide-open access to all of its records and databases, including the names and dates of release of people in custody. This unrestricted access makes it easier for ICE to target people for deportation. The article states that under Sheriff Margaret Mims's policy, any person in Fresno County custody can be questioned by ICE and deported. They don't have to be charged or convicted; they could even turn out to be victims or witnesses of a crime.
According to a news report published on November 15, 2016, by KMJ NOW News Talk Radio, the Fresno County's sheriff hopes the working relationship between the County Jail and Immigration and Customs Enforcement (ICE) will serve as a guide for the rest of the country under the upcoming Donald Trump administration. "We've got a great relationship, in fact, it's a model nationwide that I would hope that the President-elect would take a look at and encourage ICE all over the nation to cooperate with local law enforcement," said Sheriff Mims. Mims also said that the sheriff's office "will continue to cooperate with ICE and help them with their job in identifying those that are here illegally."
ACLU staff attorney Angelica Salceda has argued that Fresno "needs a policy that protects its residents—but giving ICE unlimited access to people in jail and their personal information does exactly the opposite. There have been too many deportations in Fresno County and not enough emphasis on rebuilding our communities. Fresno should be a leader in real public safety, not fearmongering and wasting of resources. Rather than be known as the county with a high deportation rate, Fresno County should be known as a place that values all community members and one that seeks to ensure a safe environment where everyone can thrive."
*****
Jonathan Luevanos is a writer from Fresno, California. Contact him at jluevanosfelix@gmail.com.