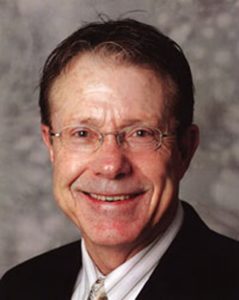 By Richard Stone
Paul Caprioglio greets me warmly even though (or maybe because) he says he is not very familiar with the Community Alliance and has not seen previously printed interviews with his City Council colleagues. His office display case features family pictures, and he is eager to ground our meeting in his identity as the son of Italian immigrants, a native of Fresno who made his way up the ladder to the Council step-by-step.
Caprioglio has lived in his district for 39 years, and alongside a successful legal career "on both sides of the law, prosecution and defense," he has served on several nonprofit and governmental boards. He is glad for the development of his district, the 4th, citing especially the growth of Fresno State, Fashion Fair and the airport. But he considers it "Mid-town"—somewhere between the burgeoning north side of town and the poverty-entrenched south side. He says jokingly, I tell [City Council colleague] Oliver [Baines], you claim to have been left behind for four decades, but we've been neglected for two."
Caprioglio came to the Council originally to fill out the term of Larry Westerlund when the latter was called to military service. He says with some pride that the appointment was not political: He was selected through an interview process by a committee that was impressed by his education, legal experience, analytical skills and public service.
When Westerlund returned and won another term, Caprioglio was appointed to the Planning Commission, before winning the next election on his own after Westerlund termed out. He characterizes himself as an independent, pragmatic voice of moderation, officially a Democrat and concerned "to spread the wealth" more equitably around the city.
Although certainly aware of overarching budgetary issues that affect all of Fresno, Caprioglio says he is especially focused on staying in touch with his own constituents and getting their needs taken care of. He delights in the recognition he and Council Member Lee Brand received for their personal involvement in repairing streetlights, and he says he'd be happy to go down in Fresno annals as "Pothole Paul."
Caprioglio does have a growing sense that the importance of regional planning is escalating, with issues of development and water use and air quality and transportation intensifying. He recognizes a leadership vacuum in attempts to bring various official constituencies together: "To tell the truth," he says, "I don't understand the lack of contact."
He looks at the large developments being planned in Madera County and the major projects (including a new community college) on the board for Sanger, and he is concerned by the lack of coordination. He himself has made overtures to leaders from Clovis (which abuts District 4) to meet and discuss commonalities, but does not feel empowered to do more.
With respect to several specific issues, here are his replies:
Homelessness. He is most concerned by complaints from constituents about safety near recycling centers. He did show understanding of the importance of recycling to the homeless, suggesting that recycling centers be relocated rather than, say, be made unlawful for customers with carts. But the more general issue was not really on his radar.
BRT (the proposed rapid transit system). Citing the need for efficiency and maximizing resources, he voted against investing in such a limited system when the existing FAX system could use the resources to benefit more people.
Measure G (and privatization). He voted to have the issue brought to the public. He says that privatization for him is a case-by-case matter, not ideological.
National issues (like healthcare, war, gay marriage). He cites the legal principle of "no jurisdiction," saying if you can't have a pragmatic effect, steer clear.
Fulton Mall. He voted against Mayor Ashley Swearengin's plan for budgetary reasons. He says he has felt no pressure from developers as he weighs issues of land use and zoning.
Police auditor. He feels Rick Rasmussen has had a positive effect as an independent auditor, but he does not see a need for the Office of Independent Review to have fuller powers.
Strong mayor. He has spoken out strongly against the degree of executive power now vested in the mayor's office. He feels that "the people's voice needs to be heard" beyond what is possible now.
Overall, Caprioglio presents himself as a hometown guy trying to represent the people of his community as fairly and effectively as he can. He admits to being surprised by the amount of work the job requires and is grateful for the collegiality of his fellow Council members and the support of his family.
He seems genuinely satisfied with his level of accomplishment, with no desire for higher office or greater political power. His truest aspiration, he says, is "that my children be proud of me."
*****
Richard Stone is on the boards of the Fresno Center for Nonviolence and the Community Alliance and author of the book Hidden in Plain Sight. Contact him at richard2662559@yahoo.com.