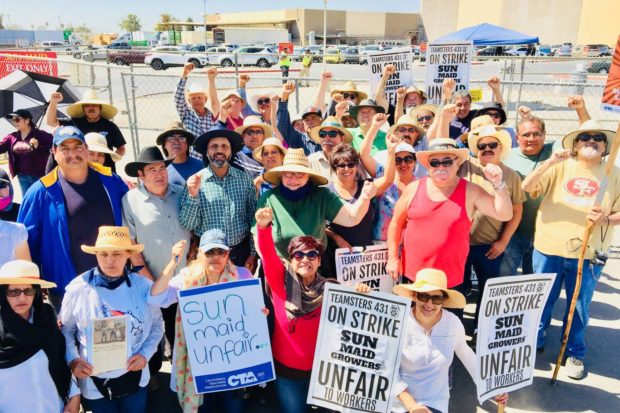 By Community Alliance Staff
Sun-Maid workers never let the scorching heat dry their enthusiasm as they walked the picket line outside the world's largest raisin and dried fruit processor with headquarters in Kingsburg. The end of a 15-day strike gave fruition to a new agreement ratified by the membership that included the largest wage increase in Sun-Maid history, as well as affordable health insurance. Employees returned to work on Sept. 26.
"We will continue to fight for workers' rights through our votes and in future negotiations," said Josh Kob, a union representative on staff with the California Teachers Association based in the local Fresno office, which was among several unions supporting the strike.
Workers ran a 24/7 picket line as their morale was tested with some employees crossing the picket line and more than 100 temporary employees hired. Not all was gloom, however, as they saw themselves joined by renowned labor leaders and political candidates.
A Gofundme account with a goal of $5,000 was set up to help workers and their families endure loss of income during their fight. It can be found by searching Local 431 Strike Fund on the Web.  
"Going on strike is not easy," Kob said. "These workers were at it for 15 days (running a 24/7 picket line). Through such resolve and determination, they've really set an example for all of us, not only in the labor movement, but all working people in this country."