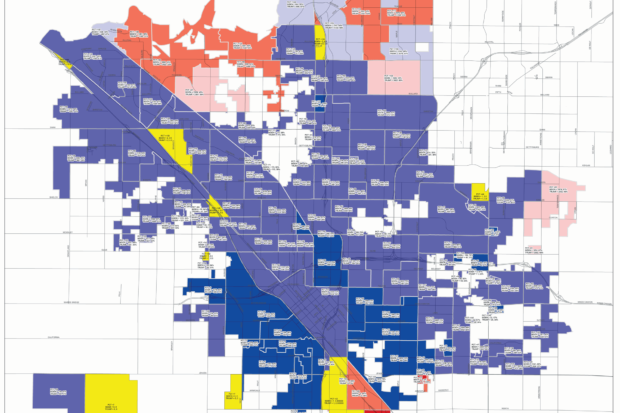 These two maps tell the story of last year's presidential election in Fresno. Map #1, from the Fresno County Registrar of Voters' office, shows the November 2020 election results in the City of Fresno for the race between Joe Biden and Donald Trump.
The map shows Biden winning decisively in south Fresno and continuing to win until you reach the Bluffs and northeast Fresno. South of Bullard Avenue is solidly Biden territory. Biden won Fresno County 52.9% versus 45.07 for Trump. So much for Fresno being a conservative backwater.
Looking at Map #2, you see high turnout in the precincts that voted for Trump and lower turnout the farther south you go. This presents progressives with a dilemma in citywide races, like the mayoral race. How do we get more people in the southern part of the city to vote? If elections were held on a level playing field, where an equal number of people voted in the north and south, poor and working people would win every election.
Of course, there are other factors that influence voter turnout, such as the amount of money builders and developers give to candidates who represent their interests. That illustrates the need for campaign finance reform.
What about the 3,000-plus people (people of color, poor and working class) in the Fresno County Jail on Election Day. They can't get out to vote, and few of them applied for a mail-in ballot at the jail before they were arrested. Did you know that two-thirds of people in jail have not been convicted of a crime? They are there because they are too poor to come up with bail and are awaiting trial.
To view the Fresno County results in the presidential election, visit votefresno.com and click on "Election Results."
The maps were prepared by the Central Valley Progressive PAC (CVPPAC), which exists to build a progressive movement that can elect candidates for local office who support social, economic and environmental justice. Learn more at www.cvppac.org.
The CVPPAC's June 12 meeting will feature a power structure analysis of Fresno County. From there, a strategic plan will be developed to win political power in this community.
*****
Mike Rhodes is a writer for the Community Alliance newspaper and author of the book Dispatches from the War Zone, about homelessness in Fresno. Contact him at mikerhodes@comcast.net.