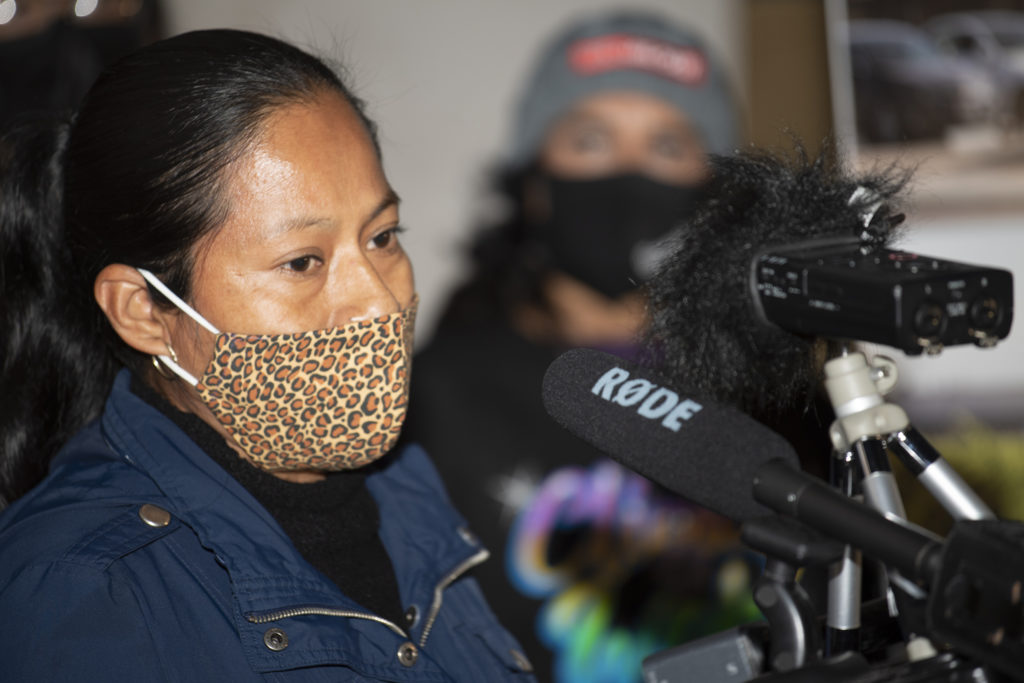 Residents of south Fresno have in recent years been inundated with warehouse development. Companies such as Amazon operate logistics and fulfillment centers in a part of the city already burdened with high pollution. Developments like this have been mushrooming in Valley towns along I-5 and Highway 99.
Now those residents and community leaders are coming together to fight the City's industrial plan. It is a plan they say they weren't even consulted about.
Concerns have been growing for years over the massive development and rapid expansion of warehouses and trans-shipping facilities in south Fresno. They're often located in long-existing neighborhoods, next to homes and schools. Heavy truck traffic generates air pollution and noise, disrupting the everyday lives and health of people who live in the area.
Fresno's General Plan designated thousands of acres there as an industrial zone, despite all the complaints about the negative effects.
Now, neighbors are challenging the plan, saying the environmental review was flawed. The Leadership Counsel for Justice and Accountability (LCJA) is championing south Fresno residents.
The South Fresno Community Alliance, represented by the LCJA; Shute, Mihaly and Weinberger; and the Golden Gate University School of Law's Environmental Law and Justice Clinic, filed a petition in Fresno County Superior Court challenging the City of Fresno's approval of the Program Environmental Impact Report for the General Plan.
Ivanka Saunders is a policy advocate for the LCJA. At a media briefing, she explained why legal action is necessary.
"In the past five years, south Fresno residents have endured an explosion of industrial development in their neighborhoods next to homes and schools with little to no mitigation of the resulting environmental and public health burdens on their everyday lives.
"The City of Fresno moved forward with perpetuating this discriminatory practice. The council unanimously adopted an inadequate environmental impact report for its citywide General Plan, all at the expense of neighborhoods most disproportionately impacted by multiple sources of pollution in the entire state of California."
CalEnviroSceen confirms that observation. It is the state's major tool for measuring and analyzing pollution impacts on people where they live, and it rates Fresno as among the unhealthiest places to live. West Fresno is the leading zip code on that unsavory list.
But it wasn't always this way. Panfillo Cerillo remembers south central Fresno growing up before the changes.
"My parents wanted a place where they could raise their children, myself and my siblings without the hustle and bustle of the city, where we could have room to play around in and enjoy the country life, lots of wildlife.
"Back in those days, we could come out from our yards and see dozens of quail running around in the evenings. You could open up your windows and hear the pheasants in the background [and] kit foxes running around.
"All that stuff has been displaced now by factories. Factories that we did not vote to put there, factories that somebody from other communities voted to put there."
Gary Hunt was reared in southwest Fresno. He says that it used to be a lively and self-sufficient neighborhood with groceries and other stores. There was even a playground, but Gary later found out the playground was built on a former waste dump.
Then the meat rendering plants moved in creating pollution and stench for decades before it was forced to move. "Just the people and us kids, you could see the environmental racism started to take place," says Hunt.
"When the factories started to come in, when Darling came in, when the other plants started to come in, I remember they were talking about us getting a Happy Steak restaurant across the street from the house, not too far, and everyone was excited about it. Well, it turned out it was a slaughterhouse, not a happy steak restaurant.
So, we got bamboozled on that end and it seems like things just went further on from there. I remember when the drinking water started to become contaminated and had a horrible stench."
Hunt noticed that while his surroundings were deteriorating, neighborhoods up north were being spiffed up with new shopping malls.
Years later, Hunt began to face a new and more menacing presence—Amazon and other mega warehouses. He estimates that thousands of trucks stream in and out of the industrial zone every day.
Hunt says they bring diesel smoke, a constant clamor and road damage. "Even now, as I became an adult and came back to Fresno. I have asthma, severe asthma. My two sons have severe asthma, even the cats and dogs have asthma.
"It's bad…People live a life span 20 years less than what they do in north Fresno because of the contaminants. So, if it's not environmental racism, I don't know what else it could be."
South Fresno residents worked extensively with Fresno leaders to develop a General Plan that took their concerns into account. But the City went ahead and approved an environmental review that failed to mitigate the impacts of explosive warehouse development.
Estela Ortega lives in southeast Fresno and has been in the trenches for years, fighting the tidal wave of industrial development. Even though she and other residents have worked with City planners, she says they haven't been taken seriously.
"This is a battle that we've seen going on for a long time," said Ortega. "There was absolutely no change. The industries keep coming.
"The City keeps fermenting them, and no one is listening to us despite everything that's coming. And this is something that impacts me very personally, because I have a child who is impacted by asthma, but it's not just him. It's also several other families and many more kids who are directly impacted by asthma and all the pollution that comes from these types of industries."
Also at issue, according to the LCJA, is the failure of Fresno's General Plan to address the state's greenhouse gas mandates. Instead, there are nebulous promises based on nonbinding policies.
LCJA attorney Ashley Werner is emphatic, "The City of Fresno cannot continue to ignore south Fresno residents' rights to protection from the harmful impacts of industrial facilities, warehouses, landfills and other polluting land uses in south Fresno neighborhoods."
Residents, along with the LCJA, are calling on Fresno to pause new warehouse development until a community-driven plan that protects public health can be created. Meanwhile, the City is on the verge of approving a second massive Amazon warehouse in south Fresno.
What south Fresno is dealing with is being duplicated around the country. An online tech site called The Information reports that before the pandemic, Amazon's U.S. distribution network took up about the same amount of space as seven Disneylands. Since then, Amazon has added another six Disneylands worth of warehouse space.
*****
Vic Bedoian is an independent radio and print journalist working on environmental justice and natural resources issues in the San Joaquin Valley. Contact him at vicbedoian@gmail.com.